HMS Fowey, 1710 – Officers were not always Gentlemen!
I've mentioned before in my blogs some of the unusual stories I've found in an 1889 book by W.Clark Russell entitled "Betwixt the Forelands" – an informal history if the narrowest section of the English Channel. Part of the book focusses on smuggling in the 18th Century – a far more brutal activity than that which is often so heavily romanticised. Carried out on a vast scale, and with high profits involved – not to mention loss of revenue to government at a time when import and excise duties were one of the major sources of revenue – this species of crime was comparable in scale with the international drugs trade today. Violence was the norm both in the trade itself, and in its suppression. One of the cases mentioned in the Clark Russell book does however give the impression that naval officers were themselves prepared to use suppression as a means of personal enrichment. The case came to light via a petition made to Queen Anne in 1710 by a Swedish merchant, named John Oriel, who was living in London. The date is significant – the War of Spanish Succession (1702-1714) was in full swing, so that the waters between Britain and France were necessarily a war zone, and would thus have seen a heavy naval presence from both sides.  Sweden was neutral in this conflict but had its hands full with the equally large-scale Great Northern War (1700-1721) against Russia and her allies.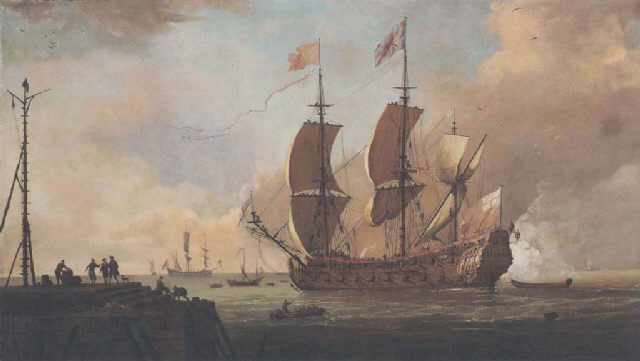 Adriaen van Diest(1655–1704) :  A British Fifth Rate HMS Fowey would have looked similar
Oriel's petition related to a Swedish trading vessel, the Hope, which was proceeding north-eastwards up the English Channel on 17th July 1710 when she was detained by a Royal Navy 44-gun fifth-rate, HMS Fowey, which had entered service the previous year. On the grounds of suspicion of contraband being carried, Fowey's commander, Captain Robert Chadwick, sent a boat across to bring the Hope's master and several of her crew back to the warship, one of these being named Olof Nolson Norborg. While the Hope's (unnamed master) was being interrogated on deck by Captain Chadwick he heard cries. Looking forward he saw that Norborg had been tied, spread-eagled, in the rigging – presumably the fore-mast shrouds. Burning matches had been placed between is fingers and "there was also a Catt of 9 tailes and a bucket of pickle (i.e. brine) at hand with which the said Norborg was threatened to be whipt and pickled."
Captain Chadwick claimed that the Swedish vessel has contraband goods on board and the treatment meted out to Norborg – from which he subsequently died – appears to have been an attempt to make him talk, or even more viciously, make the Hope's master talk to save his crew member. The seizure of the ship became the subject of the Court of Admiralty, which would decide whether the Hope was a legitimate prize, in which case Chadwick, his superiors and his crew would profit from its subsequent sale. Whether such a decision was made is not clear. The petition of the Swedish merchant to the Queen, which was made on behalf of the brother of the tortured and murdered Norborg, concentrated on an appeal to have Captain Chadwick dismissed from the service.
The petition appears not to have met with success, for Chadwick retained command of the Fowey and in May of the following year, 1711, he participated in the capture of the Spanish galleon San Joaquin off Cartagena (today in Colombia).  The galleon's prize money was shared amongst the captains of the seven British ships, so even if he had missed out on profiting from the unfortunate Hope, Chadwick was lucky on this occasion. I have been unable to find out any more about him – does any reader of this article know?  On the face of it Chadwick appears to have been a disgrace to his uniform and Clark Russell comments that "There was much of the brute mixed up in the character of the naval officer in the last century. He was a magnificent seaman but ruffianism was strong in him" and he quoted other instances of abuse of power.  One suspects that this quality of "ruffianism" became less common as the century wore on, and as strict rules and procedures came to govern all aspects of naval activity, but even up into the post-Napoleonic period instances occurred of officers who, like Chadwick, were anything but gentlemen. Serving under them must have been hell.
The Dawlish Chronicles: Britannia's Spartan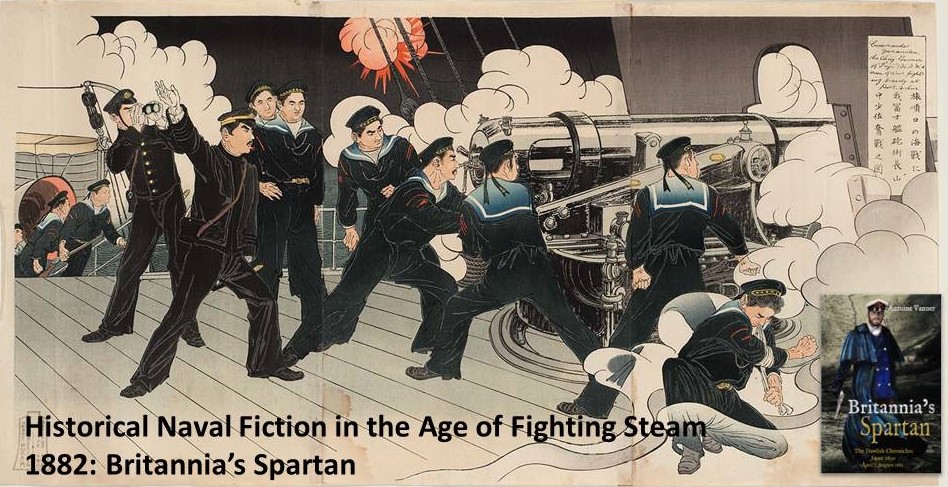 1882 and Captain Nicholas Dawlish RN has just taken command of the Royal Navy's newest cruiser, HMS Leonidas. Her voyage to the Far East is to be a peaceful venture, a test of this innovative vessel's engines and boilers.
Dawlish has no forewarning of the nightmare of riot, treachery, massacre and battle he and his crew will encounter.
A new balance of power is emerging in the Far East. Imperial China, weak and corrupt, is challenged by a rapidly modernising Japan, while Russia threatens from the north. They all need to control Korea, a kingdom frozen in time and reluctant to emerge from centuries of isolation.
Dawlish finds himself a critical player in a complex political powder keg. He must take account of a weak Korean king and his shrewd queen, of murderous palace intrigue, of a powerbroker who seems more American than Chinese and a Japanese naval captain whom he will come to despise and admire in equal measure. And he will have no one to turn to for guidance…
Britannia's Spartan sees Dawlish drawn into his fiercest battles yet on sea and land. Daring and initiative have already brought him rapid advancement and he hungers for more. But is he at last out of his depth?