Captain Richard Bowen, Beau Ideal of a Naval Officer –
Part 1 of 3
There is something infinitely sad about the promise of greatness, already evidenced by solid achievement, being cut off in the prime of life. One such victim – a man who might have reached the highest ranks on the Royal Navy and whose name would be widely remembered today was Captain Richard Bowen (1761-1797). He was the epitome of the dashing frigate captain and his exploits as such were, if anything, more impressive than those of any fictional hero.
Coming from a nautical family, Bowen had entered the Royal Navy during the American War of Independence, seeing extensive action, especially off the French coast when serving on HMS Foudroyant in 1782 when she was commanded by Captain John Jervis (1735-1823) – the future Earl St. Vincent. The twenty-one-year-old Bowen distinguished himself by leading a boarding party when the Foudroyant captured the French "74" Pégase on 20th April 1782. The battle was fiercely fought and the Pégase was heavily damaged. She was thereafter taken into Royal Navy service as HMS Pegase.  Jervis, impressed by Bowen's courage, rewarded him with an acting-lieutenancy and was to remain a strong supporter of him throughout his later career. This was all the more notable in that Jervis was known as a hard but fair taskmaster, who never settled for anything short of excellence. (It is interesting to note that the Foudroyant herself had started as an 80-gun ship of the line French Navy, captured by HMS Monmouth in 1758, during the Seven Years War).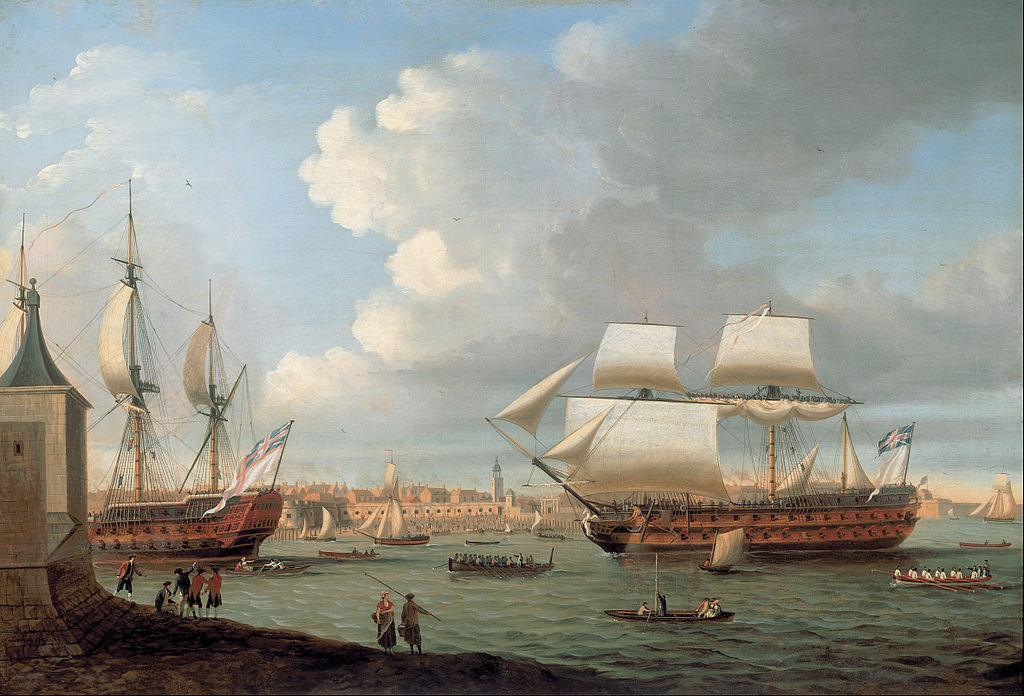 The partly dismasted Pégase entering Portsmouth harbour astern of the Foudroyant after the battle. Painting by Dominic Serres (1722–1793)
Bowen's appointment as a lieutenant was a temporary one and the rank was not confirmed when the war ended in 1783. As so often in history, running down of armed forces was seen as yielding a "peace dividend" and there were already too many officers available. Despite a number of temporary appointments in the West Indies, still without confirmation of rank, it was not until 1790 that Bowen was finally commissioned as a lieutenant. During these difficult years he had devoted himself to studying mathematics, astronomy and surveying and this stood him in good stead when he as given command in 1791 of three transports which were to bring supplies to the new settlement in Australia that would later become Sydney.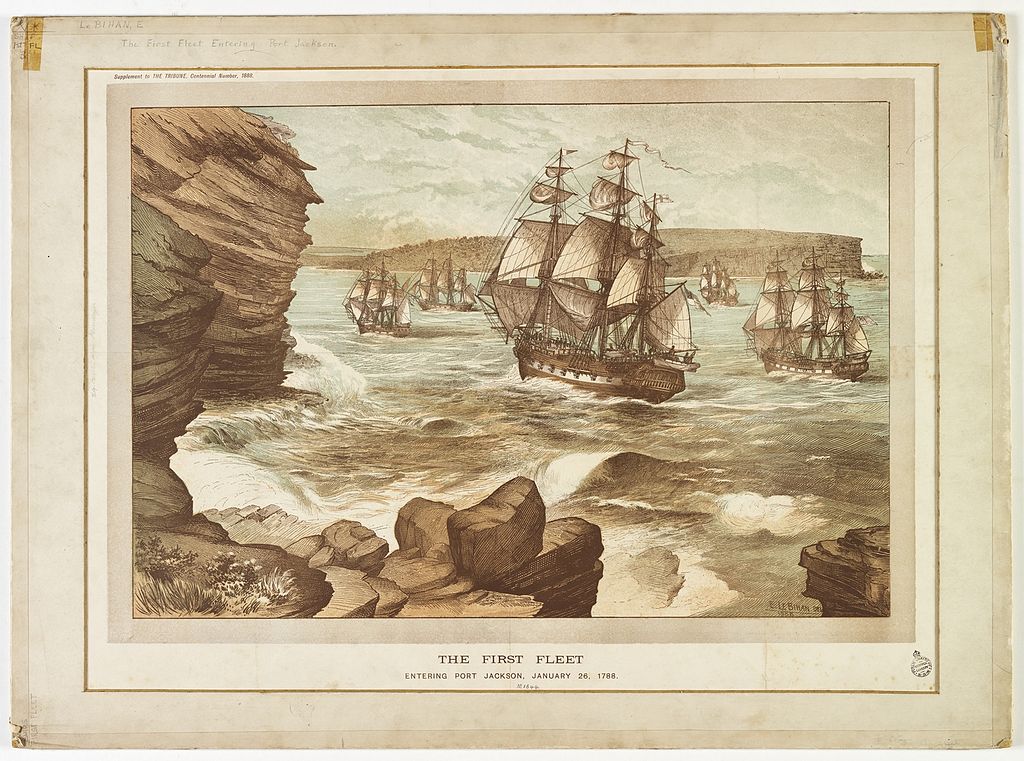 The arrival of Australia's "First Fleet" at Port Jackson in 1788. The transports that Bowen would command three years later would have looked very similar
On arrival in Australia the new settlement's food supply proved to be scarce, and Bowen was sent to Bengal, in India, to bring back rice. The route he followed was one not employed before, thereby making his journey a voyage of exploration. He touched first at Norfolk Island, some thousand miles east of the Australian coast, ran north to New Caledonia and the Solomon Islands, then headed westwards and sailed towards the Malacca Straits and on to India. This first leg of what would be a return voyage was some nine thousand miles. He brought the necessary rice back to Australia, returning to Britain thereafter, arriving in May 1793, three months after the French Republic had declared war. The Revolutionary and Napoleonic Wars, which would rage almost continuously for the next twenty-two years had begun.
Bowen's experience made him ideally suited to further transportation work but he turned down an offer of command of another voyage to Australia in order to participate in operations against the French possessions in the Caribbean. This necessitated him accepting the position of fourth-officer on the 94-gun ship-of the-line HMS Boyne. In this role he was to distinguish himself at Fort de France in Martinique in what would be one of the classic small-boat attacks of the era. A French frigate, the Bien Venu had been moored directly to the walls of a fort protecting the city and was allegedly holding British prisoners. Threats had been issued by the French to blow up the frigate, and the prisoners she contained, should the British attack. (This was in the first year of war and the revolution in France was reaching the bloody climax in the Reign of Terror. Large numbers of professional officers had already been executed or had fled into exile and many of their replacements were fired with revolutionary fanaticism that scorned the gentlemanly relations between enemies that had been the norm in previous wars of the eighteenth-century).
Bowen was given the responsibility of capturing the Bien Venu and to do so he led an attack by pulling boats and boarded the frigate successfully. The French crew either fled or were captured but no British prisoners were in fact found. Bowen's men now manned the frigate's guns and blasted a broadside into the fort. The Bien Venu herself would have been taken out as a prize had not adverse winds prevented it and Bowen's force was obliged to retreat in their boats. This must have been galling in view of the loss of substantial prize money that would otherwise have accrued to every man involved. The Bien Venu was captured shortly afterwards and taken into British service as HMS Undaunted.
Bowen was rewarded by appointment to coveted post-captain rank two months after his attack on the Bien Venu. After a brief period as captain of the 64-gun third-rate HMS Veteran, Bowen was given command in September 1794 of HMS Terpsichore, the 32-gun frigate which would be his for the remainder of his career and of his life. While continuing to serve in the Caribbean he was wounded in the face during evacuation of British forces from an unsuccessful attempt to seize the French-held island of Guadeloupe. His portrait shows a black patch over the injury, which was probably permanent, and he may have worn it constantly thereafter.
And there we'll leave Bowen for now, in command of his own frigate. We'll return to him, and his most spectacular exploit and tragic death, in a later blog.
Britannia's Gamble
The sixth Dawlish Chronicles Novel is earning 5-Star Reviews
 As always, I, Antoine Vanner, feel genuinely grateful to readers who have taken the time to post reviews of my work – they help me a lot. It's been gratifying to see the titles of the reviews of Britannia's Gamble as well as their contents. Here are a few of the titles:
"A gritty Victorian naval thriller with heart and soul"
"Vivid sense of suspense and excellent historical notes"
"Will not disappoint readers of the previous Dawlish Chronicles"
"Another page turner"
"A beautiful weaving together of history and fiction to create and action backed adventure"
"The master of the unfair obstacle is assigned the unforgiving gamble"
"Once again Vanner tells a great story really well."
If you are a Kindle Unlimited Subscriber you can read it immediately without further cost.
Click below for details of hard copy and Kindle editions:
Registering for the Dawlish Chronicles mailing list, by clicking  on the banner below, will keep you updated on new books and facilitates e-mail contact between Antoine Vanner and his readers for discussion of issues arising. 

Suggestions and comment are always welcome and all emails are replied to. Free short stories, available only to those on the list, are also made available at intervals.