The Troopship Sant Anna sinking, May 1918
There is something especially poignant about soldiers being drowned at sea, far from a land battle-front, and May 11th this year was the hundredth anniversary of such a disaster, one that is largely forgotten today. Even in what turned out to be the last year of World War 1, the Mediterranean continued to be a scene of slaughter of Allied shipping by German and Austro-Hungarian U-boats operating from the naval base at Pola, on the Adriatic. One of these craft was to inflict massive loss of life when it torpedoed the French liner Sant Anna, operating as a troopship, in May of that year. This modern 9,350-ton, 490-foot vessel, which entered service in 1912 and had accommodation for over two-thousand passengers, was used before the war on the France to United States route. She was ideal for use as a trooper and she was commissioned into the French Navy in this role in 1915. She was used in support of the Allied operations on the Salonika Front, in Northern Greece, to which British and French forces were diverted after failure of the Gallipoli campaign. The French made large-scale use of colonial troops and the Sant Anna was accordingly much used to carry such forces from North Africa. Other than a fire on board in late 1915, which may or may not have been the result of German sabotage (there was a lot of hysteria around at the time as regards possible saboteurs), the Sant Anna's wartime career was uneventful for almost three years.
In the early hours of 11th May 1918, the Sant Anna, was some 25 miles east of Cape Bon, Tunisia, carrying reinforcements to Salonika. These men constituted a representative cross-section of France's colonial empire. Of the 2025 troops some 574 were from Senegal in West Africa, 429 from Algeria, 129 from Indo China, almost all others being French. The Sant Anna was accompanied by what appeared – on paper – to be substantial escort. This consisted of two British Arabis-class sloops, Clematis and Verbena. The British sloops – which also had mine-laying capability, were simple 1200-ton, 260-ft vessels, suited to fast construction in yards normally used for civilian construction only, but they were heavily armed – four 4.7-inch guns, plus smaller weapons.  The qualification "on paper" relates to the fact that in this period there was no effective way of detecting submerged submarines – perfection of Asdic (later known as Sonar) as a practical system was still lay in the future. Detection of surfaced submarines by night, or of briefly-exposed periscopes by day, was largely dependent on the accuracy and alertness of "The Mark One Eyeball".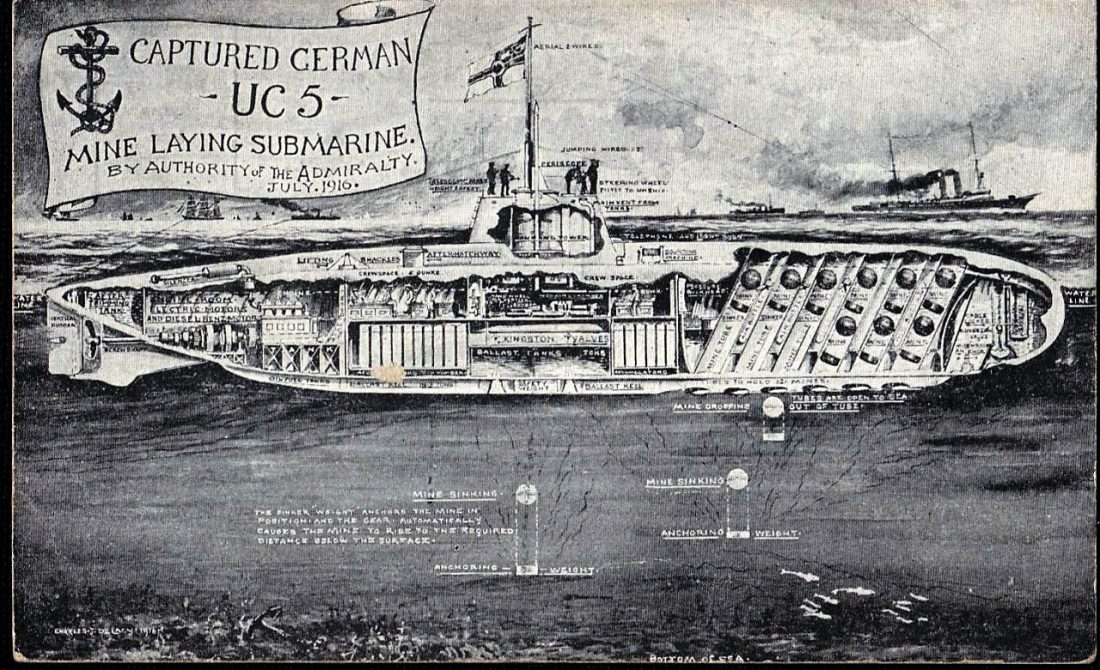 UC-5 – generally typical of the small UC craft, one of the original series 
(She ended up in Central Park, New York!)
At 3:15 a.m. a torpedo fired by the German submarine SM UC-54, slammed into the Sant Anna. This small U-boat was one of the 64-member of the UC-11 class. Though small – 400-tons on the surface and 175-feet long – and armed with three torpedo tubes, with capacity for carrying 18 mines in internal chutes, these vessels were perhaps the most successful class of submarine ever built, sinking no less than 1800 ships from early 1916 onwards. Few warships, of any type, can ever have represented better value for money.
The Sant Anna was mortally wounded and the escorts concentrated on saving lives rather than chasing the attacker – a task that would have been almost certainly futile in the darkness. They were joined by a British gunboat, a French Navy destroyer, the Catapulte, a French sloop, the Saint Jean, and what appear to have been merchant vessels, the Auguste Leblond and the Marguerite Marie. Their rescue efforts saw considerable success, especially as the Sant Anna sunk a mere half-hour after she was hit, but the final death toll was still 605 (and according to some sources as high as 638 – record keeping does not seem to have been particularly strict).
The unlucky Catapulte, seen here when new, in 1903
It is sad to note that the Catapulte, a small (308-ton) destroyer built in 1901, had just one week to survive before she too was sunk. On 18th May 1918, off the Algerian coast, she collided with a British steamer which she was escorting, the 3326-ton Warrimoo. As she sank, her depth charges triggered themselves and the resulting explosion blew in the bottom-plates of the Warrimoo, sinking her also, with some loss of life.
And the UC-54? In her 17-month career she sank a total of 18 ships and she was scuttled at Trieste when the Austro-Hungarian Empire surrendered in late October 1918.
Do you read on Kindle?
Do you enjoy naval fiction?
If you're a Kindle Unlimited subscriber you can read any of the six Dawlish Chronicles novels without further charge.They are also available for purchase on Kindle.
Click on the banner below for more details

Registering for the Dawlish Chronicles mailing list by clicking  on the banner below, will keep you updated on new books and facilitates e-mail contact between Antoine Vanner and his readers for discussion of issues arising. 

Suggestions and comment are always welcome and all emails are replied to. Free short stories, available only to those on the list, are also made available at intervals.