Kaiser Wilhelm II at Gibraltar, 1904
As eldest grandson of Queen Victoria – at whose death he was present – and as nephew of Britain's King Edward VIII, Kaiser Wilhelm II of Germany displayed had a half-respectful, half-resentful, attitude to Britain. He gloried in being an honorary admiral of the Royal Navy (and in wearing the appropriate uniform), he raced his yacht Meteor regularly in the Cowes Regatta and enjoyed private visits during which he dressed as an English country-gentleman. His suspicion and dislike of Britain, which later amounted to a near-mania, only intensified after the Anglo-French Entente Cordiale in April 1904, prior to which there had even been some talk of an Anglo-German Alliance.
The Entente was still a month in the future, when Wilhelm visited Gibraltar in March 1904. It was to be seen in retrospect as the climax of the Kaiser's somewhat one-sided love-affair with Britain. I was reminded of this recently when I read an account of it by Admiral Lord Charles Beresford, then in command of the Royal Navy's Channel fleet. The name of this fleet was somewhat of a misnomer as its area of operations was essentially the North Atlantic. Beresford had transferred his flag from HMS Majestic to her sister pre-dreadnought HMS Caesar, on February 2nd 1904 and the Kaiser was to arrive in Gibraltar the following month.
Beresford, whose very public feud with Admiral John Fisher was to cause controversy in subsequent years, was the ideal man to manage an occasion of this sort. He had at one stage been a crony of the then Prince of Wales – later Edward VII – before a falling out with him over a shared mistress and he had conducted an active political career as a member of parliament in parallel with his career as a naval officer.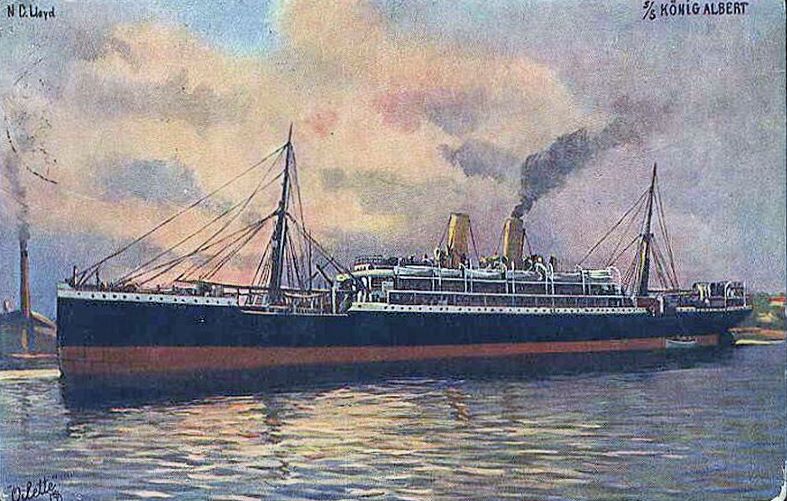 SS Koenig Albert – destined to end her days as Italian war-booty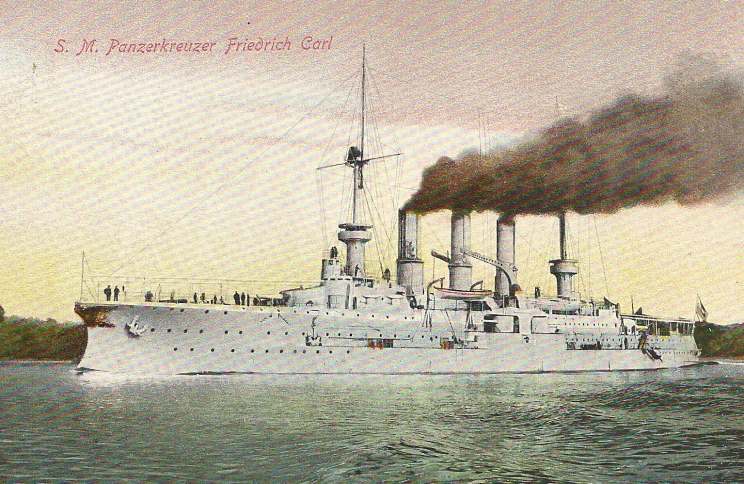 SMS Friedrich Karl
The Kaiser arrived in Gibraltar in March 1904 on board the German liner, Koenig Albert, escorted by the armoured cruiser SMS Friedrich Karl.  As a mark of respect for his honorary rank of a British Admiral his flag was hoisted on HMS Caesar.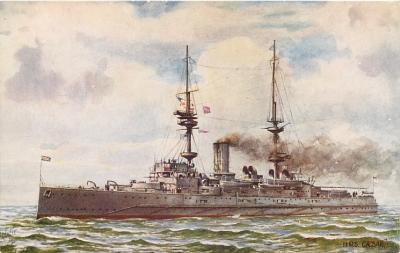 HMS Caesar – destined to fly the Kaiser's flag as an honorary Royal Navy Admiral
The account of what happened thereafter is best told in Beresford's own words:
"On the 20th, his Majesty honouring me with his presence at dinner in the Caesar, the boats of the Fleet were lined on either side of-the passage between the Koenig Albert and the Caesar; and when the Emperor proceeded between the lines, every boat burned a blue light, all oars were tossed, blades fore and aft, in perfect silence, the midshipmen conveying their orders by signs."
After dinner Beresford proposed the Kaiser's health and when "I stood up, glass in hand, as I said the words "Emperor of Germany," a rocket went up from the deck above, and at the signal every ship in the Fleet fired a Royal Salute. As the Emperor was leaving that night, the German flag and the Union Jack were hoisted on the Rock, half the searchlights of the Fleet being turned on the one flag, and half on the other. Precisely as the Koenig Albert passed between the ends of the breakwaters, two stands of a thousand rockets, each stand placed upon the end of a breakwater, were ignited, and rushing upwards, met in a triumphal arch of fire high over the mastheads of the Emperor's ship."
Wilhelm did not realise it, but this marked the end of the love affair. The following month Britain linked its destiny – fatefully – with France in the Entente Cordiale and the slide commenced towards war a decade later. He was to visit Gibraltar one time, only a year later, but on this occasion there was to be no rockets, no searchlights, no triumphal arch of fire.
It followed from Wilhelm's visit to Tangier, Morocco, in March 1905 when declared he had come to support the sovereignty of the Sultan —a statement which amounted to a provocative challenge to French influence in Morocco. The result was a serious international crisis that nearly led to war between Germany on the one side, Britain and France on the other. It was finally resolved peacefully, but it set the scene for further confrontations.
En route home from Morocco Wilhelm stopped at Gibraltar. He met a very frosty reception which he summed up in his memoirs: "The first I learned about the consequences of my Tangier visit was when I got to Gibraltar and was formally and frigidly received by the English, in marked contrast to my cordial reception the year before."
1914 was nine years away, and the clock had started ticking.
Do you want to meet Beresford as he was two decades earlier?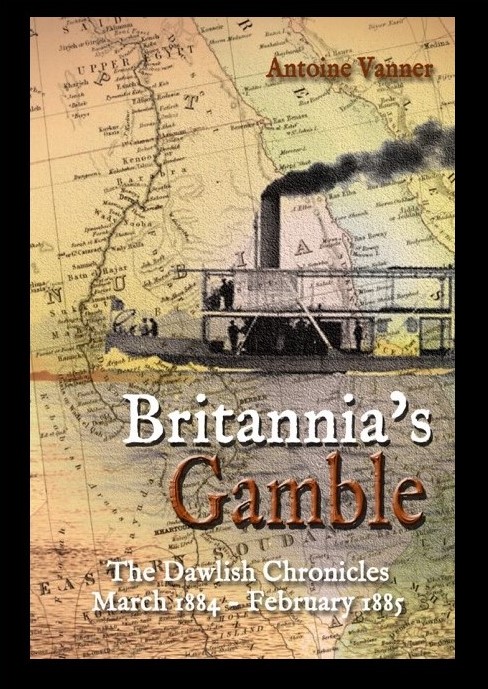 Beresford plays an important (and historically accurate) role in Britannia's Gamble, the sixth of the Dawlish Chronicles series of novels.
It's 1884 and a fanatical Islamist revolt is sweeping all before it in the vast wastes of the Sudan and establishing a rule of persecution and terror. Only the city of Khartoum holds out, its defence masterminded by a British national hero, General Charles Gordon. His position is weakening by the day and a relief force, crawling up the Nile from Egypt, may not reach him in time to avert disaster.
But there is one other way of reaching Gordon…
A boyhood memory leaves the ambitious Royal Navy officer Nicholas Dawlish no option but to attempt it.  The obstacles are daunting – barren mountains and parched deserts, tribal rivalries and merciless enemies – and this even before reaching the river that is key to the mission. Dawlish knows that every mile will be contested and that the siege at Khartoum is quickly moving towards its bloody climax.
Outnumbered and isolated, with only ingenuity, courage and fierce allies to sustain them, with safety in Egypt far beyond the Nile's raging cataracts, Dawlish and his mixed force face brutal conflict on land and water as the Sudan descends into ever-worsening savagery.
And for Dawlish himself, one unexpected and tragic event will change his life forever…
Registering for the Dawlish Chronicles mailing list by clicking  on the banner below, will keep you updated on new books and facilitates e-mail contact between Antoine Vanner and his readers for discussion of issues arising. 

Suggestions and comment are always welcome and all emails are replied to. Free short stories, available only to those on the list, are also made available at intervals.