Rescue against all odds: Pellew and the Dutton 1796
We've met Edward Pellew (1757 – 1833) on this blog before  (Click here to read) and it's probable that we'll meet him again as he ranks just  below Nelson, and certainly with Cochrane, as one of the Royal Navy's most intrepid commanders during the Revolutionary and Napoleonic wars. His earliest fighting experience came during the American War of Independence, when he was present at fighting on Lake Champlain, and his career was to culminate as Admiral Viscount Exmouth when he commanded a combined British-Dutch squadron in operations against Barbary pirates in Algiers in 1816. A humane, generous and decent man, his personal courage was legendary and although his career was studded with desperate naval actions one of his most notable feats of heroism was not to be in a combat situation, but rather a fearless rescue when the East Indiaman Dutton was driven aground in 1796.
1795, the third year of the Revolutionary War, saw Commodore Pellew commanding a squadron of frigates from his own HMS Indefatigable. Operating in the Western Approaches and off North-Western Coast of France, Pellew's force was to score significant success through the year. By January 1796 however Indefatigable had been brought into Plymouth for refitting. It was an opportunity for Pellew to relax ashore on and 26th January he was on the way with his wife to dine at the house of a well-known clergyman, Dr.  Robert Hawker. As the Pellew arrived Hawker ran out and called "Have you heard of the wreck of the ship under the Citadel? " This was enough to send Pellew racing to the scene of the disaster.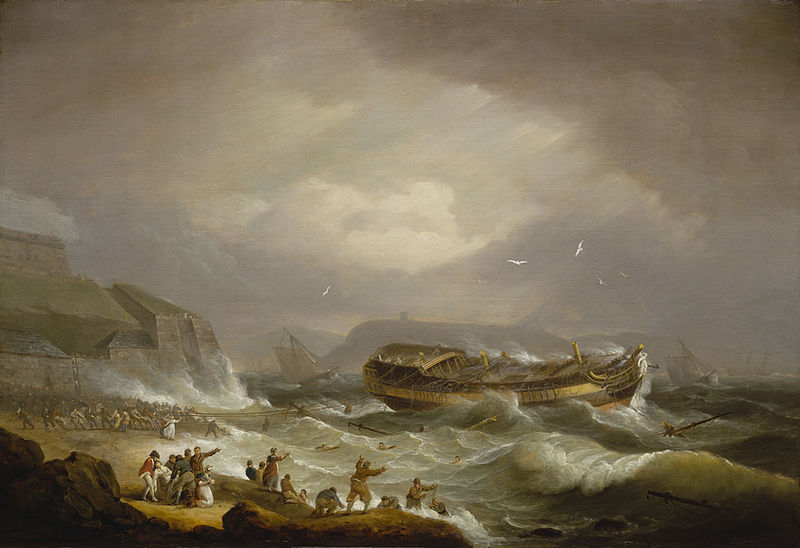 The wreck of the Dutton by Thomas Luny
Note group on beach, hauling on hawsers
The ship involved was the East Indiaman Dutton – and as such manned by civilians. This vessel had been underway for the West Indies with no less than 400 troops for the strengthening of the garrisons there, together with a number of camp followers, not to mention the ship's own crew – the total was estimated at somewhere between 500 and 600. It is an indication of the extreme dependence upon weather conditions during the Age of Sail that the Dutton had already been seven weeks at sea but had been driven back to Britain by adverse winds. Given the number of people crammed into a vessel less than 200 feet long it is not surprising that there should be a large number of sick on board. It had now been driven against Plymouth Hoe, an open space that slopes down towards the sea and on which the Citadel referred to by Dr. Hawker stands. It ends at low limestone cliffs with a beach below.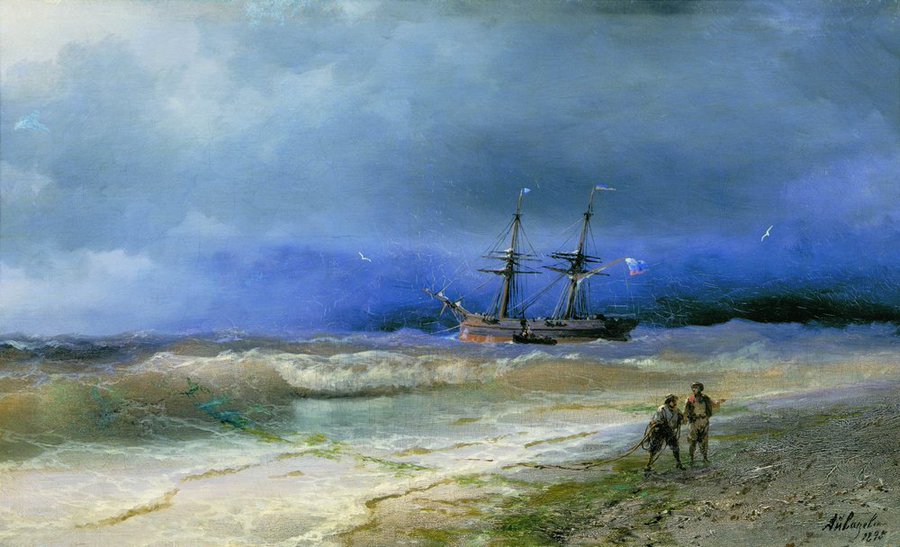 The plight of a ship in peril on a lee shore by the Russian master, Ivan Aivazovsky (1817-1900) 
Pellew arrived on the beach to find – one can imagine that it was to his disgust – that most of the Dutton's senior officers had already abandoned ship. They had made it by clinging to a single rope stretched between ship and shore.  Others had also gained the shore but the process was slow and dangerous – one eyewitness wrote that "you would at one moment see a poor wretch hanging ten or twenty feet above the water, and the next you would lose sight of him in the foam of a wave". It was obvious that this method alone would be incapably of saving the hundreds on board before the hull broke up. Despite Pellew's exhortations to the ship's officers to return to the ship – and an offer of five guineas each – they refused to do so, as too did local pilots who believed that the case was hopeless. Pellew realised that without his direction almost all on Dutton would be lost and he resolved to go out himself. He did so by getting dragged to the ship by the single rope. This was hazardous, since the vessel's masts had collapsed towards the shore and he was at one stage dragged under the mainmast, only extricating himself with leg and back-injuries that were afterwards to confine him to bed. He did however finally reach the wreck and took command – he made it plain that absolute compliance with his orders would be essential and that he himself would be the last to quit the wreck. His reputation as a national hero was already well established and his presence alone did much to reduce any tendency to panic. A complication was however that some of the soldiers had broken into the spirit store and were already drunk.  Pellew, sword in hand, made it plain that that he would have no hesitation in killing anybody exhibiting disobedience.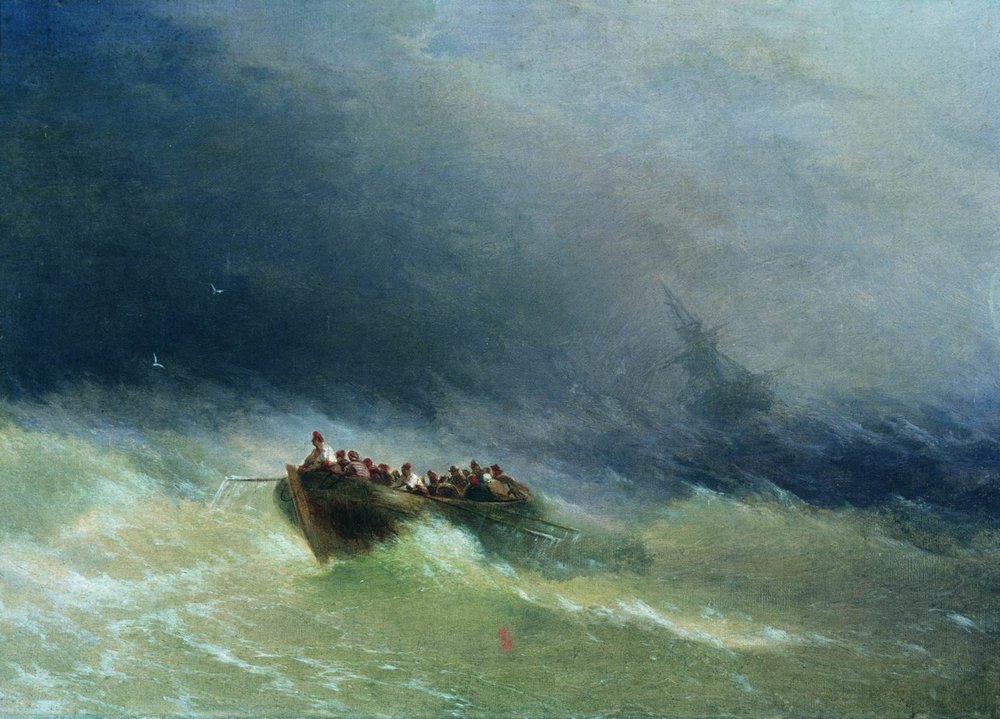 Aivazovsky again: the ordeal of rescue craft in violent surf
Back at HMS Indefatigable it was not known that Pellew was on the Dutton but efforts were made to get boats to her. Despite gallant attempts it proved impossible to bring them alongside. More successful however was a small boat from a merchant vessel. This was manned by a naval midshipman and the merchant vessel's Irish mate, one Jeremiah Coghlan. With these men's help Pellew managed to get two more hawsers stretched from the wreck to the shore.  Pellew set men to work to fashion got cradles constructed that could be slung beneath the hawsers to be pulled to and fro. In order to avoid shock-loading of the hawsers as the wreck rolled, and to avoid the consequent risk of their snapping, they were not made fast at the shore end. Each line was instead held by a group of men who tightened and relaxed them so as to keep the tension steady. This must have been exhausting and was not the least impressive aspect of the entire rescue. Transfer by cradle now commenced but it was obviously unsuited to the weak and vulnerable – a category that included one three-week old baby on board. Coghlan in his small boat managed to get some 50 people to shore before any other craft reached the wreck.
While this was in progress a sloop and two large pulling-boats had managed to reach the Dutton from shore. In these the women children and the sick were landed, Pellew being adamant in ensuring that order was maintained despite the soldiers' drunkenness – he was witnessed beating one looter with the flat of his sword. The handling of the rescue boats in such conditions was an epic in itself and they were in due course to get the soldiers to shore, followed by the ship's company. Pellew was among the last to leave – passing ashore along a hawser – and the battered hull broke up soon afterwards. All on board had been saved.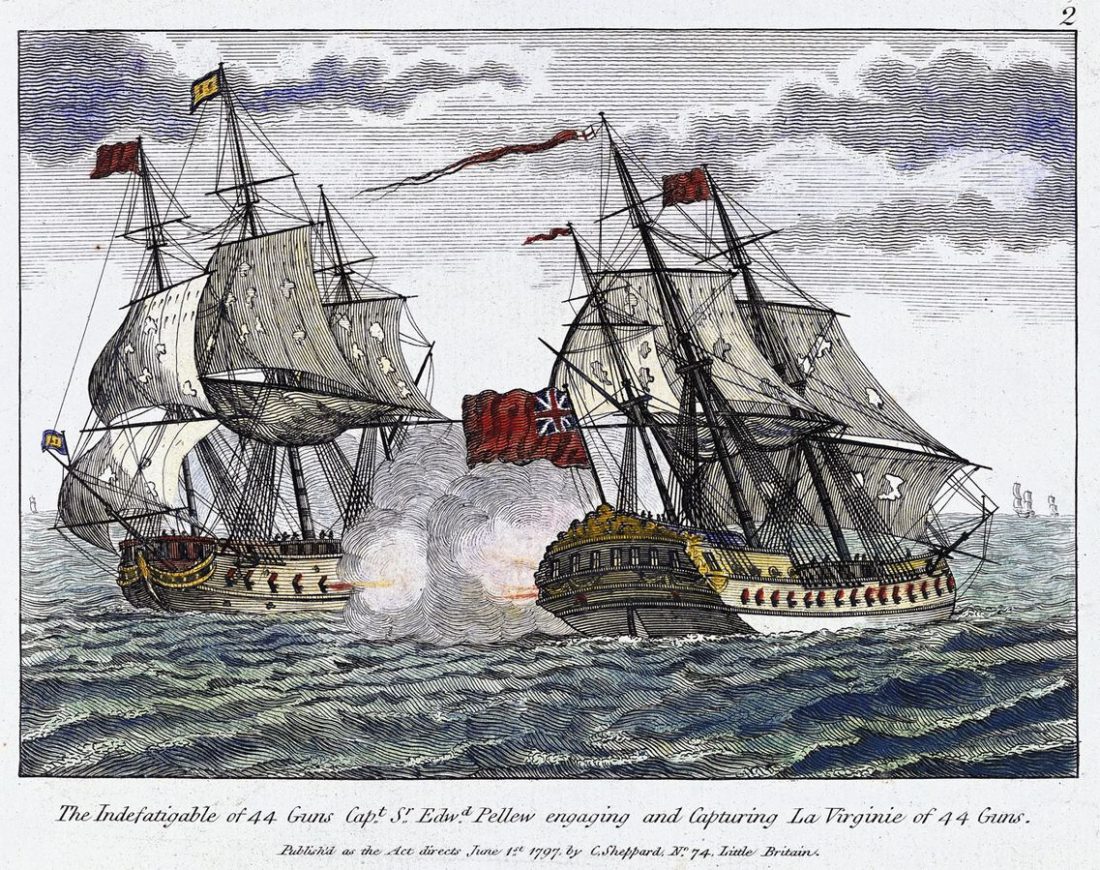 HMS Indefatigable in action under Pellew against French frigate La Virginie 1st June 1797 
It is typical of Pellew that the only mention made in the Indefatigable's log was the statement "'Sent two boats to the assistance of a ship on shore in the Sound" with no reference to himself. A pleasing postscript – and a long one – was that Jeremiah Coghlan (1776 – 1844), the young civilian who had done such heroic work in his small boat, was to join the Navy and have an illustrious career. Pellew took him on board the Indefatigable as a midshipman and had him follow him when he took command of HMS Impetueux in 1799. Coghlan was given command of the cutter HMS Viper the next year and he was promoted further following a cutting-out operation, in which he snatched the French gun-brig Cerbère from a defended harbour. His subsequent career was to be the stuff of naval fiction – single-ship actions, storming shore-batteries, seizing Naples in 1815. When Pellew became Commander-in-Chief, Mediterranean, from 1811 Coghlan was to be his flag captain on HMS Caledonia. One of the heroes of the Age of Fighting Sail, he was to live long enough to see the birth of the steam navy.
And Pellew? We'll return to him again in the future.
Naval fiction in the Age of Fighting Steam
Britannia's Innocent is the first chronologically of the Dawlish Chronicles Series
For more details regarding purchase in paperback or Kindle format, click below Note that Kindle Unlimited and Kindle Prime subscribers can read at no extra charge
The Dawlish Chronicles – now up to eight volumes, and counting …

Six free short-stories are available for download to your Kindle. Access them by registering for the Dawlish Chronicles mailing list – just click on the banner below. You'll be kept updated on new books and  will receive other free stories at intervals.