HMS Implacable at war with Russia – 1808 & 1809
 Two events dominate the general impression of Russia's role in the Napoleonic Wars. The first is the crushing defeat of Russian and Austrian forces at Austerlitz in 1805 – arguably Napoleon's most impressive battle. The second was the French retreat from Moscow in late 1812, harried by Russian forces, a major factor in Napoleon's downfall, culminating in the camping of Cossacks in the Champs Élysées in Paris, less than two years later. It is not so often remembered however that in part of the intervening time, 1807 to early 1812, Russia was an ally, though a not very active one, of Napoleon's French Empire.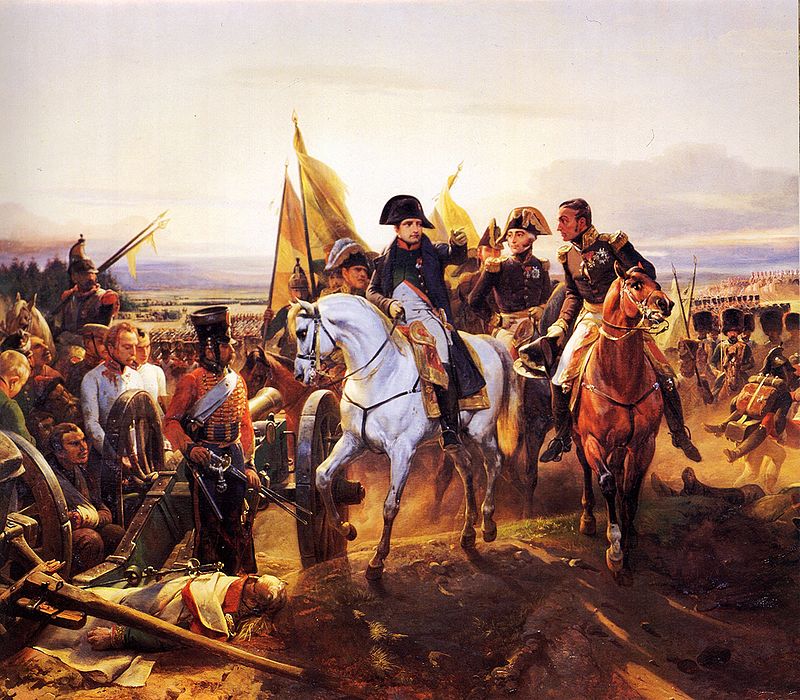 Napoleon at Friedland, June 1807 – by Horace Vernet (1789-1863)
The rapprochement between France and Russia followed the battle of Friedland in 1807 – another devastating defeat for the Russians. In its aftermath Napoleon met the Russian Czar, Alexander I, on a raft – neutral ground – moored on the Neman river at Tilsit, now in Russia's Kaliningrad Oblast.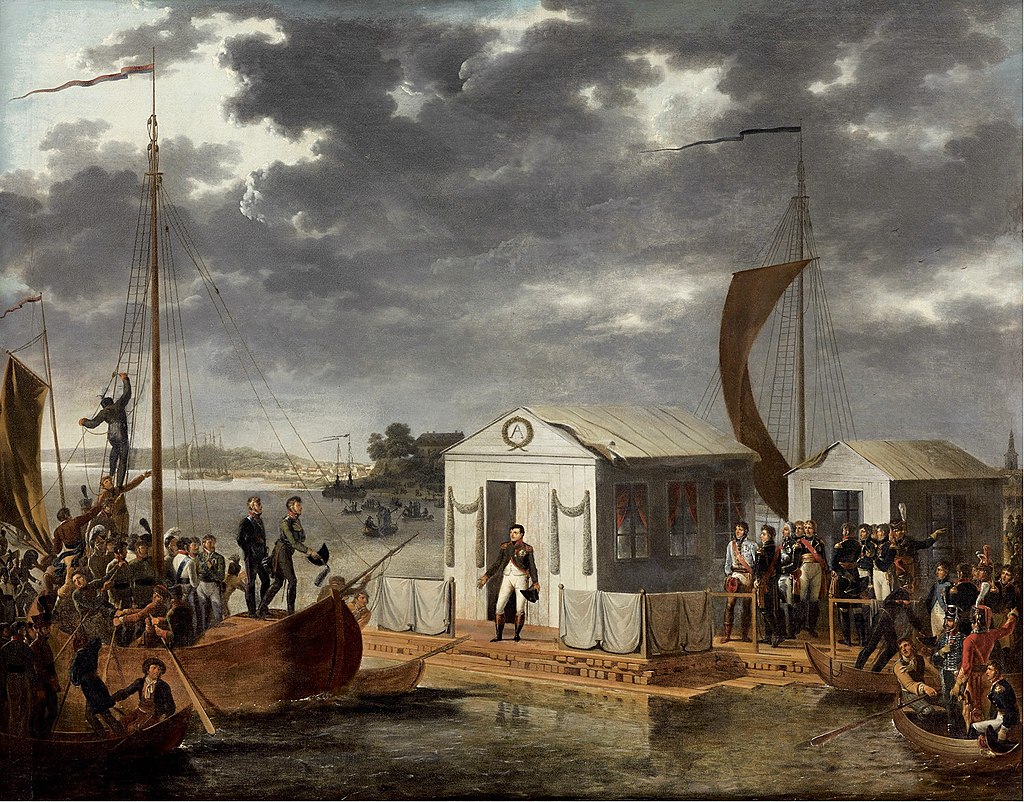 Napoleon and Alexander I meet on the raft, 25th June 1807 by Adolphe Roehn (1780-1867)
What resulted was a treaty which established peace between the French and Russian Empires but at the cost of requiring Russia to stop trading with Great Britain. This represented another link in Napoleon's "Continental System" which aimed at establishing French-dominated Europe as a single economic entity and destroying Britain as a trading nation. Russia fell in line by declaring war on Britain in 1807, and the following year on Sweden, the only European country that refused to be part of Napoleon's anti-British alliance.  Sweden's decision was to cost her dear, as it resulted in her loss to Russia of Finland, up to that time a Swedish possession. Russia's Czar Alexander I generally restricted Russia's contribution to the war to the bare requirement to close off trade. The British, understanding his position, limited their military response, most notably to naval operations in 1808 and 1809.
The threat to Britain's trade with Finland was especially important since "Baltic Stores" – timber – were of critical importance to the Royal Navy. Britain's response was to send a fleet to the Baltic in 1808, under command of Vice-Admiral Sir James Saumarez (1757-1836), to operate in concert with the Swedish Navy.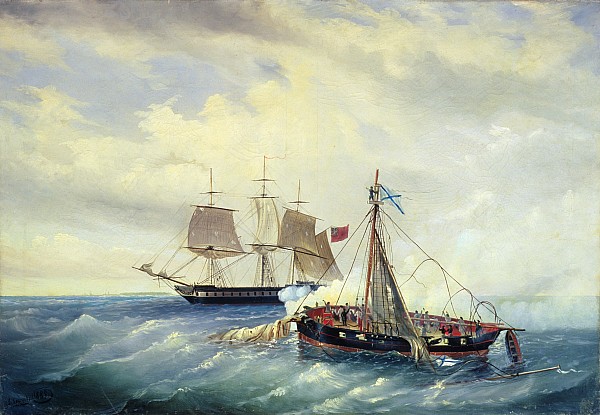 Russian ship Opyt engaged by a British frigate 11th July 1808 – many of the actions of the Anglo-Russian War were small scale. This painting is by Leonid Demyanovich Blinov(1868-1903)
On 22nd August 1808, a Russian force of nine ships of the line and eleven frigates advanced westwards along the northern shore of the Gulf of Finland to attack the Swedes. Accompanying the latter were two British "74s" ships-of-the-line, HMS Centaur and HMS Implacable. Russian resolve now faltered and a retreat ensured, the two British vessels outpacing their Swedish allies and catching up with a Russian straggler, the "74" Vsevolod on 24th August. Three other Russian ships in the vicinity offered no assistance as HMS Implacable subjected the Vsevolod to heavy fire and drove her aground. The Vsevolod "struck" – ran down her colours in surrender – but the main Russian force had by now turned back to come to her rescue. Outnumbered, HMS Implacable retreated and the Vsevolod was once more in Russian hands.
A Russian frigate, the Poluks, then towed the damaged Vsevolod towards Rågervik (now Paldiski, in Estonia, on the southern coast of the Gulf of Finland), where the main Russian force was now heading for refuge. Some six miles outside the port, the Vsevolod ran aground again. HMS Centaur had continued to follow however and, on 25th August closed, chasing away the boats that were attempting to get the Vsevolod afloat again. HMS Centaur drove on and indeed grounded herself. Her crew managed to lash her mizzen mast to the Russian's bowsprit to draw both ships together before opening fire. Attempts to board were made by both crews but the issue was decided when HMS Implacable arrived and, standing off, fired on the Vsevolod for some ten minutes. The Russian colours were once more run down and some of her crew jumped overboard and managed to reach land.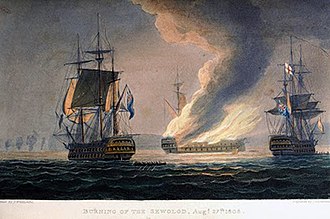 The burning of the Vsevolod (referred to here as Sewolod)
HMS Implacable succeeded in towing HMS Centaur off. The battle had cost the Centaur three killed and 27 wounded. The Vsevolod was however so firmly grounded that there was no hoping of getting her free also and the decision was taken to burn her after taking off the Russian crew.  The decision must have been a very bitter one, since the capture of an enemy '74' would have resulted in substantial prize-money for all involved. The Vsevolod blew up a few hours afterwards. (We encountered HMS Centaur before, at Diamond Rock. Click here to read the blog about her then).
An equally daring operation occurred early in July the following year, again involving HMS Implacable, with support from the '74s' HMS Bellerophon and the frigates, HMS Melpomene, and HMS Prometheus. On 6th July 1809 HMS Implacable had captured several merchant vessels in the Gulf of Narva (north of Estonia) but the Russian escort, an armed ship and some gunboat manged to escape.  They took up a strong defensive position close inshore, where the larger British vessels could not follow. What ensued was a raid of the type in which the Royal Navy excelled – sending in ships' boats for boarding and depending heavily on surprise and aggression for success.
Command was entrusted to a young Lieutenant Hawkey, and the boats of the other vessels, laden with seamen and marines, assembled around HMS Implacable and headed inshore in darkness.  The report of Implacable's Captain Thomas Byam Martin(1773 – 1854), later Admiral of the Fleet, deserves to be quoted, stating that the boats advanced with "an irresistible zeal and intrepidity towards the enemy (who had the advantage of local knowledge), to attack a position of extraordinary strength, within two rocks, serving as a cover to their wings, whence they could pour a destructive fire of grape on our boats, which notwithstanding advanced with perfect coolness and never fired a gun till actually touching the enemy, whom they boarded sword in hand, and carried all before them." Lieutenant Hawkey was killed by grape-shot as he boarded a Russian gunboat, allegedly shouting at the moment that he was struck: "Huzza, push on, England for ever!"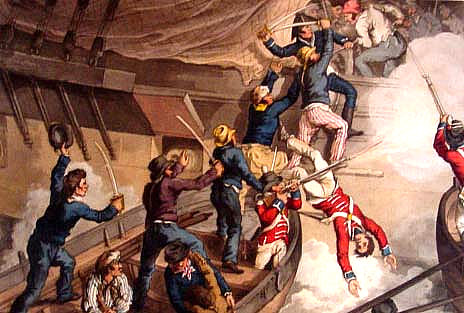 Boarding was always a desperate undertaking (With thanks to the Napoleonic Guide for this illustration – www.napoleonguide.com)
 The outcome was impressive and Captain Martin wrote that "I believe a more brilliant achievement does not grace the records of our naval history: of eight gun-boats, each mounting a 32 and 24-pounder, and carrying 46 men, six have been brought out, together with the whole of the ships and vessels, twelve in number, under their protection — laden with powder and for the Russian army — a large armed ship taken and burnt, and one gunboat sunk."
Those familiar with memorials in English parish churches to officers lost in the Napoleonic wars will not be surprised by the elegance of the language with which Captain Martin reported Lieutenant Hawkey's death: "No praise from my pen can do adequate justice to this lamented young man. As an officer he was active, correct, and zealous to the highest degree; the leader in every kind of enterprise, and regardless of danger, he delighted in whatever could tend to promote the glory of his country."
The butcher's bill for this operation was not negligible: seventeen 17 British killed and thirty-seven wounded. Large numbers of Russians were drowned in addition to sixty-three found killed and fifty-one wounded out of a hundred and twenty-seven prisoners.
And now, two centuries on, and with the benefit of full hindsight, one realises how futile all this was. Three years later these men would have been allies in the fight against Napoleon. But they never lived to know it.
"Antoine Vanner is the Tom Clancy of historic naval fiction."
– Historian and Novelist Joan Druett

If you're a Kindle Unlimited or Kindle Prime subscriber you can read any of the seven Dawlish Chronicles novels without further charge. They are also available for purchase on Kindle or as stylish 9 X 6 paperbacks.
Click on the image below for more details 
Registering for the Dawlish Chronicles mailing list, by clicking  on any of the cover images  below, will keep you updated on new books. You will also receive five free short stories for downloading on your Kindle, computer or tablet.