Lonely Lives and Deaths
French Prisoners of War in Britain 1793 – 1815
Part 2
The most notable reminder of the Napoleonic-era French prisoners in modern Alresford is to be found in the graveyard of the ancient church of St. John the Baptist (Click here to read Part 1 for context, should you have missed it).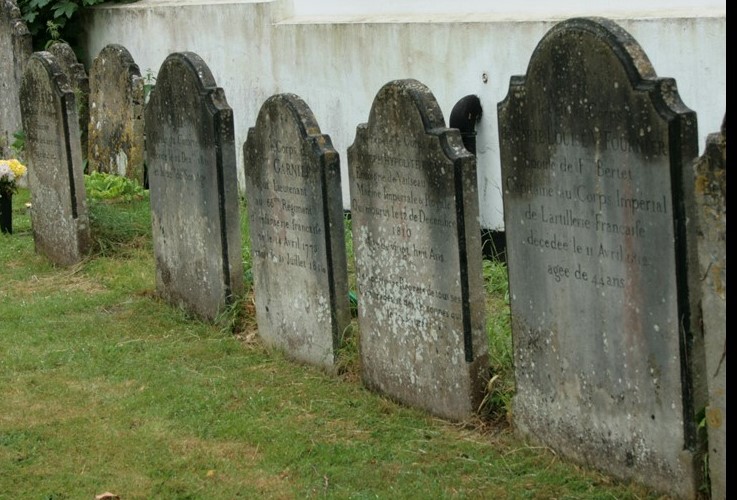 Sad French Graves in Hampshire, far from home
Here one can find headstones which commemorate four prisoners, and the wife of another, who lie buried here. A small plaque alludes to deaths brought on by tropical diseases carried back from the West Indies. Though brief, the inscription on each stone tells a tale of tragedy.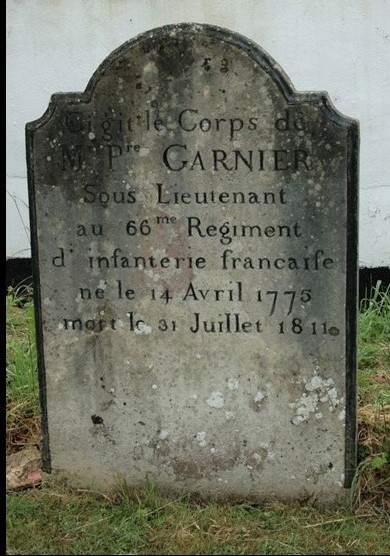 Pierre Garnier – Sub-Lieutenant of the French 66th Regiment of Foot, died on 31st July 1811 at the age of 36. I have been unable to locate a book written about him by  Audrey Deacon and entitled "The Prisoner from Perrecy" (1988) but his details appear to be that he had served since 1796 and sailed to Guadeloupe in 1810, being captured that year in the British attack that eliminated this last French base in the Caribbean. Garnier arrived in Alresford in June 1811 but already appeared to be ill, possibly due to a fever brought from West Indies. Before dying he prepared a claim for arrears of half-pay to which he was entitled as a prisoner but the claim was not settled (on behalf of his heirs) until six years after the end of the war.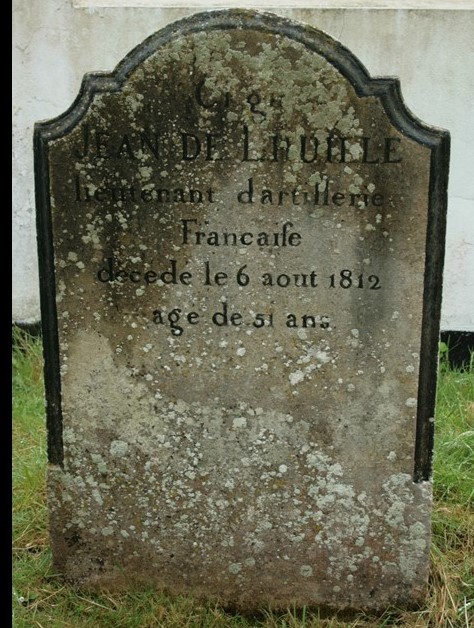 Jean de Lhuille – Lieutenant of Artillery, died August 6th 1812 at the age of 51. He was the oldest commemorated with a headstone and considering his junior rank one wonders what his story might have been. Was he a promoted ranker? Was he perhaps a civilian but enrolled in some part-time militia on Guadeloupe and captured at the same time as Pierre Garnier?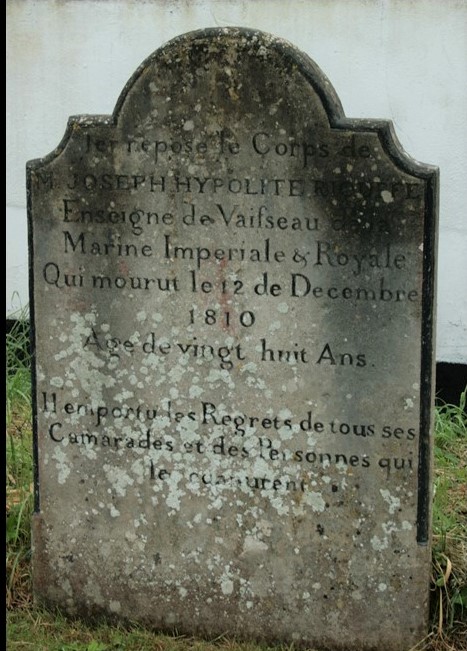 Joseph Hypolite Riqueffe – Naval Ensign, died December 12th 1810, aged 28. It is interesting that his affiliation is given as the "Imperial and Royal" French Navy and not the "Imperial" alone. He was "regretted by his comrades and all who knew him" and one suspects that the latter category was not confined to Frenchmen.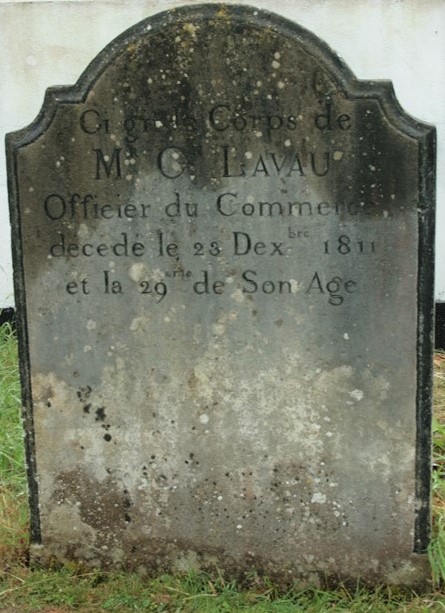 M.C. Lavau – Merchant Navy officer, died December 23rd 1811 at the age of 29. Given that much of Britain's naval war against Napoleon was a war against commerce, and conducted with higher standards of humanity than the U-Boat wars of the 20th Century, there is a good chance that he might have been captured at sea.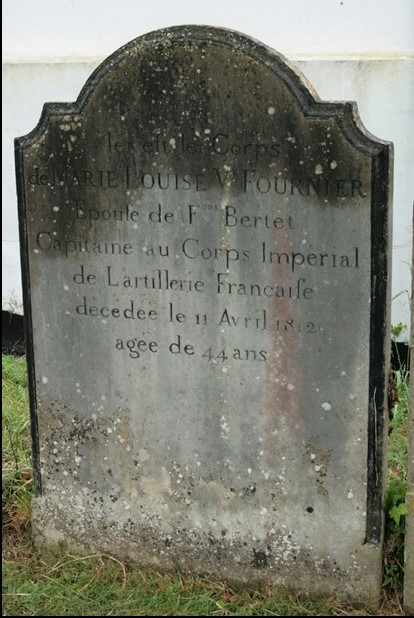 Madame Marie Louise Fournier – wife of Captain F. Berlet of the French Artillery, died 11th April 1812 aged 44. This is the saddest of the gravestones and one wonders how she had come to be in Alresford. Had she perhaps been captured with her husband, perhaps in Guadeloupe, and had she volunteered to stay with him? Had he perhaps been wounded and needing nursing? Or had she offered to come across from France to Britain to stay with him after he had been captured somewhere else?
Yet in parallel with these tragedies life went on as pleasantly as it could and relations between British hosts and reluctant French guests seem to have been generally cordial. French prisoners seem to have participated in social gatherings and one such was to be at The Swan Inn (still in business as the Swan Hotel and proud of having once hosted Oliver Cromwell) in 1810 when the agent, John Dunn, and other Alresford notables were invited to attend an Anglo-French assembly to celebrate Napoleon's marriage to Marie-Louise of Austria. Somebody must have tipped off the Admiralty's Transport Board, which then prohibited the celebration as being unpatriotic. It is also notable that the tradition of prisoner of war theatricals, which was so much a feature of WW2 POW camps, especially British ones, seems to have been well established in Alresford. On one occasion some spoilsport at the Transport Board got wind of the fact that French officers had formed a theatre and warned John Dunn that if it continued the prisoners would be moved elsewhere. One hopes that this warning was treated with the contempt it deserved!
Other than Conan Doyle's Brigadier Gerard's brief captivity in Britain I know of only one notable work of fiction which builds on social relations between the British and their French prisoners. This is a tragic short story by Rudyard Kipling in his "Rewards and Fairies" and it centres on a girl who, unknown to herself, is dying of consumption. Her father has become friendly with a French prisoner, a doctor, René Laennec (1786-1821), who is on the process of inventing the stethoscope (Laennec's presence in Sussex as a prisoner-of-war is a fictional invention of Kipling's, but it makes for a great story!). Another friend is Arthur Wellesley, later Duke of Wellington, who is just back from India. The climax of the story is an unbearably poignant account of a dinner at which all the men realise that the girl is dying, but she does not know it herself. Wellesley, who himself was partly educated in France, would have had no hesitation to be on friendly terms with a cultivated Frenchman, prisoner or not. I'd like to think that social interactions of this type were not uncommon – and there's scope here for many a convincing fictional plot!
In preparing the above article I have been heavily indebted to the "About Alresford" website and to an article on it by Peter Hoggarth, dating from 1991, on the French prisoners. The photographs have been taken by myself.
Naval fiction enters the Age of Fighting Steam

If you're a Kindle Unlimited subscriber you can read any of the seven Dawlish Chronicles novels without further charge. They are also available for purchase on Kindle or as stylish 9 X 6 paperbacks.
Here's what readers have been saying about the Dawlish Chronicles in Amazon reviews: