Naval Hero Sir James Lucas Yeo – Part 2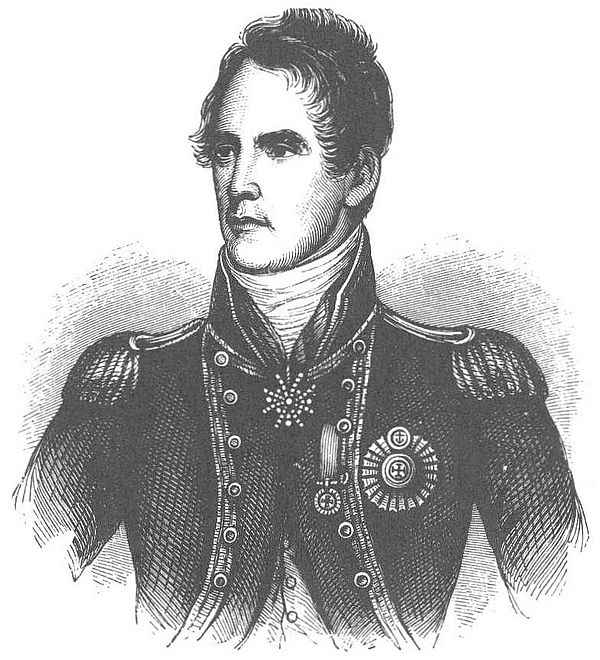 Part 1 of this blog introduced us to the real-life naval hero Sir James Lucas Yeo (1782 – 1818), a handsome and dashing officer who might seem overdone were he to step from the pages of a novel. At the end of that first article (Click here to read Part 1) we left him in 1805, just appointed to command of a French privateer that he had been involved in capturing and which had been commissioned into the Royal Navy as HMS Confiance. This 22-gun, 490-ton corvette was initially classified in British service as a sloop and reclassified as a "sixth rate" in 1807, the same year in which Yeo achieved coveted post-captain rank. Already identified as an intrepid commander who led from the front, Yeo was to get an opportunity to demonstrate his ability to manage an amphibious force when he was assigned to complex operations off the coast of South America.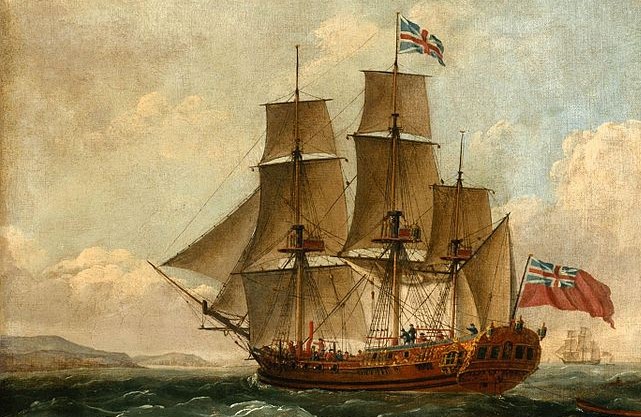 HMS Peregrine – 6th Rate, lost in 1761. Such vessels – essentially small frigates, were known as "post ships" since they were the smallest that could by commanded by a permanent of "Post" captain. This is a detail from a painting by John Cleveley the Elder (1712 –  1777)
By late 1808 French garrisons and harbours in overseas colonies were largely cut off from the homeland, but still represented threats to British interests as support-bases for naval units and privateers which could escape the blockade of the European coasts.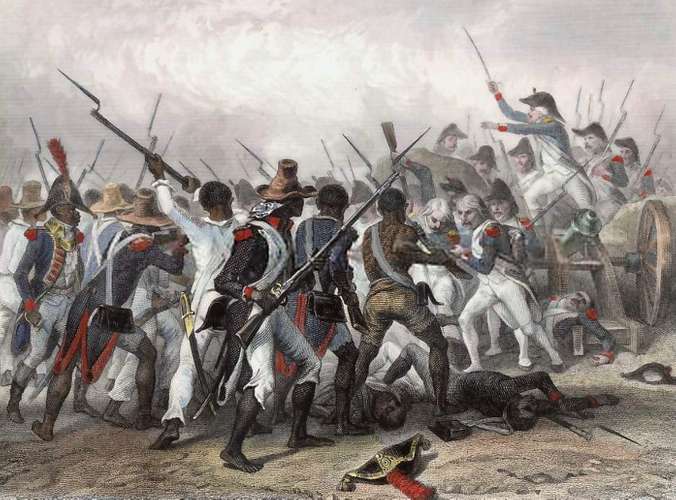 French forces fought intermittent but disastrous campaigns in the West Indies in the decade and more after the slave revolt in Haiti in 1791. Heavy losses were as much due to disease as to enemy action.
The main British focus for elimination of such bases was on the Caribbean but a smaller force was allocated to conquest of Cayenne – later known as French Guiana – on the north-east coast of South America. This operation was entrusted to Yeo. By this stage of the Napoleonic Wars Portugal was also at war with the French, and following invasion by them the Portuguese government had relocated to its vast colony of Brazil. Portuguese forces were accordingly allocated to Yeo to support British forces.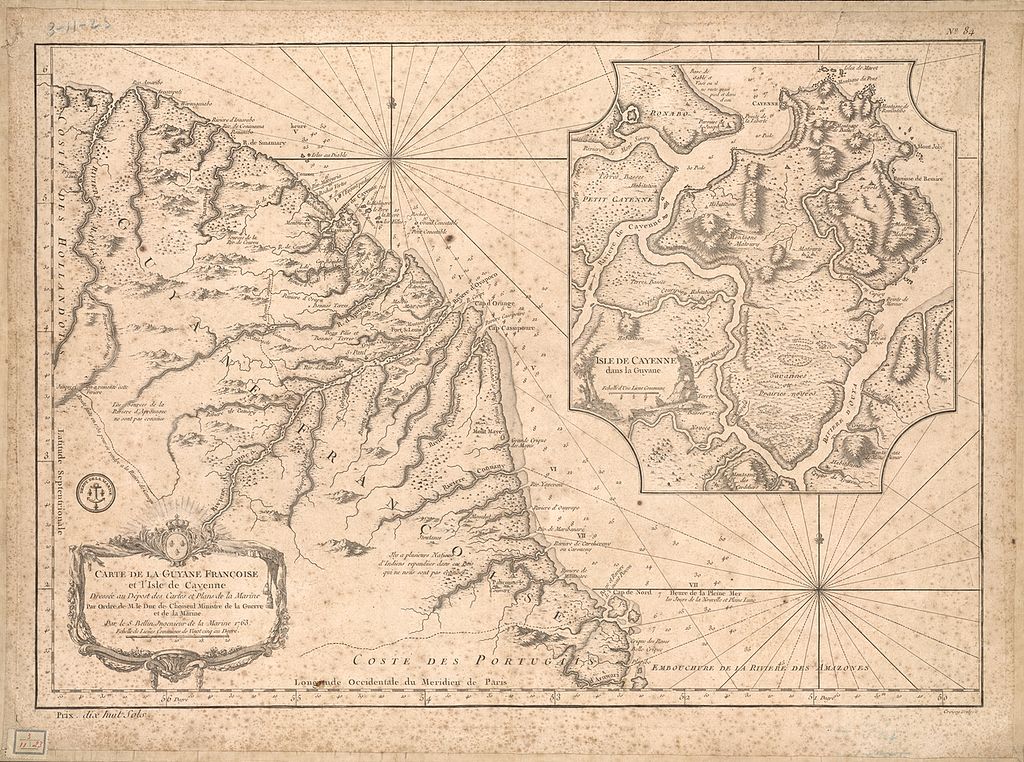 Location of Cayenne – map from 1760s. Note position of island and flanking rivers
What would now be described as Yeo's task-force consisted of the Conficance, supported by two armed Portuguese brigs, Voador (24 guns) and Vingança (18 guns), and two unarmed vessels  acting as transports for some 550 Portuguese regular troops. Seaman and marines from all vessels were also available for land operations and, as he had demonstrated in 1805, Yeo had experience of assaulting coastal fortifications. His objective was Cayenne, the town that gave its name to the French colony and was its administrative centre. Situated on an island between the estuaries of the Cayenne and Mahury Rivers, it was dominated by a masonry star fort (see illustration) and the approaches to it were covered by several smaller forts and gun batteries. Yeo's first concern was to clear the approaches, concentrating on the positions along the Mahury River.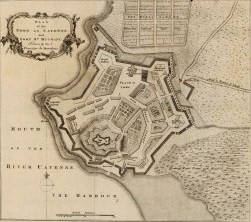 Plan view of main "star-fort" at Cayenne
Yeo began operations by landing a force in the early hours of the night of 7th January 1809 despite heavy rain – which was to continue as a complicating factor through the subsequent fighting – and loss of boats in heavy surf, luckily without loss of life. A Portuguese force was allocated to capture of one French fortification, and Yeo's seamen and marines to another. Surprise paid off and both positions were carried with minimal losses. They were now garrisoned with British and Portuguese personnel. Two further forts were now detected – the fact that they seem to have been unknown previously reminds one how difficult reconnaissance was in the days before availability of aircraft –  and Yeo brought the shallower draught Portuguese vessels inshore to provide covering fire while he launched land assaults – characteristically leading from the front. The attacks were successful and both positions were occupied.
The French governor, Victor Hugues (a major player in the French colonies in the Revolutionary and Napoleonic periods), now sallied from Cayenne with the small forces available to him to attack the captured fortifications but was repulsed.  Yeo pushed his forces forward towards a defensive position close to Hugues' own residence and a British party sent under a flag of truce to negotiate a surrender was fired upon. This may have been a diversion to assist an ambush of Yeo's other forces. Sword in hand, Yeo drove these attackers back to Hugues' house and captured it in hand-to-hand fighting. This was decisive as it was now obvious that there were insufficient French forces to withstand the invasion. Cayenne itself, garrisoned by some 400 troops, surrendered without a fight on 10th January and the remaining French positions surrendered in the following days.
Successful as it was, Yeo's task-force had only one reasonably powerful vessel, the Confiance herself. On station off Cayenne while the operations continued onshore, her crew had been depleted by allocation of seaman and marines to the land attack – there were now only two midshipmen and twenty-five sailors on board. It was therefore of concern when on 13th January a 40-gun French frigate was seen approaching. This was the 40-gun Topaze, well capable of swift destruction of Confiance, and with her the Portuguese vessels. The Topaze had been despatched from France to reinforce the Cayenne garrison and she carried both troops and supplies. Were she to press the advantage of her superior armament the tables could easily be turned on Yeo.
In this situation the hero of the hour turned out to be Yeo's younger brother George, one of the two midshipmen. With Confiance's depleted crew – which he supplemented by some twenty local volunteers, all free black men – he relied on bluff as his only hope. He took Confiance directly towards the Topaze, with every display of intention to engage. He was not however aware the Topaze's captain had instructions to avoid combat if the troops and supplies she carried were at risk. The outcome was that Topaze turned tail and ran, heading for the French-held Caribbean island of Guadoloupe. She never reached it – she was detected close to it by British forces and was captured by HMS Cleopatra. Taken into British service, she was to be named initially as Jewel and later as Alcmene.
Yeo's victory at Cayenne had been comprehensive. With small forces and few casualties – for the British a lieutenant killed and twenty-three men wounded, and for the Portuguese one killed and eight wounded – the entire French colony fell under Anglo-Portuguese control. 400 regular French  troops were captured and some 800 local militia and irregulars were disarmed before being allowed to return to their homes. Some 200 cannon were captured as well as other military supplies. For its time, Yeo's operation had been a text-book example of planning and executing an effective amphibious operation. It earned him well-deserved knighthoods from both Britain and Portugal – he was still only 27 years old – as well as a personal gift of a diamond ring by the Portuguese Prince Regent. His health had suffered in the campaign however – not surprisingly, as he was not a man to spare himself – and he required a period of recuperation before assuming his next command, the frigate HMS Southampton.
And that's where we'll leave the now Sir James Lucas Yeo for now. We'll return in the third part of this blog article to tell of his subsequent – and even more challenging – career.
The New Dawlish Chronicles novel: Britannia's Innocent
The new Dawlish Chronicles novel is now available and is scoring 5-star reviews on amazon.com
"Each of the Dawlish Chronicles is better than the last. Combines the action and adventure of Tom Clancy or Bernard Cornwell, with the sensibility of Henry James or Jack London. The hero perseveres in the face of adversity and remains true to his principles and evolving moral sensibilities: becoming more complete with each challenge. Not jingoistic, but a determined ethical man, who will fulfill his duty to the ends of the earth. I can't wait for the next novel in this series! Thank you Mr Vanner for this fabulous hero placed so aptly into a backdrop of eminent Victorians."
For more details, click below:

.
The Dawlish Chronicles – now up to eight volumes, and counting …

A sixth free short-story, Britannia's Rescuers, set in 1875, is now available for download (with five others) to your Kindle. Access it by registering for the Dawlish Chronicles mailing list – just  click on the banner below. You'll be kept  updated on new books and it facilitates e-mail contact between Antoine Vanner and his readers.