Guest Blog by naval novelist Tim Chant
I met Tim Chant at a Historical Novels Society in Scotland in 2018 and I was interested to learn that he was working on a novel set in the Russo-Japanee War of 1904-05. I found his projects of particular interest in view of my own fascination with this conflict. Tim's novel is now coming available (see purchase link at the end of the article). To celebrate this, I invited him to write a guest blog – his choice of subject – and he has provided an article on one of the most fascinating and outlandish careers in the Royal Navy in the late nineteenth and early twentieth centuries. I hope you'll enjoy it.
Best Wishes:

Antoine Vanner
===============================================================
Admiral Walter Cowan – Fire-eating naval officer and oldest Commando
by Tim Chant
Much has been written, unsurprisingly, about the transition from the Age of Fighting Sail to that of Fighting Steam. Those simple phrases belie what was a staggering pace of change in naval technology and tactics, not just propulsion. While the advent of steam propulsion and then metal construction took a while to take off, from the launch of Gloire in 1859 naval warfare was subject to continual change. The half-century from the advent of ironclads saw the introduction of the torpedo, fully-effective shell artillery, all-metal construction and, latterly, the all-big-gun battleship designs, submarines and the birth of aviation. It's fascinating that the first successful torpedo attack in history involved a young Stepan Osipovich Makarov in 1877; Makarov died in action during the Russo-Japanese War of 1904/5 some months before a young Yamamoto Isoruku was almost invalided out of the Imperial Japanese Navy due to injuries sustained at Tsushima. Thirty-six years later, the IJN executed Yamamoto's strategy in the opening of the Pacific War.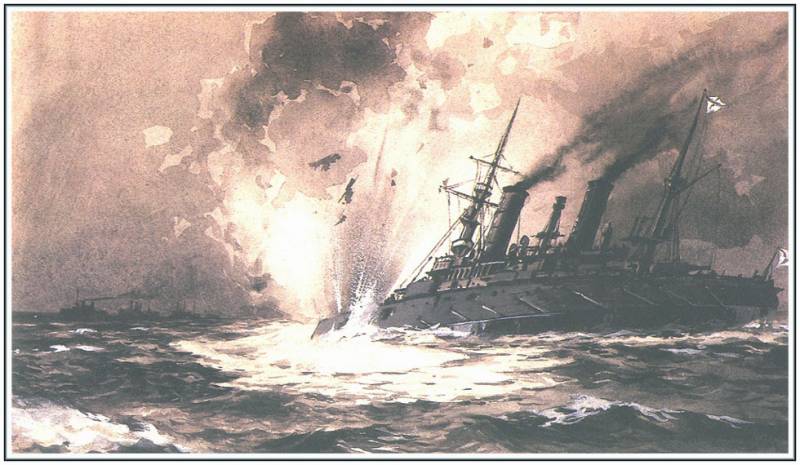 The sinking by mining of Makarov's flagship Petropavlovsk. His death was a massive loss to the Russian war-leadership
The late nineteenth century must have been an odd time indeed for naval officers who had grown up in the 'Nelsonian' tradition, with ships and tactics that hadn't changed much in the preceding centuries. Royal Navy officer cadets training was aboard a vessel that wouldn't have looked too out of place at Trafalgar. While the former HMS Prince of Wales had been launched in 1860 as a screw line of battleship, she was rendered obsolete by the arrival of HMS Warrior in 1861. Renamed HMS Britannia, she served as the training establishment from 1869 to 1905 (my great grandfather graduated as a midshipman in 1904). The officers who trained in that relic of the wooden walls adapted to a world of ironclads and torpedoes, having distinguished and often very long careers.
Jackie Fisher was one such, as was Roger Keyes. One particularly interesting character was Keyes' great friend Walter 'Tich' Cowan. Cowan was born in Wales in 1871, the son of a Royal Welch Fusiliers officers. He entered Britannia at the same time as David Beatty, the two of them going on to serve together frequently. Between bouts of illness, Cowan managed to get involved in his fair share of action. A lot of this involved 'in shore' and river work, such as his command of the Nile gunboat Sultan supporting  Kitchener's army at Atbara and Omdurman, along with Beatty in command of Fateh, and then command of the whole gunboat squadron during the Fashoda Incident, winning his first DSO.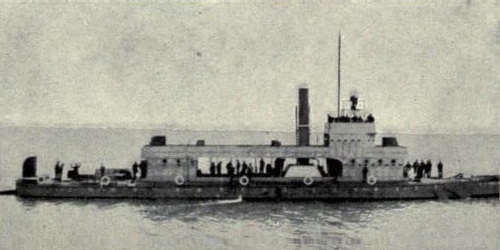 The gunboat Sultan which Cowan commanded in "The River War" of 1898 in the Sudan
Service as an ADC to the British commanders in the Boer War followed. One gets the impression that Cowan was a man who went looking for action, and didn't much mind where he found it. He was, without doubt, a fire-eater. He developed a reputation as a fine destroyer commander after taking command of HMS Falcon and acting as Keyes' deputy in the Devonport destroyer flotilla. In many ways, he was cut from the same cloth as Cochrane, Saumarez and other daredevil frigate captains. He was also a harsh disciplinarian, short-tempered and quick to judge, which did cause him some issues when he attained higher command.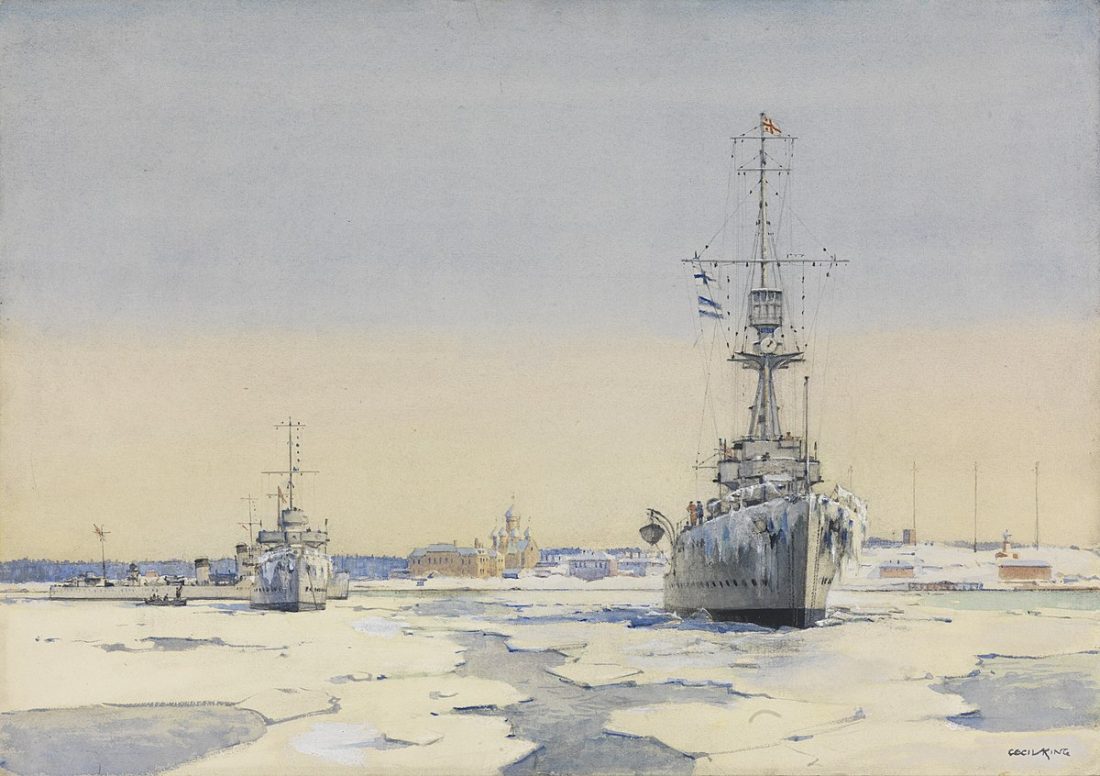 Ships of Cowan's Baltic Squadron at Libau in early 1919, HMS Caledon and destroyers HMS Wrestler and HMS Valhalla. Painting by Cecil King (1881 – 1942)
Cowan'sservice during and immediately after the 1st World War probably merits a blog post of its own, and his influence in the preservation of the independent Baltic states during the Russian Civil War is something I intend to return to. For current purposes, though, we will fast forward to the 2nd World War. Cowan had hauled his flag down for the last time in 1928, as a full Admiral and C-in-C of the Americas and West Indies Station. Although he was 68 at the outbreak of war in 1939, he wasn't going to miss out on the chance to serve further and get into more fights.
Some sources suggest he was deemed too old for sea service but was approved for land service, which seems peculiar. What is certain is that he took a voluntary reduction in rank back to Commander (a rank he first achieved in 1901) and in 1941 was appointed by his old friend Admiral Roger Keyes(1872 – 1945), the first Director of Combined Operations, to liaise with the newly-formed Commando units and teach small boat handling – something that Cowan would have had a great deal of experience in the previous century.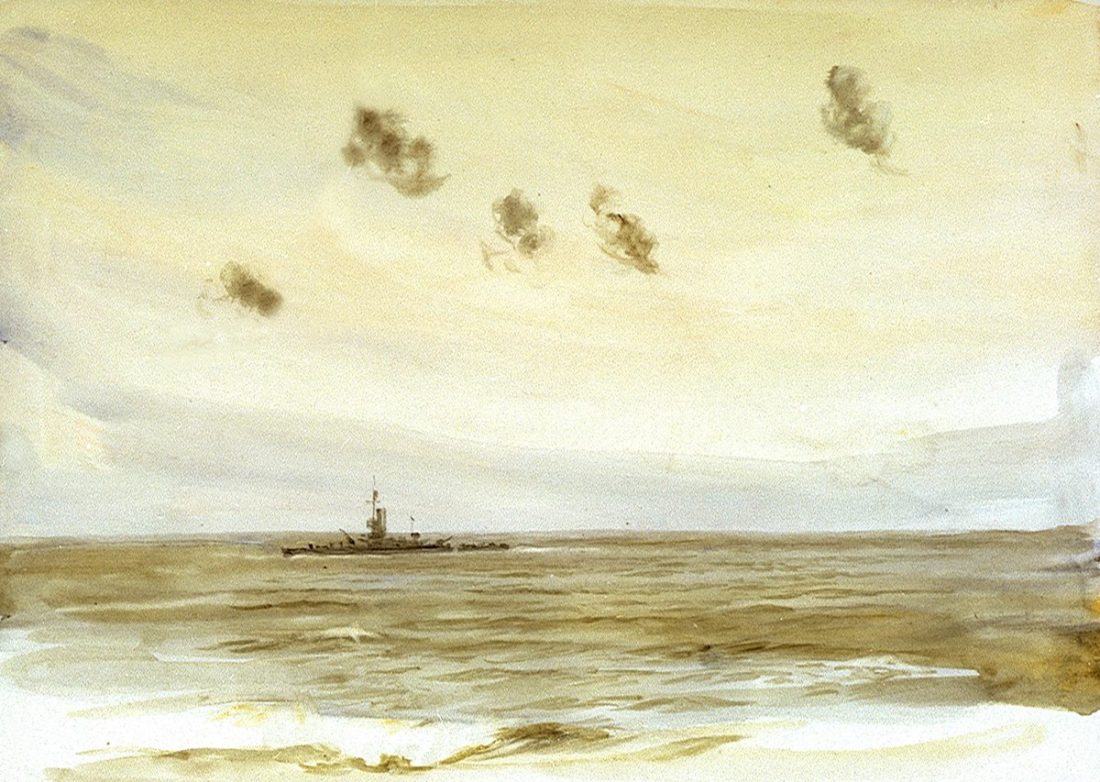 Insect Class Gunboat in WW1, painting by W. L. Wyllie (1851 – 1931). Several  survived to give further valuable service in WW2
Cowan managed to find his way from this training post to active service with the Marines in the Mediterranean. During an abortive raid with the No.8 (Guards) Commando, he was often seen on the deck of the venerable Insect Classgunboat HMS Aphis blazing away at attacking aircraft with his Thomson SMG. The Guards decided he was seeking a glorious death in action – one feels that men who had volunteered from the Guards to be Commandos would be sufficiently hardbitten that they wouldn't make this determination lightly!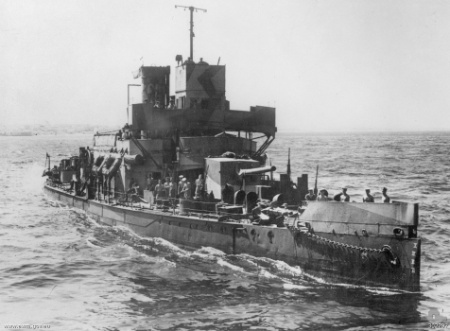 HMS Aphis as Cowan would have known her when serving with her in WW2
From there, this venerable Naval officer somehow managed to attach himself to an Indian cavalry regiment (the 18th King Edward's Own) and participated in the Battle of Bir Hakeim. Having shot his revolver empty, he was politely invited to surrender by the crew of the Italian tank he'd been shooting at (there are suggestions he captured a tank armed only with his revolver, before trying it on a second to less success). Released as part of a prisoner exchange but without the usual stipulation of not returning to service (one suspects his captors thought him too old), he wasn't quite done. He returned to action with the Commandos in Italy and the Adriatic. No.2 Commando's war diary records him being demobilised for the last time on the Croatian island of Vis, where he was seen off in great style by both local partisans and the Commandos.
He did not find the glorious death in battle that the Guards Commandos thought he was chasing, dying at 84 in 1956. Service in Italy had earned him a bar to his DSO, more than forty years after the first award, and he died a full Admiral and a Knight Commander of the Bath. By his own estimation, his greatest honour was being made the honorary Colonel of the 18th King Edward's Own cavalry. I suspect he would also have been pleased to know that EML Admiral Cowan, a Sandown class minesweeper, has served the Estonian Navy since 2008.
===================================
Tim Chant, when not doing his day job, juggles far too many writing projects and his predictably geeky hobbies. He lives in Edinburgh with his partner and their two troublesome rabbits. As well as historical fiction, he also publishes science fiction as T.Q. Chant.
Tim's new novel, The Straits of Tsushima, is the first in a new series of naval adventures. It's due for publication on 24th August and the Kindle edition can be preordered at a reduced price of £0.99. Click on the cover image below for more details.