5 Most Popular Dawlish Chronicles Blogs of 2021
2021 saw sustained activities on the Antoine Vanner Writing-Front, Covid-19 notwithstanding. The tenth book of the Dawlish Chronicles, Britannia's Guile, was published in December (click here for details) and blog articles continued to appear regularly. These last relate to all aspects of naval and maritime history in the period ranging from the early eighteenth to the twentieth centuries, from the Age of Fighting Sail to the age of the Dreadnought, Submarine, Radio and Flight. I've picked five that proved very popular with readers – you may have read them before but, it not, now's your chance! Links are provided below for opening and I hope you'll like them.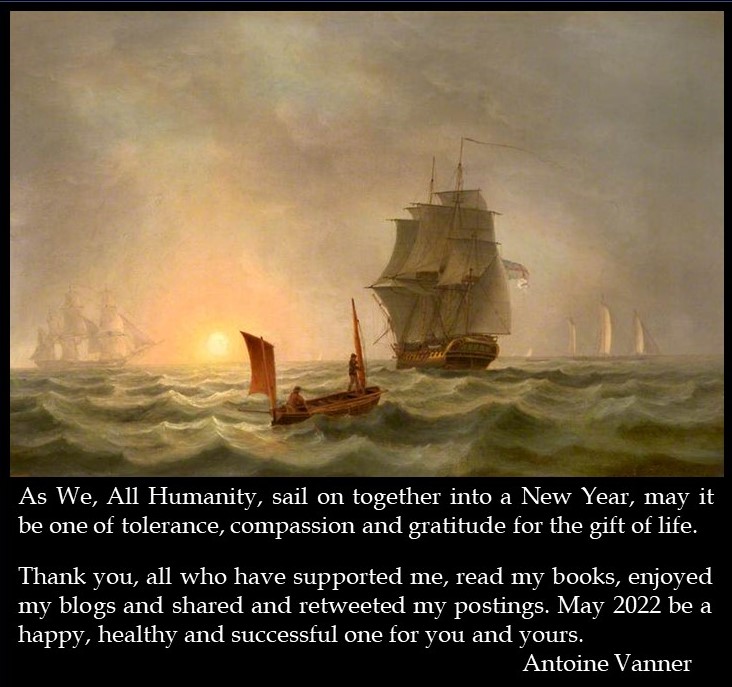 Captain Trollope and the Carronades – HMS Rainbow   and HMS Glatton
Trollope and HMS Glatton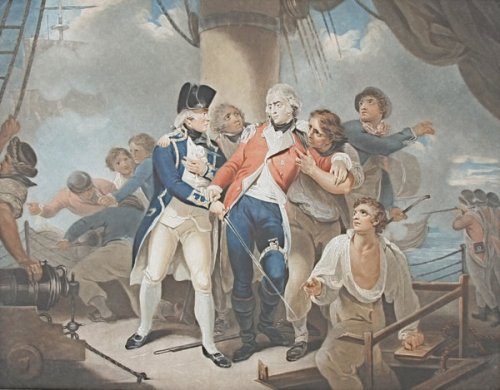 Carronades – large-calibre, short-range cannon throwing very heavy shot – were game-changing weapons when introduced in the 1780s. One notable British officer of the Revolutionary and Napoleonic Wars period, Sir Henry Trollope, was to gain a reputation as "carronade crazy". Though his career was to be long and successful, he is best remembered for two spectacular actions in which his use of these weapons proved decisive. This first of these remarkable engagements was with HMS Rainbow in 1782 and the second, even more spectacular, was fought against overwhelming odds in 1795 when in command of HMS Glatton. Click here to read.
War at Sea 1917: An Ominous New Year's Day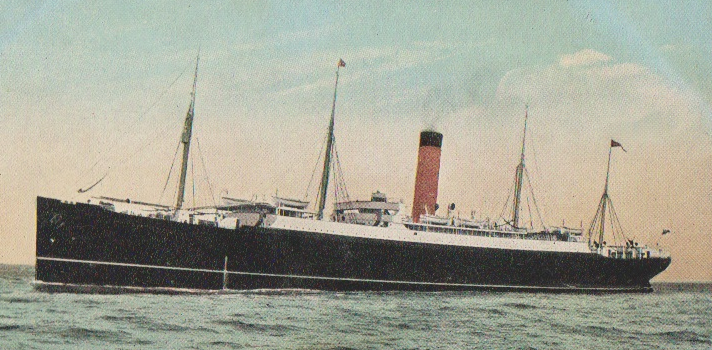 1917 was to mark a turning point not just in World War 1, but in world history. Perhaps an omen for the tragedies it would bring was the sinking on New Year's Day of a converted 13,800-ton liner carrying some 2400 British troops. And that was only one of twenty vessels, including a pre-dreadnought, and another even larger liner, that the 300-ton UB-47 sank in twelve months of operations. Click here to read.
Unequal Duel, 1758: HMS Monmouth vs. Foudroyant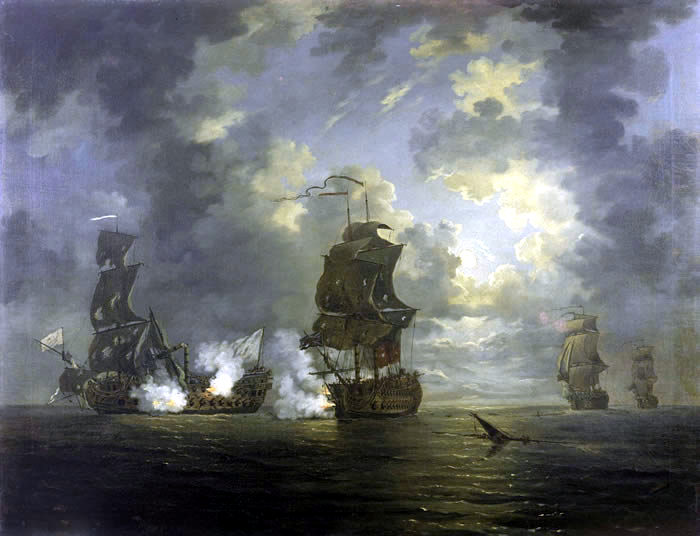 Captain Arthur Gardiner felt that his honour besmirched by association with the action that led to the execution by firing squad of Admiral John Byng in 1757. He was determined to clear his name at whatever cost. The following year he was to be offered a personally valuable opportunity to do so when he encountered the French flagship involved in the earlier action. But the odds were stacked massively against him . . .   Click here to read.
Gunboat Diplomacy: The Franco-Siamese War of 1893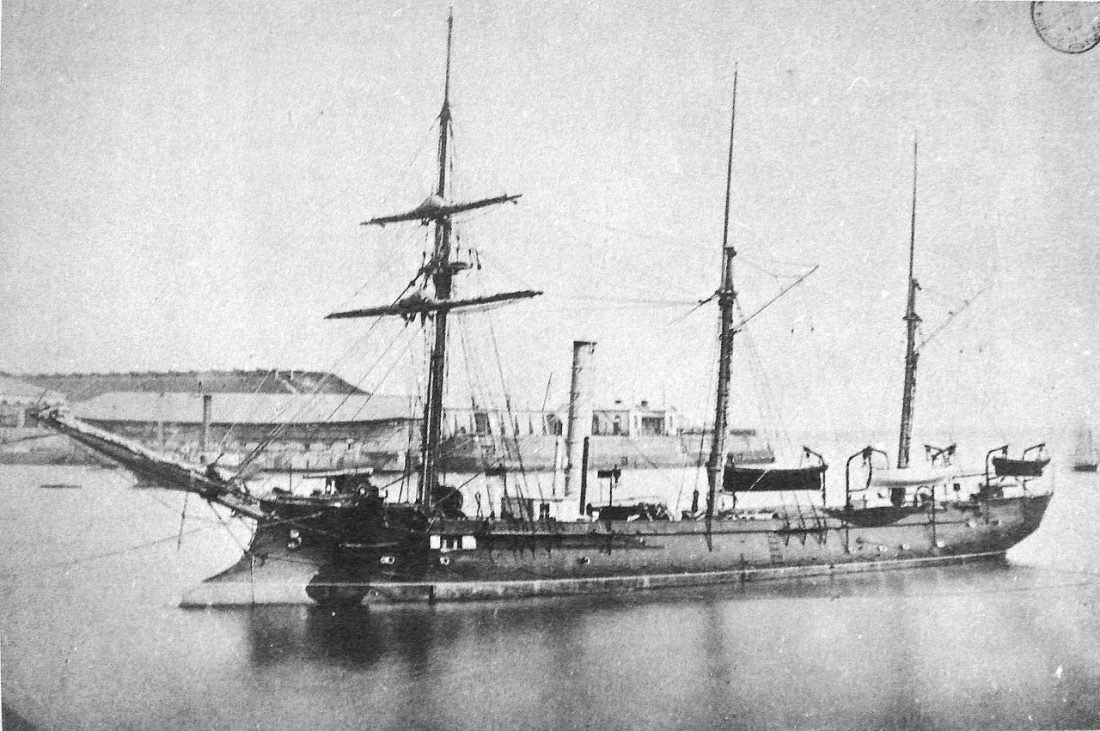 A fast and daring stroke by lightly-armed French warships proved to be one of the most effective instances ever of "gunboat diplomacy." It resulted in Laos being wrested from control by Siam – now Thailand – and brought under French rule. This blog article tells the story and puts it into the context of French colonial expansion in the last decades of the 19th Century. Click here to read.
The families left behind by merchant seamen of the 1870s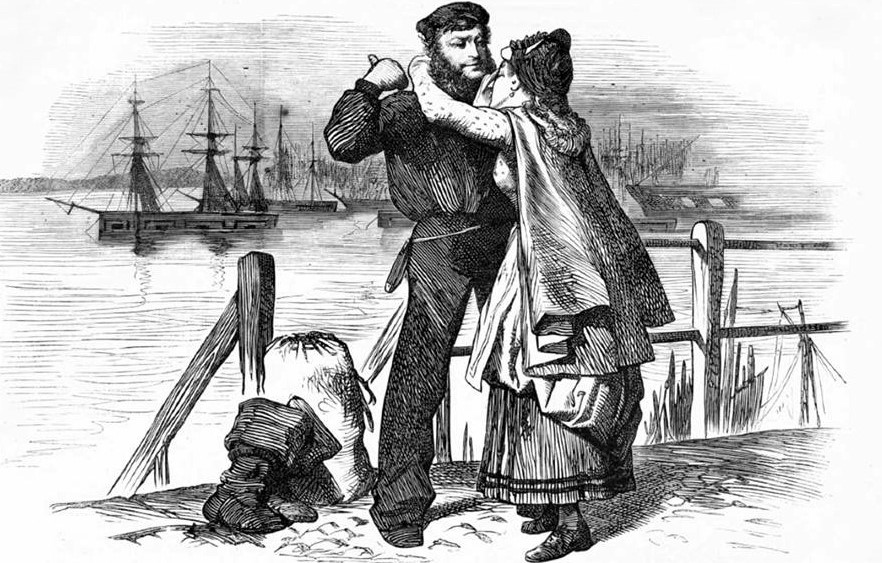 The great maritime reformer Samuel Plimsoll (1824-1898) worked tirelessly to ensure safety at sea.  His crusade, inside and outside the British Parliament, was heavily dependent on amassing a vast amount of evidence, much of it gained through interviews with officers and sailors. He also interviewed seamen's families in harbour towns – who were only too often reduced to the status of widows and orphans. His meetings with bereaved relatives provide particularly poignant insights to the lives of the poor in the 1870s. This article gives an impression of what he found. Click here to read.
   The new Dawlish Chronicles novel :
Britannia's Guile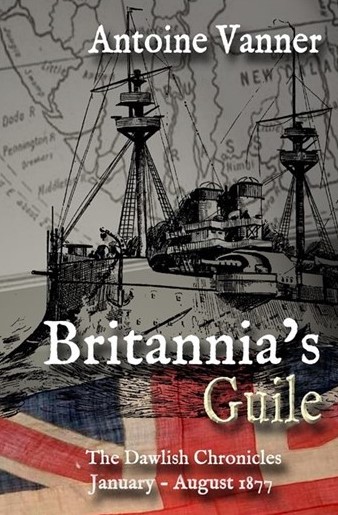 1877: Lieutenant Nicholas Dawlish is hungry for promotion. He's chosen service on the Royal Navy's hazardous Anti-Slavery patrol off East Africa for the opportunities it brings to make his name. But a shipment of slaves has slipped through his fingers and now his reputation, and his chance of promotion, are at risk. He'll stop at nothing to save them, even if the means are illegal . . .
But greater events are underway in Europe. The Russian and Ottoman Empires are drifting ever closer to a war that could draw in other great powers. And Britain cannot stand aside – a Russian victory would spell disaster for her strategic links to India.
The Royal Navy is preparing for a war that might never take place. Dozens of young officers, all as qualified as Dawlish, are hoping for their own commands. He's just one of many . . . and he lacks the advantages of patronage or family influence. But only a handful of powerful men know how unexpectedly vulnerable Britain will be if war comes. Could this offer Dawlish his chance to advance?
Far from civilisation, dependent on a new and as yet unproven weapon, he'll face a clever and ruthless enemy in unforeseeable and appalling circumstances.
Only stubborn resolution – and unlikely allies — can bring him through. But at what price?
Britannia's Guile is set early in the Dawlish Chronicles series (directly ahead of Britannia's Wolf) and tells how Dawlish met several people who will play major roles in his future career. And they may not all be as they seem . . .
For Kindle or Paperback ordering: