Hospital Ships in U-Boat Sights 1917-18
There can be few more dreadful predicaments in warfare at sea than to be a patient in a hospital ship attacked by the enemy. The vulnerability of such ships was recognised in The Hague Convention of 1907 which specified that they should be immune to attack but clearly marked (typically with white hulls and clearly marked red crosses, and be illuminated at night), should offer succour to friend and foe alike, and should not be used for military purposes. The necessity of carrying large medical staff, in addition to sick and wounded, meant that such ships were usually large – typically converted liners on longer routes – and ideally fast also. In the course of WW1 a number of British hospital ships were sunk – some by mine, including the Titanic's sister, the 48,000-ton Britannic – but others were torpedoed by U-boats. Some such sinkings may indeed have been accidents but one at least – as recounted later in this article – represented deliberate, cold-blooded murder and one of the most appalling atrocities of WW1 at sea. It's notable that some of the worst cases, in which there can have been little doubt as to identity, occurred in the later part of the war, after Germany's institution of unrestricted submarine warfare in February 1917.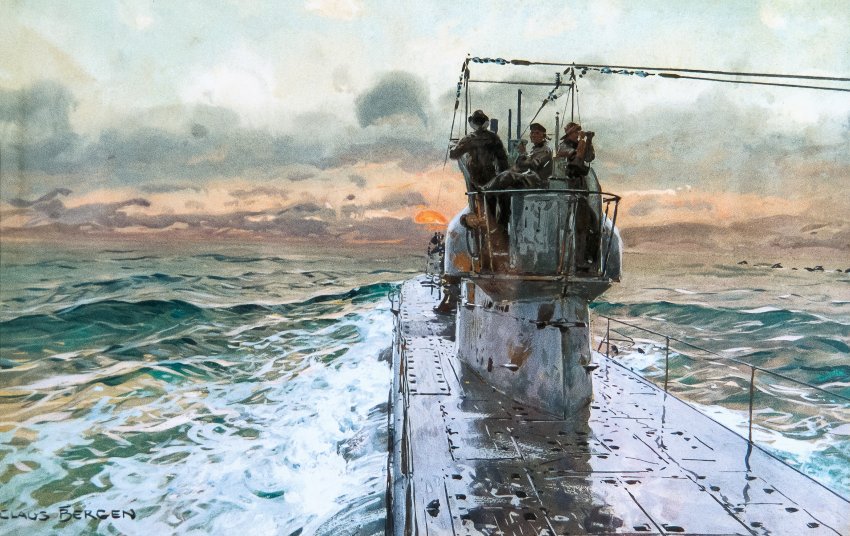 U-53 seeking the enemy – by Claus Bergen 1885-1964
One hospital ship, the HNHS Glenart Castle, a 6800-ton converted passenger liner, was subjected to both mine and torpedo attack. On 1st March 1917 she struck a mine in the English Channel but did not sink. She was brought back into service following repair but on 26th February the following year, in the Bristol channel, en route from Wales to Brest, in Brittany, she was torpedoed before daybreak by the German U-56. Fishermen in the vicinity testified later that the ship was well lit. She sank in eight minutes and only seven lifeboats could be launched, the remainder either damaged in the explosion or impossible to drop due to the doomed ship's list. Most of the surviving boats were swamped in rough sea conditions.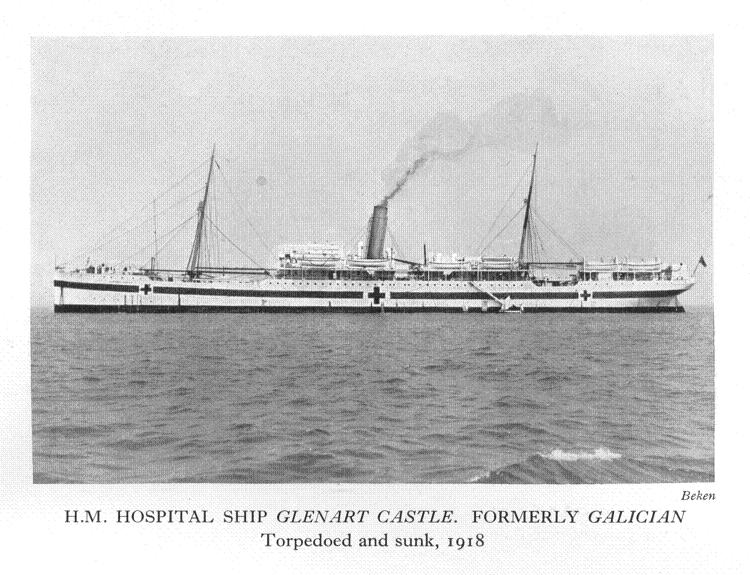 The death toll was 162 out of 194 on board, and they included 99 patients as well as crew and medical staff. Given the sea conditions it is possible that the U-boat's commander, Wilhelm Kiesewetter, may have been mistaken about the ship's identity but a horrific corollary was that the body of one of the Glennart Castle's officers, who was wearing a life-vest when recovered, had two bullet wounds, raising the possibility of an attempt having been made to cover up the incident. Kiesewetter was arrested after the war and interned in the Tower of London to await trial, but he was released on a technicality.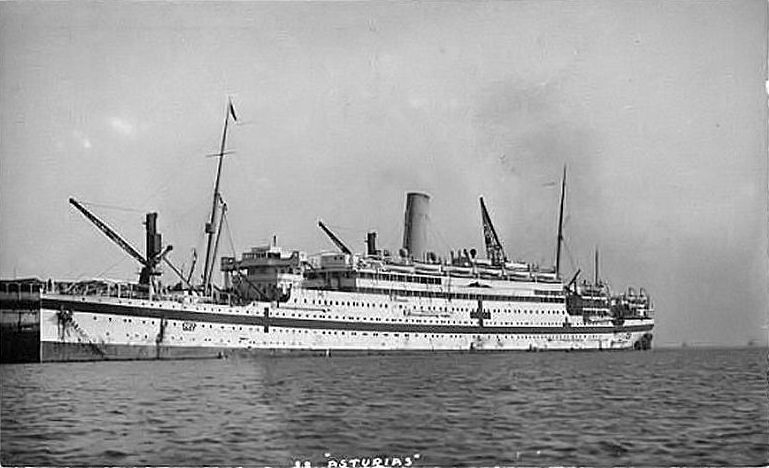 HMHS Asturias – one of the largest hospital ships
Another converted liner, the 22000-ton, 630-ft HMHS Asturias, which had operated pre-war on the Britain – Argentina route, was one of the largest hospital ships and had seen extensive service in the Mediterranean. Though fitted to accommodate almost 900 patients, she carried as many as 2400 on one occasion. She too was to be torpedoed in home waters, off the coast of Devon, on 20th March 1917 by UC-66. She remained afloat and mobile long enough for her crew to beach her. Some 43 lives were lost but the death toll could have been much higher had she been attacked shortly before as she had carried over 1000 wounded back to Britain and had offloaded them before proceeding to sea again. The Asturias still had a useful life ahead as she was repaired after the war and served again as a liner, now named Arcadian, until she was scrapped in 1933.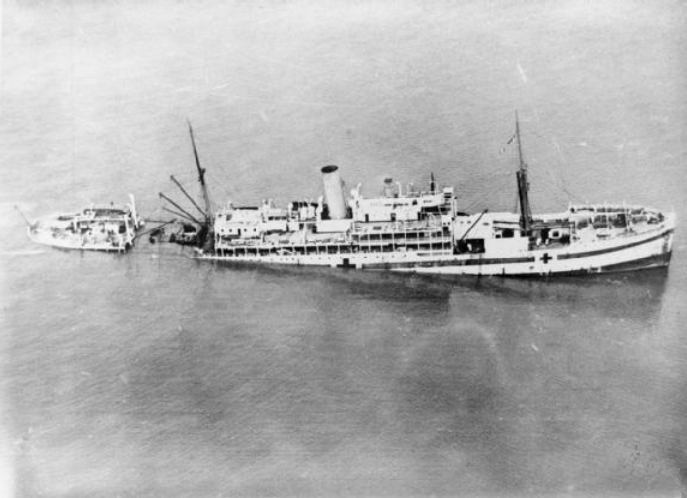 HMHS Gloucester Castle, as seen from the air – damaged, but with a long career still before her
The 8000-ton hospital ship Gloucester Castle, another converted liner, was also to prove a survivor, although her end, a quarter century later, was to prove a dramatic one. She also was torpedoed in British waters, off the Isle of Wight, on 31st March 1917. Though damaged, she was recovered and she survived the war. Through the 1920s and 30s, once again in civilian ownership, she operated as a passenger and cargo liners on African routes. Not requisitioned in WW2, she met her end when she encountered the German armed merchant cruiser Michel off the coast of Angola on 15th July 1942. She was attacked in darkness with gunfire so devastating that no distress signal could be transmitted. She went down with the loss of  93 lives, including a small number of women and children. 61 survivors were taken on board the Michel and were interned in Japan when the raider reached there. (The Michel operated on a truly global scale).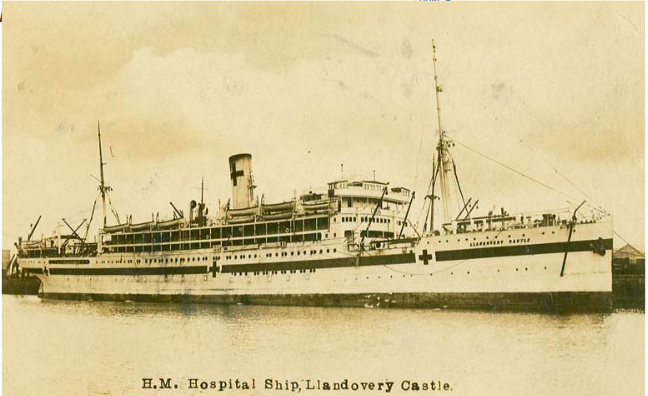 The most inexcusable of these disasters was the loss of 10000 ton, 500-ft HMHS Llandovery Castle which, though designed as a liner, had gone straight into medical service after completion in 1916, one of five Canadian hospital ships. On 27 June 1918, en route from Canada, she was torpedoed by U-86 off the Irish Coast. On this occasion there was no question of a mistake, rather was it a matter of murder, for the submarine's captain, Helmut Brümmer-Patzig (1890-1984) sought to cover up what might have been an error by surfacing, running down and ramming all but one of the lifeboats and machine-gunning survivors in the water. The ship was not carrying casualties but of the 258 medical and naval personnel on board, only 24 survived on a single life craft that was rescued by a Royal Navy destroyer.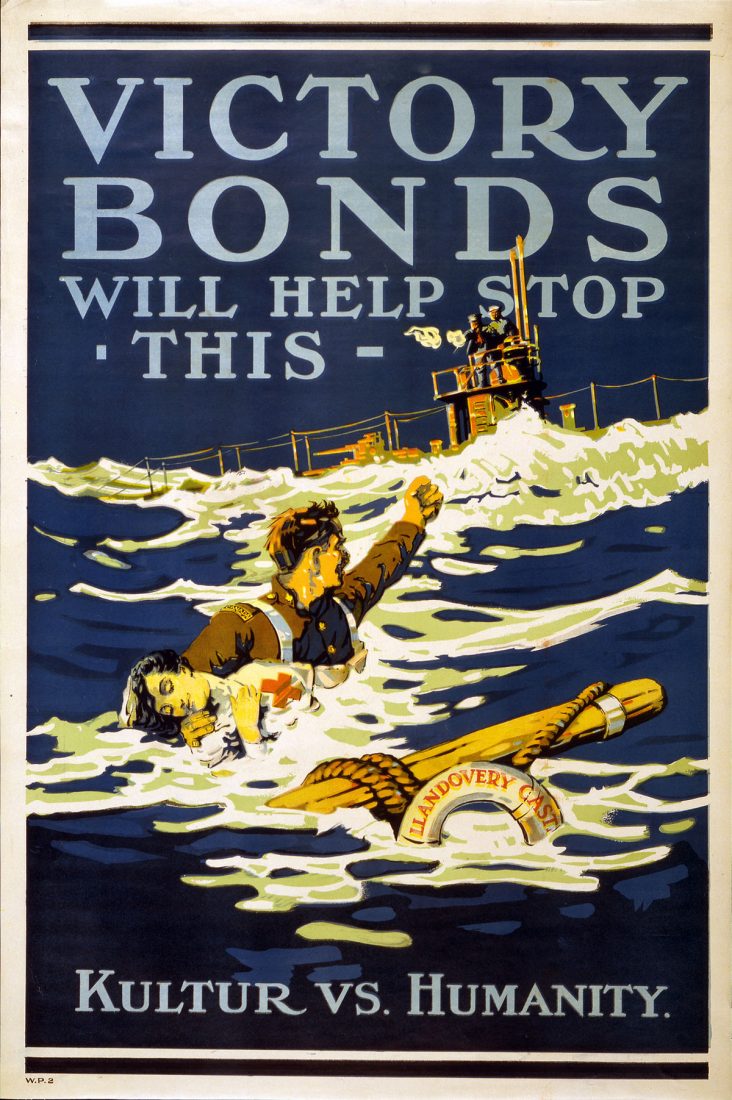 The sinking of the Llandovery Castle served only to harden Allied resolve
Less than a month after the sinking, on 11th June 1918, U-86's commander was awarded the prestigious decoration of Knights Cross with Swords – an act as stupid as it was insensitive. Allied and neutral outrage at the atrocity was predictably fierce and deepened by the fact that a total of fourteen female nurses had died. The sinking of the Llandovery Castle, like that of the Lusitania in 1915, proved counterproductive, prompting even stronger Allied resentment against Germany and hardening resolve to see the war through to its bitter conclusion. After the war Captain Brümmer-Patzig and two of his officers were arraigned in 1921 at what proved to be the farcical Leipzig war-crimes trials. Sympathisers helped Brümmer-Patzig flee the country, and so he evaded retribution, while his subordinates were acquitted on the argument that "We were only following orders" – a defence that was made again in Nuremberg twenty-five years later, thought with less success. Brümmer-Patzig was to see U-boat service again in WW2, this time in a training role, and he lived on to 1984.
A final point. All of the cases mentioned here occurred in British home waters in which German U-boats operated from close-by bases on the Belgian coast. It was to capture these bases, and so curtail the U-boat campaign, that the Third Ypres campaign (often referred to as Passchendaele) was launched in mid-1917. This campaign is frequently portrayed disparagingly as a futile effort to capture a few square miles of muddy ground. The victims on the hospital ships, and on the hundreds of other vessels that were fell prey to the U-boats might have disagreed.