The Home of Naval Fiction in the Age of Fighting Steam
Welcome To The Adventure!
Nicholas Dawlish is a British naval officer as the British Empire reaches its apogee in the late Victorian period. The Age of Sail is dying slowly and Dawlish is building his career in the new era of steam, ironclads, heavy guns and torpedoes that is replacing it. It's also an age of rapid political and social change. Old enemies and new empires are challenging Britain's global power, often through vicious proxy conflicts which offer Dawlish opportunities for advancement, though at the risk of his life and his integrity. The eleven volumes published so far are all linked to actual historical events and are set in locales as various as the Black Sea and the Balkans in winter, a river-system in the heart of South America, the luxury and squalor of the United States' Gilded Age, Cuba in revolt, Denmark under attack from Prussia and Austria, Korea as it emerges from centuries of isolation, the slave trade and German colonial ambitions in East Africa, the Sudan engulfed in an Islamist revolt and – not the least deadly – the corrupt and brutal underside of the complacent and outwardly respectable society of Late-Victorian Britain.
Britannia's Interests
The New Dawlish Chronicles Novel – Second Chronologically in the series
Published 15th December 2022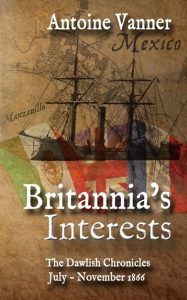 1866: Four years since France invaded Mexico and set up a new 'Mexican Empire' with a puppet emperor imported from Europe, armies loyal to the republican government still resist. In a land devastated by battles, atrocities and reprisals, the tide of war is now turning in favour of the republic's 'Juarista' supporters. France recognises the war is unwinnable and evacuation inevitable, but first there will be bitter rearguard actions and old scores to settle.
Britain is neutral in this conflict, but large British interests – railway and mining enterprises – are at risk as the war-front edges ever closer. Investors in London are demanding British action to protect their assets.
Lieutenant Nicholas Dawlish is serving in the gunvessel HMS Sprightly. She, and her resourceful captain, are tasked with taking 'appropriate' action to guarantee the safety of these interests. The situation is complex – not only Juarista, French and Imperial Mexican forces but bandit groups, a volunteer Belgian Legion and ex-Confederate mercenaries are involved. And there's a powerful ironclad, flying Imperial Mexican colours, commanded by an Austrian aristocrat who's desperate for glory.
Dawlish is plunged into deadly action by land and sea and, with fluency in French and Spanish, he'll be his captain's right-hand man in a web of political intrigue, treachery and greed in which a single mistake can end both their careers.
But for Dawlish there's something worse, a heart-breaking encounter with a figure from his past to whom he's linked by a solemn promise that he can't fulfill. What follows will be torment for him . . . 

The Dawlish Chronicles Series
Antoine Vanner, author of the Dawlish Chronicles series spent many years in the international oil industry and still travels extensively on a private basis. His understanding of human nature, passion for nineteenth-century political and military history and first-hand experience of his books' locales provide the background to his novels centred on the lives of Royal Navy officer Nicholas Dawlish and his wife Florence.
"Antoine Vanner is the Tom Clancy of historical naval fiction." – Author Joan Druett
Below are the twelve Dawlish Chronicles novels published to date.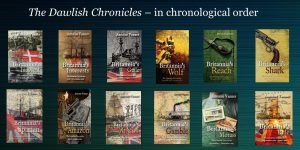 All are available in Paperback or Kindle format and can be read at no extra charge by Kindle Unlimited or Kindle Prime Subscribers.
In Audiobook format also…
Britannia's Wolf is also available as an audio-book. It's been read by the distinguished American actor David Doersch. If you haven't previously ordered an audio-book from audible.com you can download it without cost as part of a 30-Day Free Trial. You can listen on your Smart Phone, Tablet or MP3 Player. Click here for details.
A Life of Service and Adventure
Admiral Sir Nicholas Dawlish (1845-1918) is probably best remembered today for leaving retirement in 1914, at the request of his friend and sometime rival Lord Fisher, to assume responsibility for Unconventional Naval Operations.
His imaginative filling of that role, and his death at the age of seventy-two on the Zeebrugge Mole, where he fell in a hail of machine-gun fire on St.George's Day 1918, (making him the oldest serving officer to fall in action in either World War), ended an illustrious career in a manner which he would have found wholly appropriate…
Click here, to read about Dawlish's life and how the individual books chronicle it.
Click here, or on "Conflict" on the top bar, to learn about the world he lived in, its challenges, its personalities, its crises and its weapons. There are also dozens of articles about the "Age of Fighting Sail 1700-1837" as well as the early 20th Century.
The Dawlish Chronicles Blog
Antoine Vanner blogs weekly on naval and more general history and personalities in the period 1700-1918. Topics include naval warfare in the Age of Fighting Sail, the transition from Sail to Steam, international rivalries, dramatic happenings and little-known events that have helped shape the world we live in. The topics are never predictable but always entertaining. In this blog Antoine draws heavily on information he has come across during his researches for the Dawlish Chronicles but which may not be directly used in the books themselves. It is however too good to let go to waste – and hence the blog! You can find the most recent blogs below and many of the older postings (some two hundred!) can be accessed by clicking on "Conflict" on the bar above.
Free Short-stories for your Kindle
Dawlish Chronicles Mailing List

Join the list and download free copies of six  short stories to read on your Kindle, tablet, mobile 'phone or computer by clicking on any one of the images above
Registering for the mailing list will keep you updated on new books and facilitates e-mail contact between Antoine Vanner and his readers for discussion of issues arising. Suggestions and constructive comments are always welcome and all emails are replied to. Free short stories, as above and available only to those on the list, will also appear at intervals.