Antoine Vanner – author of the Dawlish Chronicles
Antoine Vanner had been writing off and on for many years but as his business career took off he had to cut back. The impulse to get going again – seriously so – came just before retirement from full-time work when he attended a lecture and book-signing session by the late naval-novelist Douglas Reeman at a local bookshop. In a calm, dignified and erudite way Reeman conveyed not only vast knowledge and enthusiasm for his subject but the importance of a methodical approach to writing. He provided the inspiration for taking the task really seriously and since then Antoine has adopted the Latin motto "Nulla dies sine linea – not a day without a line". So thank you Douglas Reeman! Antoine's adventurous career in international business gave him the opportunity to live and work in eight countries as well as shorter assignments in a dozen more. He is bilingual in English and Dutch, adequate in Spanish, abysmal in German and has smatterings in two other languages so rusty as to be not worth mentioning. He currently lives in Britain with his wife, dog and seven horses.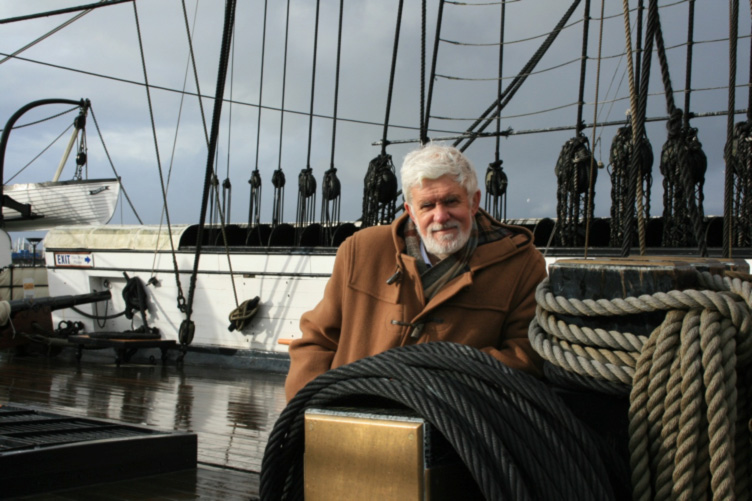 Antoine's fiction reflects deep knowledge of all political, military and social history of the 19th Century as well as of the "cutting edge technologies" of the period. His plots are linked to real events and real characters, often in settings in which he has direct personal experience. Moral ambiguity is a major theme in his work and his protagonist, Nicholas Dawlish R.N. and his indomitable wife Florence, are confronted by difficult ethical choices as they balance ambition and conscience.
Videos:
To see a short video in which Antoine discusses his fascination with the Victorian era and his approach to writing naval fiction. Please click here to view it: Video 1
In a video-interview shot in December 2015 Antoine Vanner speaks about his new novel Britannia's Spartan. Click here view:  Video 2
Britannia's Amazon, the fifth book in the Dawlish Chronicles series, is the subject of a videoed interview from November 2016, at the time of publication. In it Antoine Vanner talks about the historical background to the story as well as the challenge for a male author writing from a female viewpoint, as he does in this novel, in contrast to the other novels in the series. Click here to view it: Video 3
Britannia's Mission,the seventh novel of the Dawlish Chronicles, and the major themes explored in it, are discussed by Antoine in a video made at the time of its publication in late November 2018. Click here to view it: Video 4
Other Interviews:
For an interview with Antoine Vanner by Eva Lagassé please click here: Interview by Eva La Gasse
To hear novelist Seymour Hamilton interview Antoine please click below: Seymour Hamilton interview 
To read about how Antoine approaches the challenge of "Getting into the Victorian Mind" in his writing please click here
Britannia's Reach – the story of a Mehphistophelean bargain? Click here to learn more
Novelist and Historian Joan Druett interviews Antoine in October 2014: Please click here