Shore leave from HMS Trafalgar, 1890s
My research into the Royal Navy of the later nineteenth century, which I undertake for the Dawlish Chronicles novels, usually turns up information on the more dramatic aspects of service – colonial campaigns, crises, disasters, exploration etc. What is harder to come by is information on the routine, unspectacular aspects of naval personnel's daily lives both on and off their ships. In this respect I was lucky recently to encounter "The Handy Man Ashore and Afloat", a collection of reminiscences, rather than a formal memoir, by a naval chaplain, the Rev. G. Goodenough, published in 1901. I speculate that he may have been related to Admiral Sir William Goodenough (1867-1945) who was to prove an effective commander of cruiser squadrons in the North Sea in WW1.
The Rev. Goodenough had a more peaceful career, serving in various warships and troopships, ending his career at the Royal Hospital at Greenwich, which by then was operating as a naval college. His position on board ship brought him into closer contact with the lower deck than would be the case for other officers, and his genuine affection and concern for the wellbeing of seaman and mariners comes through in his writing. The "Handy Man" of the title refers to a nickname popular at the time for naval personnel, reflecting the fact that they could turn their hands to just about any job afloat and to be no less versatile ashore also when landed in Naval Brigades. Goodenough's book is particularly interesting as regards personnel issues, education of boy entrants etc. but he confessed quite cheerfully that he never fully comprehended more complex operations matters.
Service in the Mediterranean Fleet in the 1890s was especially enjoyed by Goodenough, much of the time spent cruising with the "Levant Squadron" that spent much of its time at the sea's eastern end. At this period Goodenough was serving on the squadron flagship, HMS Trafalgar, commissioned in 1890. This 12000-ton, 345-foot battleship, carried a heavy armament (4 X 13.5" and 6 X 4.7") but was however of low freeboard. This restriction resulted in her, and her sole sister, HMS Nile, spending their careers in the relatively calm waters of the Mediterranean.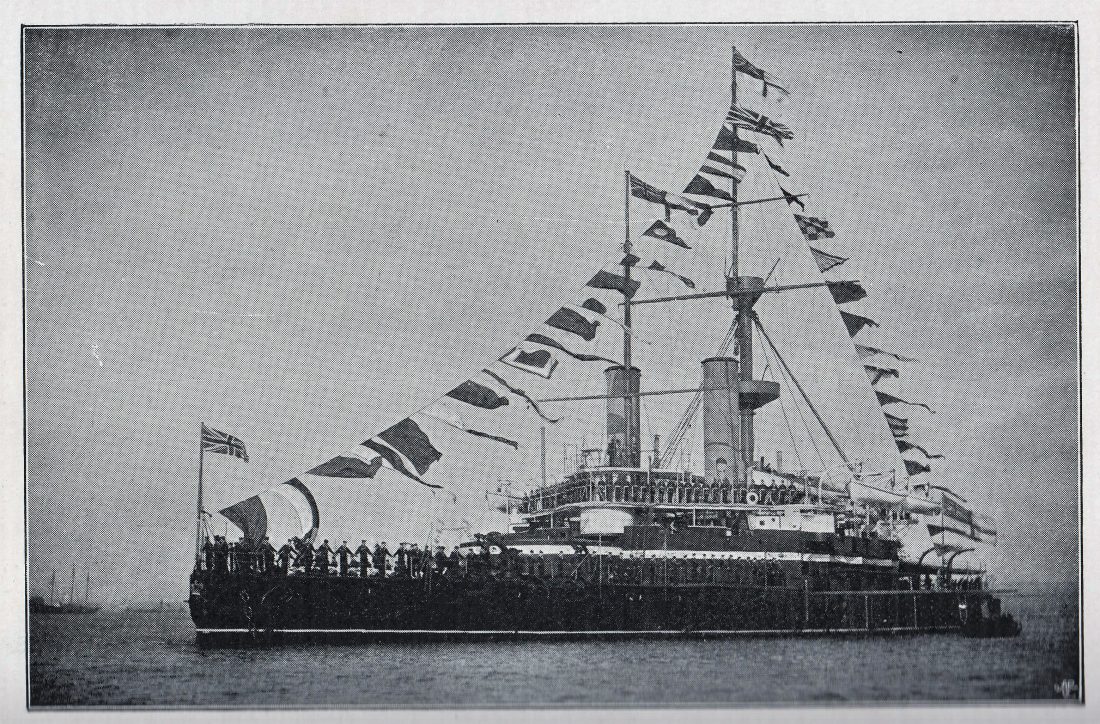 HMS Trafalgar "manned and dressed" for a review – illustration scanned from Goodenough's book
Though based at Malta, much of the crew's time ashore was spent at Smyrna (Izmir in modern Turkey), at Salonica, at various Greek islands. "Naval Institutes" – shore accommodation – was provided at both Smyrna and at Phalerum, described by Goodenough as "the watering place of Athens".  Considerable attention was paid to sporting events, especially racing by boats of different ships, but by this stage alcohol abuse, which had traditionally been the curse of seamen's lives, was raising concern. Temperance movements were active within the Navy (a notable initiative being that of the splendid Miss Agnes Weston, who appears as a friend of Mrs. Florence Dawlish in the Dawlish Chronicles novels). It's notable that the crew of HMS Pinafore, in the Gilbert and Sullivan operetta of this era, introduce themselves as "sober men and true, and attentive to our duty." Any earlier generation would have been unlikely to have stressed the word "sober".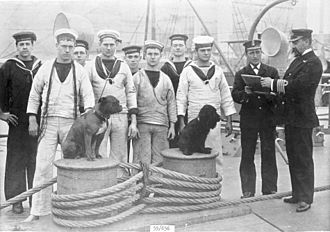 Captain (R), petty officer , seaman and pets of HMS Trafalgar in the 1890s
Though Salonika – then ruled by the Ottoman Empire – was regularly visited, Goodenough bewailed the fact that there were "plenty of grog-shops" to tempt men when ashore. His response is one that gives an insight to officers' attitudes to their men at the time and I quote from it.  "So with the approval of the admiral and flag-captain, I set to work to provide something in the way of a decent 'home' for the men. We got hold of a Greek who undertook to engage a suitable place and run it on our lines. It was to be wholly reserved for the use of bluejackets and marines, who were to be supplied with food of good quality, and beer, and wine (though not spirits) at a fixed reasonable tariff. An empty café with ample accommodation was found, the captain sent carpenters ashore to board up the railings in front for greater privacy, a piano was provided, newspapers and books were sent ashore, a writing table or two prepared – a French billiard table was already there – and everything was made clean and decent."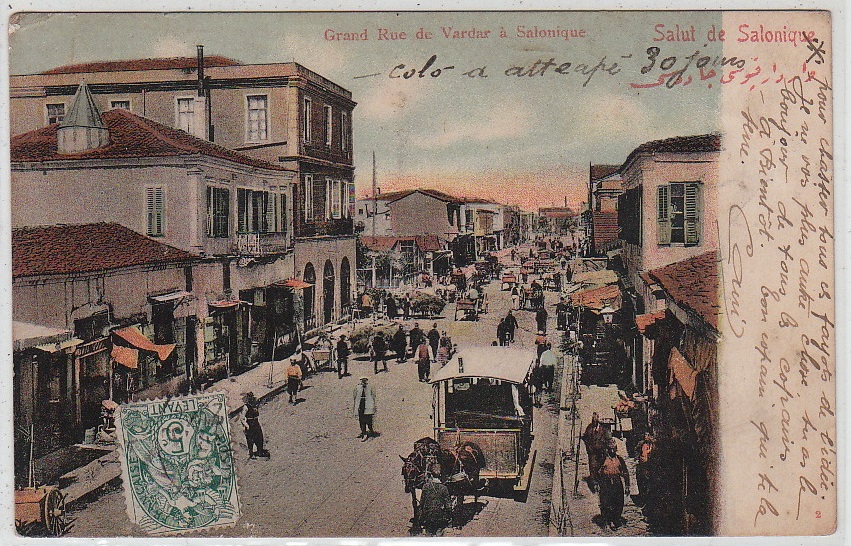 A street in Salonika in this period
Once it was ready Goodenough invited petty officers for a "test supper" – which resulted in a demand for tinned Danish butter to be substituted for the local variety. "Next day we opened shop. Ship's boats were sent to the steps close by for the convenience of the men; once a week a ship's band occupied the bandstand, and weekly sing-songs were got up by the various ships." When an un-named German warship came into port her crew were made honorary members and appeared to get on well with their British counterparts. (This was at a time when Germany, the with only a small navy, was not yet seen as a potential enemy. Russia and France – with which Britain came close to war in 1898 – were seen as greater threats.)
It's hard to imagine similar care for the crews a generation earlier and illustrates recognition of the need for literate men in charge of ever more complex technology to be treated with dignity and respect. Goodenough's book provides many more vignettes of a vanished world.
The Dawlish Chronicles series brings naval fiction in to the era of ironclads and fighting steam
Britannia's Innocent, set in 1864, is chronologically the earliest volume – and the best place to start reading the series
It's available and scoring 5-star reviews on amazon.com
"Each of the Dawlish Chronicles is better than the last. Combines the action and adventure of Tom Clancy or Bernard Cornwell, with the sensibility of Henry James or Jack London. The hero perseveres in the face of adversity and remains true to his principles and evolving moral sensibilities, becoming more complete with each challenge. Not jingoistic, but a determined ethical man, who will fulfill his duty to the ends of the earth. I can't wait for the next novel in this series! Thank you Mr Vanner for this fabulous hero placed so aptly into a backdrop of eminent Victorians."
For more details, click below:

.The Dawlish Chronicles – now up to eight volumes, and counting …

Six free short-stories are now available for download  to your Kindle or Tablet. Access themby registering for the Dawlish Chronicles mailing list – just  click on the banner below. You'll be kept  updated on new books and it facilitates e-mail contact between Antoine Vanner and his readers.