HMS Transfer: cold-blooded courage – and service under four flags 1796 – 1804
Few warships can have sailed under the flags of four different nations, and to have seen action each time, in just eight years. This was however the distinction of the French-built privateer Quatre Frères, a 150-foot polacca commissioned in Bordeaux in 1796. Her name – Four Brothers – indicates that she was built by a family firm and that she might well have been used as a trader in earlier years. The polacca – a type of vessel common in the Mediterranean, and which appears often in the Aubrey-Maturin novels – could be two or three-masted, usually with a lateen hoisted on the foremast (which was slanted forward to accommodate the large lateen yard) and a gaff or lateen on the mizzen mast.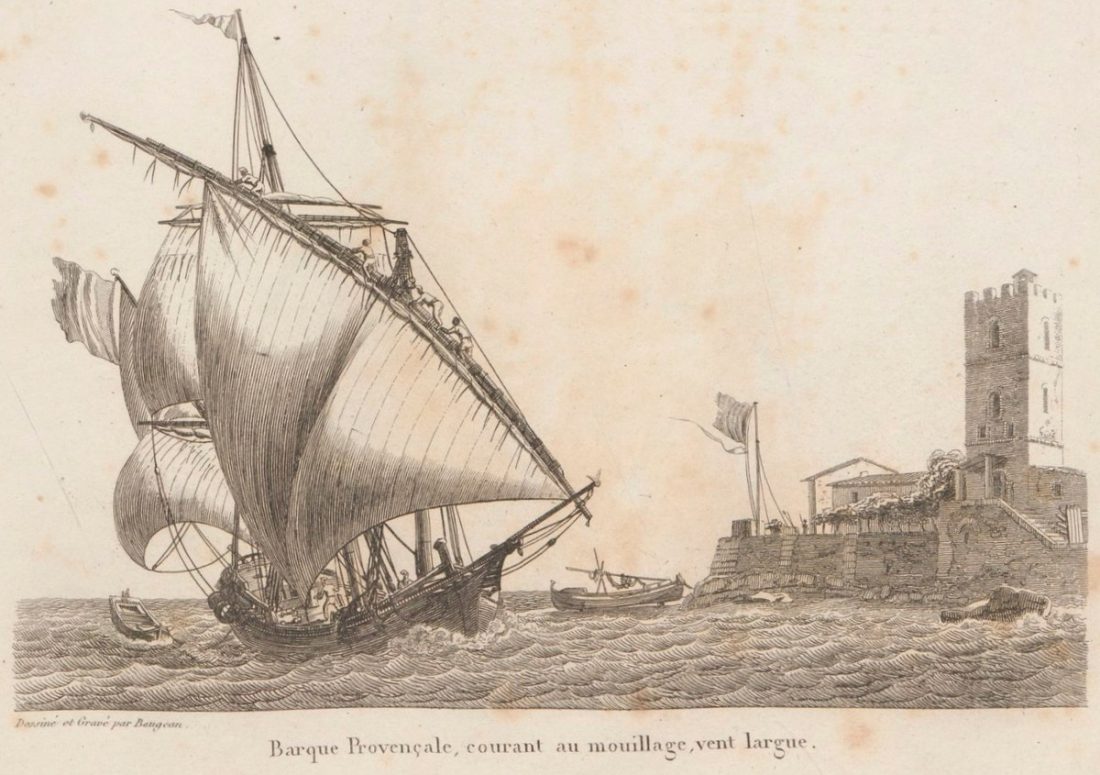 A classic Mediterranean polacca by Jean-Jérôme Baugean (1764 – 1819)
The Quatre Frères had only a short career in French service – though she did take two prizes – and she herself was captured in the Mediterranean by HMS Irresistible, a third-rate,  in March 1797.  She was taken into Royal Navy service, renamed as HMS Transfer and apparently re-rigged as a brig – a fact that indicates that she was probably two-masted to start with. Her armament now consisted of twelve 6-pounders.
Three-masted polacca – by Dominic Serres (1722-1793)
Lightly armed and most likely a fast sailing vessel, the Transfer was employed in carrying despatches and mail between Britain and the Royal Navy force blockading the Spanish naval base at Cadiz. It was in the course of these duties that her acting commander, a Lieutenant George Miller, was to display remarkable coolness when faced with potentially devastating odds. On 11th February 1799, HMS Transfer was returning from Britain and heading for the position where the blockading squadron was most likely to be found. Just before daybreak she found herself, in semi-darkness, in close proximity to other vessels and Lieutenant Miller assumed that they were British. As the light grew however, he realised that he was in the middle of a Spanish force which was protecting a number of merchant ships. This squadron had slipped out of Cadiz, when the British blockading force had been driven off by a gale. Before HMS Transfer could be identified as British, Lieutenant Miller had the presence of mind to run up America colours – thus giving the impression of a neutral ship. The ruse worked, though it must have taken an iron nerve to have carried it off. Miller ran past the Spanish line, as if heading directly for Cadiz, and was not challenged.  Trailing the enemy squadron was what proved to be a small French privateer, the Escamoteur, armed with only three 6-pounders. Despite the proximity of the Spanish vessels, Miller attacked, boarded and captured this privateer and escaped, unharmed, to join the British squadron.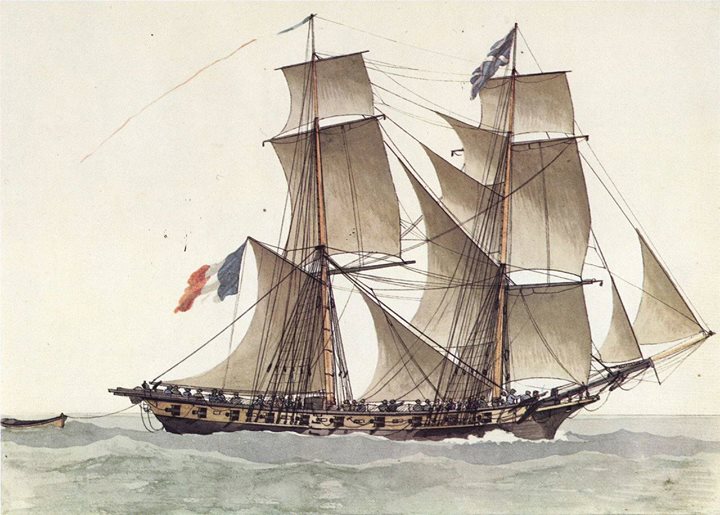 French brig-of-war by Antoine Roux (1765–1835). HMS Transfer would have looked generally similar after conversion from a polacca. 
HMS Transfer saw significant action under British colours during the next three years but in 1802, during what proved to be the short-lived Peace of Amiens between Britain and France, she was sold at Malta to Ottoman Tripolitania, then coming under attack by the United States Navy in the First Barbary War. She was used as a blockade-runner but was captured in March 1804 by the brig USS Syren.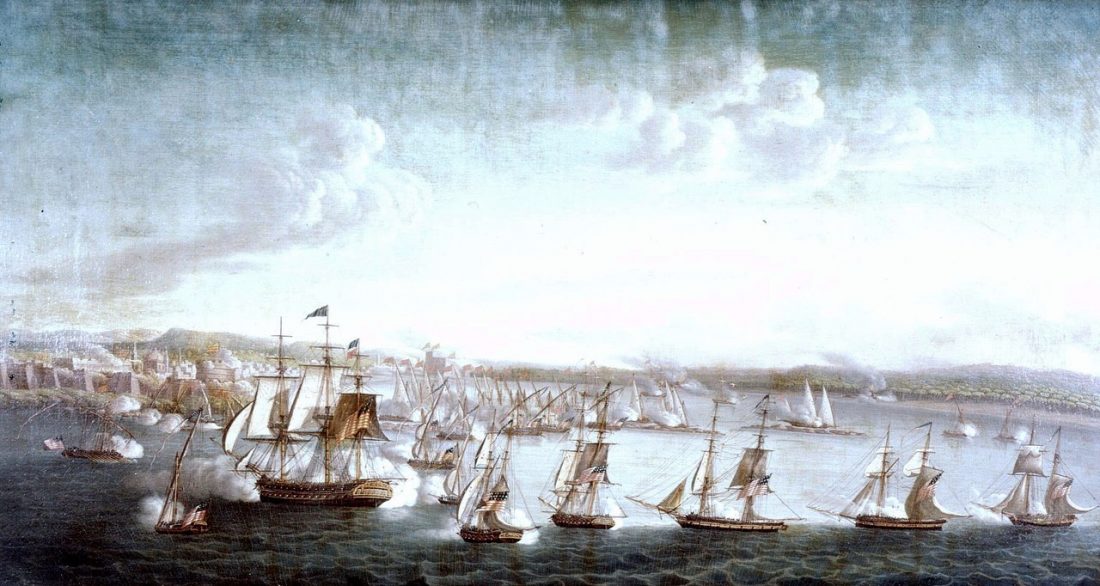 USS Syren (fourth from right) during bombardment of Tripoli, 1804. Painting by  Michele Felice Cornè 1752-1845
Once again under new ownership, the ex- Quatre Frères, ex-Transfer was taken into American service as the USS Scourge. She was now turned on her previous owners and participated in US Navy's attacks on Tripoli before being sent back to America late in 1804 for coastal duties. By the time war broke out between the United States and Britain in 1812, USS Scourge was judged unfit for further naval use and sold at auction. It would be interesting to know her ultimate fate.
Few vessels can have seen such rapid changes of ownership in an eight-year period as this small vessel did between 1796 and 1804.
Do you enjoy naval fiction?
You may enjoy Britannia's Spartan
It's 1882 and Captain Nicholas Dawlish RN has just taken command of the Royal Navy's newest cruiser, HMS Leonidas. Her voyage to the Far East is to be a peaceful venture, a test of this innovative vessel's engines and boilers.
Dawlish has no forewarning of the nightmare of riot, treachery, massacre and battle he and his crew will encounter.
A new balance of power is emerging in the Far East. Imperial China, weak and corrupt, is challenged by a rapidly modernising Japan, while Russia threatens from the north. They all need to control Korea, a kingdom frozen in time and reluctant to emerge from centuries of isolation.
Dawlish finds himself a critical player in a complex political powder keg. He must take account of a weak Korean king and his shrewd queen, of murderous palace intrigue, of a powerbroker who seems more American than Chinese and a Japanese naval captain whom he will come to despise and admire in equal measure. With each step, he must risk repudiation by his own superiors. And he will have no one to turn to for guidance…
Britannia's Spartan sees Dawlish drawn into fierce battles on sea and land. Daring and initiative have already brought him rapid advancement and he hungers for more. But is he at last out of his depth?
Below are the nine Dawlish Chronicles novels published to date, shown in chronological order. All can be read as "stand-alones". Click on the banner for more information or on the "BOOKS" tab above. All are available in Paperback or Kindle format and can be read at no extra charge by Kindle Unlimited Subscribers.

Six free short-stories are available for download to your Kindle. Access them by registering for the Dawlish Chronicles mailing list – just click on the banner below. You'll be kept updated on new books and will receive other free stories at intervals.