Guest Blog: Quarantine on the Isles of Scilly
Today's blog is by a guest, Baggy Robinson, who deals with a most unusual subject – quarantining of shipping – but one which was of immense importance in the period before widespread innoculation and vaccination were common and when the presence of contagious disease on an incoming vessel was suspected.  Baggy has been a regular visitor to the Isles of Scilly for over 12 years. For centuries this small archipelago off the south-western tip of England was the first sight of British soil for shipping arriving from the Mediterranean, Africa and points further east, the West Indies and South America. The blog results from Baggy's fascination with the Scilly Isles, which played an important role in quarantining of suspected vassel – as he recounts here. He's also interested in Photography and History as well as writing short stories. His photos can be found on his splendid Facebook page 'Baggy's Photos' (https://www.facebook.com/BaggysPhotos/). I'm delighted to welcome him to my blog.
                                                               Antoine Vanner
Quarantine on the Isles of Scilly – by Baggy Robinson
I am captivated by the Isles of Scilly, for many years a regular visitor and photographer. In 2017 I visited the Island of St Helen's for the first time, and found myself intrigued with its past. Landing at the old slipway (the quay having disappeared many years ago) I was immediately fascinated by the old roofless building near the beach. As I was to discover, this is known as the 'Pest House', a quarantine hospital built in 1764. I decided to find out more…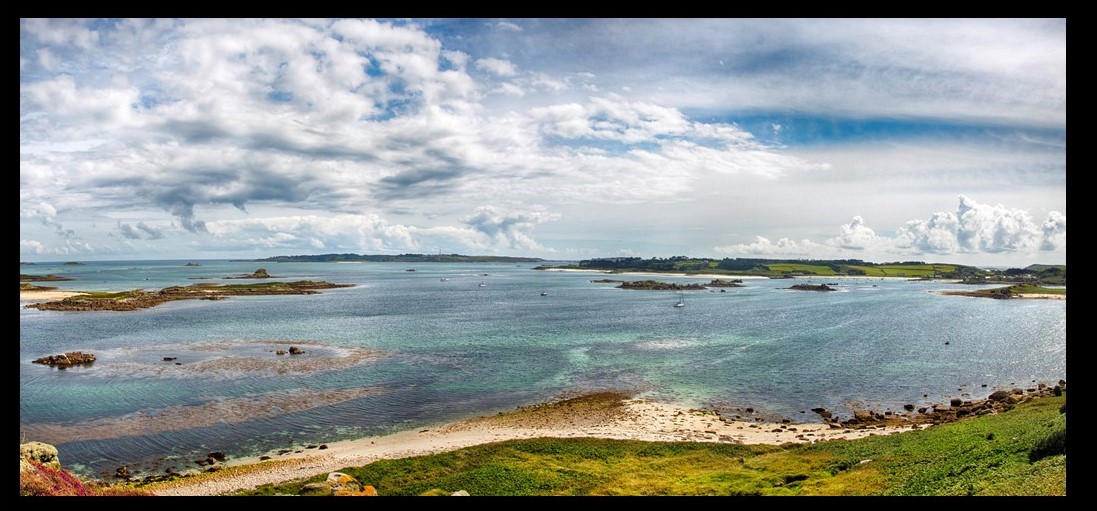 St Helen's Pool seen from St Helen's – Tresco and Old Grimsby towards the right 
Maritime quarantine is 'the enforced detention and segregation of vessels, persons and merchandise, believed to be infected with certain epidemic diseases, for specified periods at or near ports of disembarkation'. The British authorities were highly concerned about the health of their citizens (and themselves), so although the bubonic plague was long gone, the Quarantine Act of 1710 was passed. This Act of Parliament was called for, as concern had grown about plague in Poland and the Baltics – it brought in the practice of quarantine to combat the threat and risk of epidemic. Quarantine of a vessel was normally to be 40 days.
The Isles of Scilly were first implicated by the second Act of Parliament in 1721, put forward by the Earl of Clarendon. This temporary act (later extended in 1733) was due to the plague at Marseille and other places in Provence, France – just across the water. New Grimsby was a favoured anchorage for ships travelling toward Britain and Ireland and effectively became a designated quarantine station along with Stangate Creek on the Medway, which had been used since 16th September 1709.
On the 22nd January 1753 a new bill was put before the 'House' by Viscount Barrington. After due consideration, on 17th April 1753, it became law: 'An act to oblige ships more effectually to perform their quarantine; and for the better preventing the plague being bought from foreign parts into Great Britain or Ireland or the isles of Guernsey, Jersey, Alderney, Sark or Man.' Parliament also made a contingency plan. An infected ship, 'if north of Cape Finisterre, had to make for the harbour of New Grimsby in the Isles of Scilly, where the master would report to the officer of customs'.
The outraged inhabitants of Tresco put forward their objections. In January 1756 the Commons was asked to consider a petition from the Isles of Scilly expressing concern that the anchorage was a danger to the 500 Islanders living on the adjacent islands. Local maritime experts claimed 'that the harbour was no more than 400 yards wide and, being popular with homeward-bound ships, it might contain more than 50 sail at any one time'. The suggestion was that a less crowded anchorage could be found at St Helen's Pool, which was nearby and had good facilities, with fresh water available on St Helen's. The Pool lies between the three uninhabited islands of, Tean, Northwethel and St Helen's. Being isolated and 'more open to the main sea', it was significantly safer for both the inhabitants and sailors. A new bill was passed which substituted St Helen's Pool for New Grimsby and gained Royal assent on 9th March 1756 – a significant triumph for the Islanders.
So, St Helen's Isolation hospital, also known as the Pest House, was a quarantine station built in 1764 to house plague cases from visiting ships calling at St Helen's Pool. The hospital building is approximately 7 m by 5.5 m overall, with two rooms on its east side – the rooms are now completely separate, although there is evidence of an original opening between them. The walls of the building are around 3 m high, and are constructed of mortared rubble with stone face work and lintels over the doorways and windows (a typical construction technique of buildings in this period in the West Country).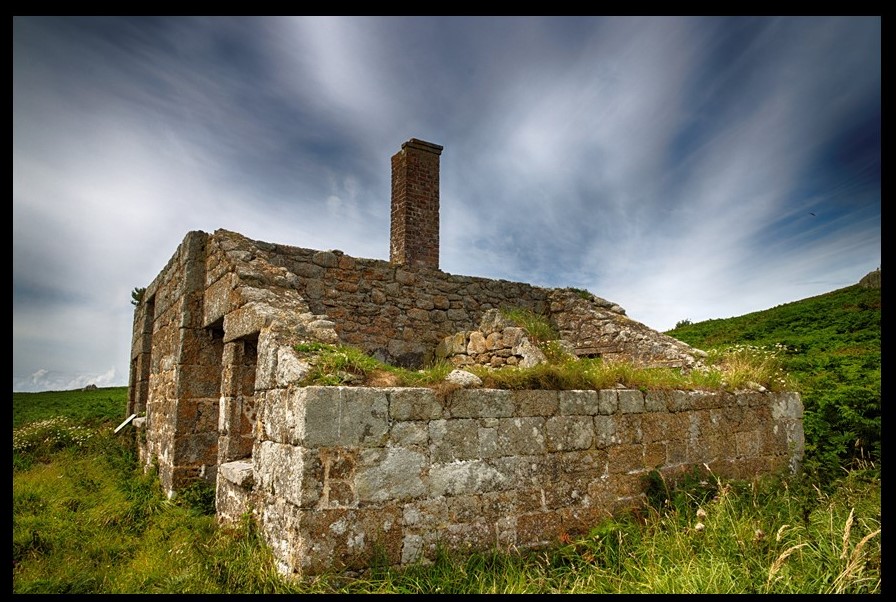 The Pest House on St Helen's
St Helen's Pool was intended to be a harbour of last resort in an outbreak of plague, rather than an anchorage for normal quarantine. If landed here your chances were not so good. Even if you did not already have the plague the bedding was straw, which often was shared with those who were afflicted with many contagious diseases.
In the year 1788 an Act was passed with regard to quarantine stating that a small vessel should be fitted up at St Helen's Pool for the reception of the sick, ill of the plague. Later records show that HMS Pandora of 1000 tons was a hospital ship moored in St Helen's Pool and that the guard ship HMS Hornet was deployed to St Helen's Pool in 1805.
The pest house was still open to receive patients from quarantined vessels in 1850 and it was not until the Public Health Act of 1896 that quarantine measures ceased to be deployed in this manner.
Lt James Allen Corsse, aged 27, can be found in the cemetery attached to Old Town Chapel on St Mary's, his grave forever looking out across the shimmering Old Town bay. He lies here since he died of Cholera on St Helen's; he was a surgeon who expired within a week of arriving.
Acknowledgments: House of Lords Journal, Maritime Quarantine: The British Experience, c.1650–1900 by John Booker, James Terry, Scillypedia, Scilly Now and Then.
---
Many thanks to Baggy for his blog – I look forward to him telling more stories of the Scillies in the future.
Antoine Vanner