"Poor Jack Spratt" at Trafalgar, 21st October 1805
One's mental image of the Battle of Trafalgar, when Nelson's defeat of the French and Spanish fleets established the supremacy of British naval power for a century, is dominated by the death of Nelson himself. In this enormous battle – thirty-three British ships against forty-one of the enemy – a myriad of other dramas were played out. One that was well known at the time, and which deserves not to be forgotten, involved "Poor Jack Spratt" of HMS Defiance.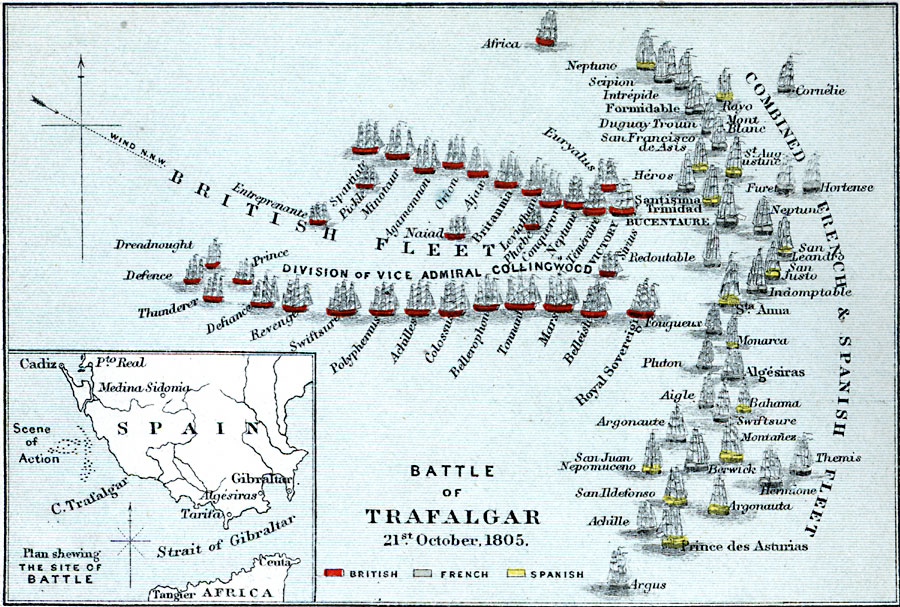 The opening of the battle – Nelson's and Collingwod's divisions breaking into the French and Spanish line. Defiance and Aigle can be clearly identified near the ends of their respective columns.
Eleventh in the second division, commanded by Vice-Admiral Collingwood, this '74' attacked a French '74', the Aigle, near the end of the French and Spanish line. These ships were well matched in size and gunpower – the '74' two-decker ships of the line were the backbone of all major navies. Commanded by Captain Philip Durham (1763-1845), the Defiance had as Master's Mate a James Spratt (1781-1853). The position was not one held by a commissioned officer and the master himself would have held a warrant. Though a veteran of the Battle Copenhagen, Spratt was still a Midshipman at the age of 34, a fact that implied that his naval career was going nowhere. He seems to have been popularly known as "Jack", like the character in the nursery rhyme.
The Defiance was to have the best of the broadside exchanges. The Aigle's fire of the latter had slackened so much that, although her colours were still flying, her power to resist further was almost exhausted.  Both ships were now "within pistol shot" and Captain Durham saw that boarding would decide the issue. There was however a dead calm, and Defiance's boats had been too badly damaged to launch. Hoping however for a slight breeze to bring the ships together, Durham had a fifty-man boarding party mustered. At this point, Master's Mate James Spratt volunteered to swim across to Aigle. Durham at first refused initially, but finally consented to Spratt's pleas.
Spratt now called out " Boarders follow me!" and with his cutlass in his teeth and with a boarding axe in his belt leaped overboard. Whether he was not heard in the continuing roar of battle, or whether discretion proved the better part of valour, nobody followed. Spratt struck out for the Aigle however, heading for the stern. He was soon seen climbing up the rudder chains of the French ship and disappearing into one of her stern windows.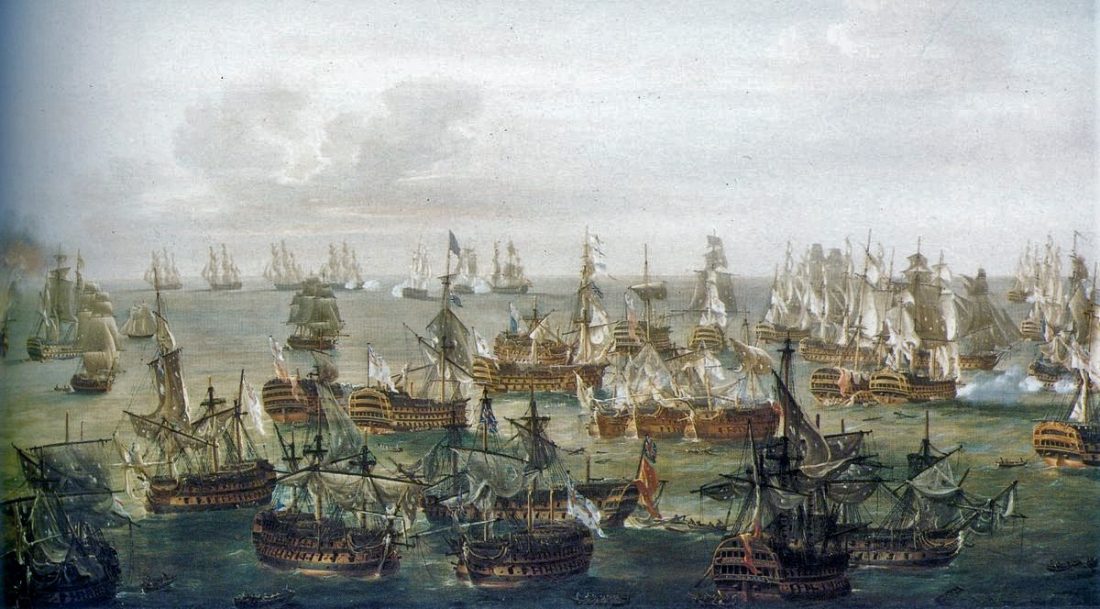 This painting by Nicholas Pocock (1740-1821) gives a good impression of the individual combats during  the latter stages of the battle
A slight breeze had now arisen, enough to allow Durham to manoeuvre the Defiance alongside the Aigle to launch his boarders. Initially repulsed, they succeeded on the second attempt. In the meantime, Spratt had found his way up through internal passages to the Aigle's poop. Confronted by three French marines with fixed bayonets, he avoided their charge. He put two out of action but the third grappled with him. Together they crashed from the poop to the quarter-deck. The fall broke the unfortunate Frenchman's neck but Spratt escaped uninjured.
Defiance's boarding party were now on Aigle and Spratt joined them in vicious hand-to-hand fighting on the quarter-deck.  O'Byne's "Naval Biographical Dictionary" of 1849 records elegantly that Spratt "had the happiness of saving the life of a French officer from the fury of his assailants. Scarcely had he discharged this act of humanity when an endeavour was made by a grenadier to run him through with his bayonet. The thrust being parried, the Frenchman presented his musket at Mr. Spratt's breast; and although the latter succeeded in striking it down with his cutlass, the contents passed through his right leg a little below the knee, shattering both bones." Desperately wounded, Spratt stumbled into the space between two guns and managed to fend off further attacks until rescued by the other boarders.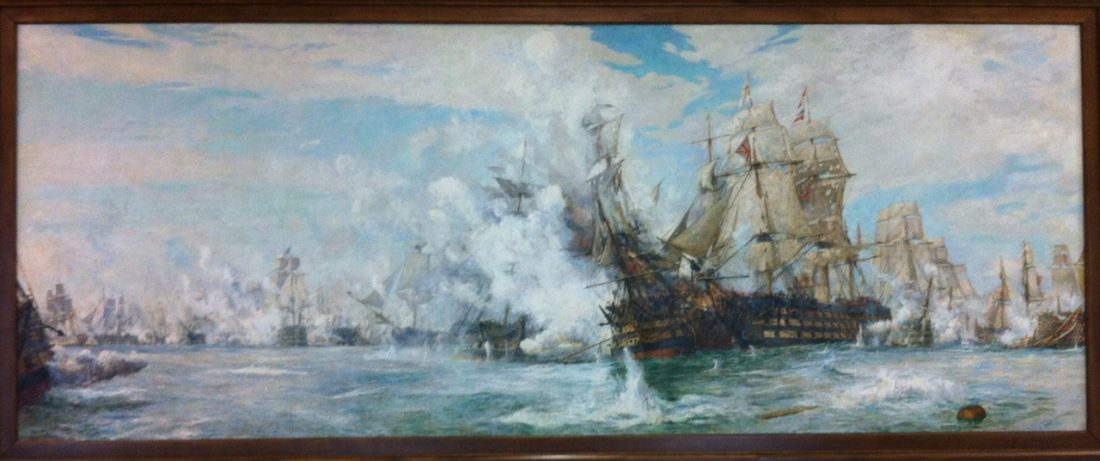 The great naval painter William Lionel Wyllie (1851 – 1931) gave a sea-level view of the battle 
The Aigle stuck her colours – Captain Durham, in a private letter, stated that he saw the wounded Spratt holding his shattered leg, and calling out "Poor Jack Spratt is done up at last." He appears to have got back to the Defiance by swinging himself down by one of the boat-tackle falls to land on a lower-deck port which happened to be open. From there he was carried to the cockpit, where the surgeon has set up his station. Spratt refused to allow his injured leg to be amputated. In great pain, he was carried back to Gibraltar. He spent seventeen agonising weeks in the naval hospital there, emerging with one leg considerably shorter than the other.
The Aigle, in the meantime, had come to a brutal end.  On the day after the battle the French prisoners overpowered the British prize crew, and recaptured her. Their victory was short-lived – caught in the storm that destroyed many of the other damaged ships, she was wrecked on the following day.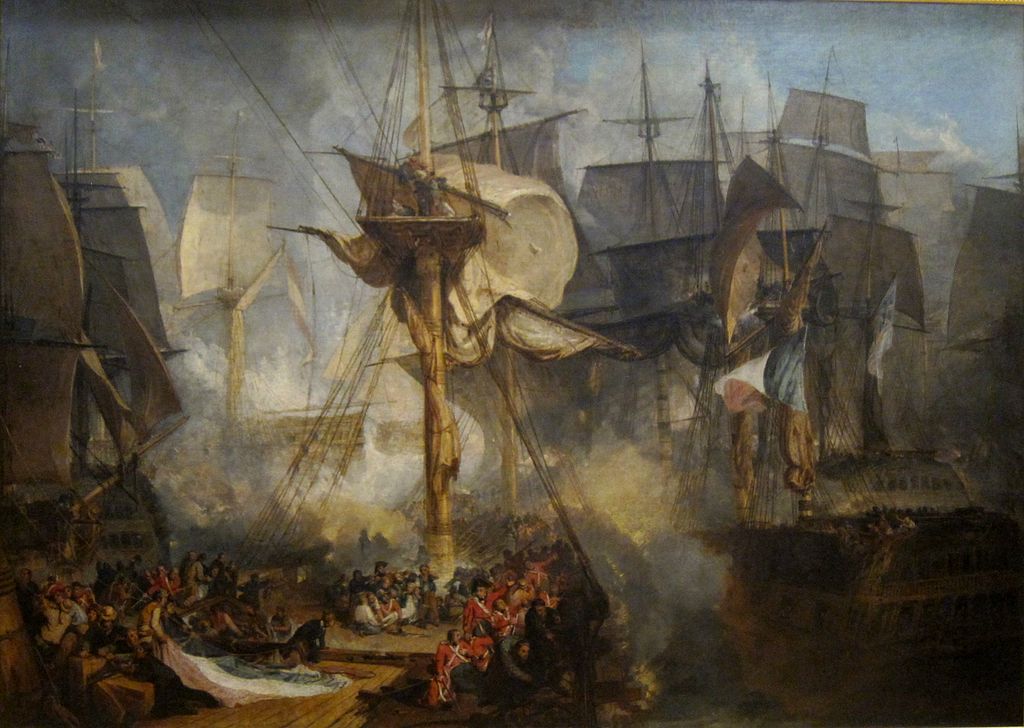 Though not himself a witness, Turner's great Trafalgar painting well conveys the fury of battle
Spratt's heroism was rewarded with a commission as a lieutenant. His injury kept him on duty ashore for the next seven years. In charge of a signalling station, he invented a new method of semaphoring for which he received a silver medal for the Society of Arts. He returned to sea in 1813, on the North American Station, but his disability necessitated him being invalided back to Britain for less stressful duty.
Spratt had married in 1809 and one of his sons, Thomas A.B. Spratt (1811 – 1888) rose to the rank of vice-admiral and gained renown as a hydrographer and geologist. His greatest achievement was however for the survey that led to "Spratt's Map", which was the basis for the discovery of Troy.
What a life James Spratt could look back upon with pride!
The 9th Dawlish Chronicle will be published on 12th December 2020
Britannia's Morass
September – December 1884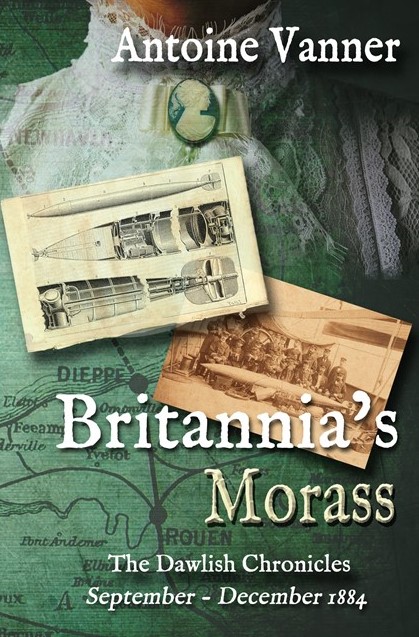 I'm pleased to announce that Britannia's Morass will be available in both Paperback and Kindle formats from 12th December. The Kindle version is available at a reduced pre-order price of $ 2.99 in the United States and £1.99 in the UK, and for currency-adjusted prices in other countries.
Click on https://amzn.to/39oTAWx  for the US and on https://amzn.to/3ob14ki for the UK for details of how to pre-order.
The story involves mystery, blackmail, espionage and danger at a time when the international power balance is shifting. The secrets of cutting-edge weapons technology are highly prized – and some will stop at nothing to get them . . .
It's 1884 and Captain Nicholas Dawlish departs for service in the Sudan, as told in Britannia's Gamble. He leaves his formidable wife Florence to face months of worry about him. She'll cope by immersing herself, as she's done before, in welfare work for Royal Navy seamen and their families at Portsmouth.
And life in Britain promises to be humdrum, if worthy, at the start . . .
News of the suicide of a middle-aged widow evokes memories of her kindness when Florence was a servant. Left wealthy by her husband, this lady died a pauper, beggared within a few months, how and by whom, Florence does not know. The widow's legal executor isn't interested and the police have other concerns. Lacking close family, she'll be soon forgotten.
But not by Florence. Someone was responsible and there must be retribution. And getting justice will demand impersonation, guile and courage.
Florence doesn't hesitate to investigate blackmail and fraud in fashionable London, not suspecting that something far larger is involved. A single wrong decision plunges her into an ever-deepening morass, where loyalty to her country and to seamen who served with her husband raises terrifying dilemmas. Old friends support her but old allies who offer help may have different agendas. In a time of shifting international alliances, in which not all the enemies she faces are British, she can be little more than a pawn. And pawns are often sacrificed . . .
Britannia's Morass plays out against a backdrop of poverty and opulence, of courtroom drama and French luxury, of subterfuge, deceit, espionage and danger.
This volume also includes the bonus short story Britannia's Collector, which tells of Nicholas Dawlish's service as a young naval officer in a gunvessel operating off the coast of South America in 1866.
The Dawlish Chronicles – the eight volumes already available. Click  on the banner below for more details

Six free short-stories are available for download to your Kindle. Access them by registering for the Dawlish Chronicles mailing list – just click on the banner below. You'll be kept updated on new books and  will receive other free stories at intervals.