American Naval Hero: Silas Talbot
The USS Constitution – "Old Ironsides" – is apparently the only active ship in service in the United States Navy to have sunk an enemy ship in combat. She was launched 220 years ago and is a true national treasure. Immediately after commissioning in 1798 she was to plunge into more than a decade and a half of war, first against the French in the undeclared "Quasi-War", thereafter in the Barbary Wars and lastly, and against the Royal Navy in the War of 1812, when in frigate-to-frigate "single ship actions" she defeated the British HMS Guerriere and HMS Java. It is with the Constitution's second captain, Silas Talbot (1751 – 1813) that this blog is concerned, most especially regarding his service as a privateer during the American War of Independence, a type of combat largely overlooked in many accounts of the conflict. A man of many parts, Silas Talbot had experience in business, politics and armed service both ashore and afloat during his lifetime. He was wounded thirteen times and was credited with carrying five bullets in his body. Much of what follows is based, at second hand, on a book published in the United States in 1803 and entitled "The Life and Surprising Adventures of Captain Silas Talbot; containing a Curious Account of the Various Changes and Gradations of this Extraordinary Character." It was apparently based on information by Silas Talbot himself.
Hailing from Massachusetts, Silas Talbot went to sea as a cabin boy at the age of twelve, working his way up so successfully that nine years later he could buy substantial property ashore. In the early stages of the American Revolution Talbot was appointed as a captain in a Rhode Island Regiment and one of his early exploits was the use of a fire ship to attack the Royal Navy's "64", HMS Asia, at New York in September 1776. The fire ship collided with the Asia and set fire to her, but the crew, with aid from nearby vessels, managed to extinguish the flames. Silas Talbot escaped but sustained severe burns. Undaunted, he next took part in the defence of Philadelphia in October 1777 – being wounded again – and thereafter in the Battle of Rhode Island ten months later.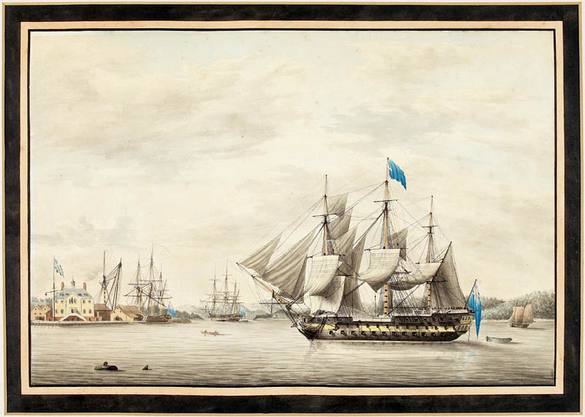 HMS Asia – seen in 1797 at Halifax, almost twenty years after Talbot tried to destroy her
In 1779, having meanwhile been promoted to the rank of colonel, Silas Talbot commenced his career as a privateer commander. The British had a considerable number of private ships of war afloat on the American coast at that time and numerous American privateers were authorised to counter the.  Talbot was placed in command of the Argo, a sloop of under 100 tons, armed with twelve 6-pounders, and carrying 60 men. She was described as having a single mast, being steered with a long tiller, havingvery high bulwarks and a wide stern. It was remarked that "her bottom was her handsomest part," which indicated that her underwater hull form made her swift and handy.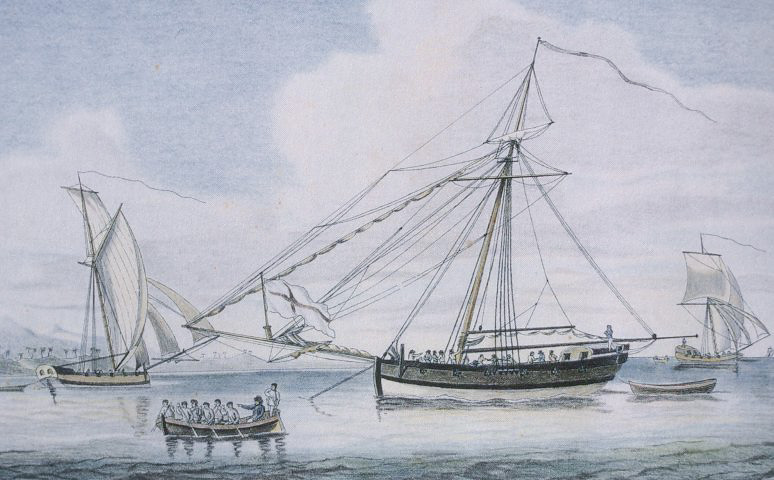 A Bermuda sloop, serving as a privateer. Talbot's Argo might have looked very similar
The Argo's first encounter with an enemy was with a privateer, the King George, commanded by a loyalist from Rhode Island, a Captain Hazard. This gentleman was described as having been an esteemed citizen until he elected to fight on the British side "for the base purpose of plundering his neighbours and old friends". The King George was more powerfully armed than the Argo, carrying 14 guns and 80 men; but her captain may have mistaken the Argo for a merchant vessel. He permitted Talbot to come to close quarters without opposition, for the writer tells us that Talbot"steered close alongside him, pouring into his decks a whole broadside, and almost at the same instant a boarding party, which drove the crew of the King George from their quarters, and took possession of her without a man on either side being killed."
The Argo's next antagonist was the British privateer Dragon, of 300 tons, 14 guns, and 80 men. This was a desperate engagement, carried on at pistol-shot range for four and a half hours. A large part of the men on deck—a vessel like the Argo certainly did not fight with any below—were either killed or wounded but the Dragon, losing her mainmast, at length struck her colours. The Argo was all but sinking, having sustained hits "between wind and water" but prompt action sealed them off.
After refitting the Argo, Talbot sailed in company with another privateer, the Saratoga, commanded by a Captain Munroe. Near New York, off Sandy Hook, they encountered the Dublin, a British privateer cutter carrying 14 guns. It was agreed that Talbot should first give chase, for fear that the sight of two vessels bearing down upon him should alarm the Dublin's commander. The British vessel stood her ground however and awaited the attack. Argo and Dublin fought an inconclusive ship-to-ship gunnery duel before Munroe arrived with the Saratoga – there seems to have been some suspicion that he might have hung back. Once on the scene however, the Saratoga fired a single broadside that ended the affair and the Dublin, outnumbered, struck her colours.
Talbot's next fight was one that seems almost straight from a novel. The Betsy, a British privateer of 12 guns and 38 men, was "commanded by an honest and well-informed Scotchman." The Argo's identity as a privateer seems, once more, not to have been suspected and Talbot came close before running up the stars and stripes and shouting, "You must now haul down those British colours, my friend!"
Courtesy (and elegant English) prevailed even at this juncture and the Scottish captain replied, "Notwithstanding I find you an enemy, as I suspected, yet, sir, I believe I shall let them hang a little longer, with your permission. So fire away!" The decision was an unwise one – the Argo's opening fire decided the outcome in her favour.
Talbot was now formally appointed as a captain in the Continental Navy but with no naval ship available he took command of another privateer, the General Washington, in 1780.  His luck was about to run out. He took only one prize, but soon thereafter ran into a British squadron – ironically at the scene of an earlier success, off Sandy Hook. A foiled attempt to run ended with him surrendering to a "74", HMS Culloden. He was detained in squalid conditions on the Jersey prison-ship, off Long Island and thereafter brought as a prisoner of war to Britain, where he allegedly made four attempts at escape before being exchanged in December 1781. He must have had some grim satisfaction in learning that HMS Culloden had been destroyed by her crew to avoid capture after running ashore on Long Island in January 1781.
A prosperous man – largely, on suspects, on the basis of privateering success – Silas Talbot settled in New York State, buying the large estate of the British commander of Indian and colonial forces in the Seven Years War, Sir William Johnson. He was elected to Congress in 1793 but he seems to have retained naval ambitions. A year later President Washington was to appoint his as the third in the list of six captains of the newly constituted United States Navy. Resigning from Congress, Silas Talbot was entrusted with supervision of the construction of the USS President, one of the innovative "six frigates" that were to be the foundation of the new navy. For two years from mid-1799 he would command her sister, the USS Constitution, protecting American commerce from the depredations of French privateers in the West Indies. Silas Talbot resigned in 1801, possibly due to ill health – not surprising, in view of the wounds he had sustained during his career.
Little known today, Silas Talbot deserves to be remembered as one of the founding fathers of today's US Navy. Bear him in mind if you are ever lucky enough to visit USS Constitution in Boston.
Britannia's Innocent
What links war in Denmark in 1864 with the American Civil War?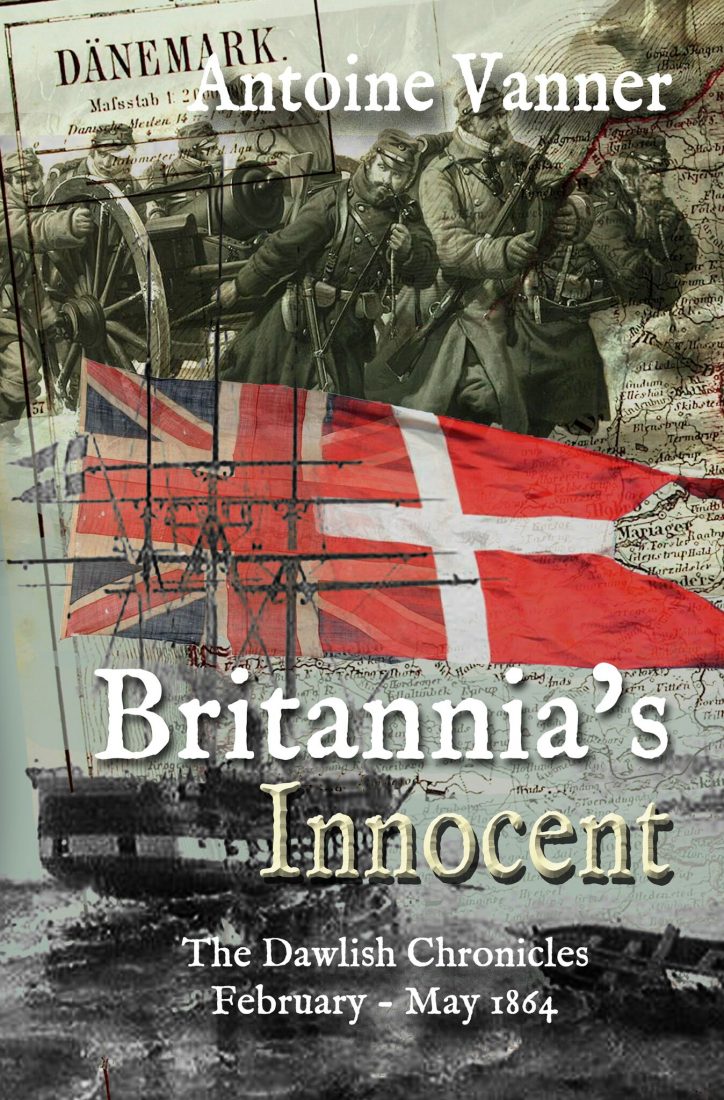 1864 – Political folly has brought war upon Denmark. Lacking allies, the country is invaded by the forces of military superpowers Prussia and Austria. Cut off from the main Danish Army, and refusing to use the word 'retreat', a resolute commander withdraws northwards. Harried by Austrian cavalry, his forces plod through snow, sleet and mud, their determination not to be defeated increasing with each weary step . . .
Across the Atlantic, civil war rages. It is fought not only on American soil but also on the world's oceans, as Confederate commerce raiders ravage Union merchant shipping as far away as the East Indies. And now a new raider, a powerful modern ironclad, is nearing completion in a British shipyard. But funds are lacking to pay for her armament and the Union government is pressing Britain to prevent her sailing . . .
But Denmark is not wholly without sympathisers. Britain's heir to the throne is married to a Danish princess. With his covert backing, British volunteers are ready to fight for the Danes. And the Confederacy is willing to lease the new raider to Denmark for two months if she can be armed as payment, although the Union government is determined to see her sunk . . .
Just returned from Royal Navy service in the West Indies, the young Nicholas Dawlish is induced to volunteer and is plunged into the horrors of a siege, shore-bombardment, raiding and battle in the cold North Sea – notwithstanding divided loyalties . . .
In other books of the Dawlish Chronicles series, Dawlish is met as an experienced and resourceful officer, but in 1864 he is still an innocent. But he will need to learn fast . . .
Below are the eleven Dawlish Chronicles novels published to date, shown in chronological order. All can be read as "stand-alones". Click on the banner for more information or on the "BOOKS" tab above. All are aailable in Paperback or Kindle format and can be read at no extra charge by Kindle Unlimited or Kindle Prime Subscribers.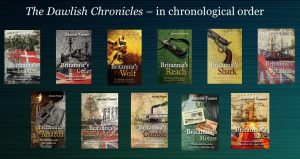 Six free short-stories are available for download to your Kindle. Access them by registering for the Dawlish Chronicles mailing list – just click on the banner below. You'll be kept updated on new books and will receive other free stories at intervals.