The Survival of the SS Chimborazo, 1880
The second half of the nineteenth century saw steam power at sea come to maturity and, in combination with the linking of continents by submarine telegraph cables, underlie creation of a trading system of unprecedented global reach. Steam power allowed not only fast and cheap transportation of people and goods but regular scheduled services. The results were to be so impressive that it is easy to overlook the fact that such transportation remained dangerous in the extreme, and that the hazards involved were accepted as inevitable not only by wider society, but by those must directly affected, crews and passengers alike, with much stoicism, if not complacency. A good example is provided by the narrow escape of the steamer SS Chimborazo in February 1880.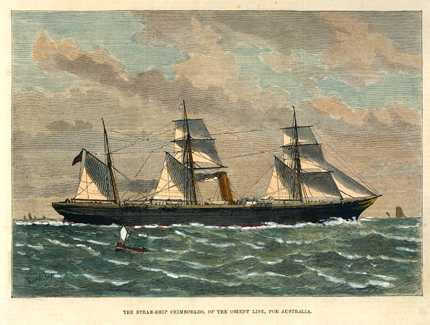 SS Chimborazo  Image courtesy State Library of Victoria, H31030, Public Domain
Built in Glasgow in 1871, the 3,847-ton, 384-foot Chimborazo was to be employed in combined passenger and freight services between Britain and Australia until 1889. She was a well-regarded vessel, operated by respected and responsible owners from the Orient shipping group. As was common for the time she carried a sailing rig in addition to her steam engine. What is remarkable to modern eyes is that the engine should have been of such low power – 550 hp. This was not unique to the SS Chimborazo, since it applied to many steamers of her time, but it meant that there was no significant extra power to draw on in emergencies.
On February 8th 1880 the SS Chimborazo left the British port of Plymouth for what promised to be another routine voyage to Australia. Unlike many vessels of her time, she carried a Plimsoll Line loading mark and this was not exceeded. What seems strange to modern eyes is that she carried sheep on the foredeck – how many, and whether for consumption on board, or for improvement of stock in Australia, is not clear. For whatever reason, given the time of year and the likely weather conditions to be encountered, the conditions for these poor creatures must have been unenviable. The following day, February 9th, the Chimborazo was in the Bay of Biscay. There she encountered severe, but not yet alarming, weather.
The owners were subsequently to write that "the Chimbozaro was making good weather, merely taking a little water over her bow, which made it desirable to move the sheep from that part of the ship to further aft. The passengers were standing about the deck enjoying the bright morning." This bland statement disguised the fact that the sheep were moved for cover into the smoking room, apparently a small deckhouse, and that the human occupants were evicted.  The owners' statement continued: "There was no cause for apprehending danger… until a large wave was seen approaching on the starboard bow side. It was hoped that it would break before reaching the ship but unfortunately, it fell upon the deck and the whole mischief was the work of a few seconds"
The SS Chimborazo heeled over on to her port side and the wave lashed across the spar-deck for some fifty feet abaft the funnel. The heavy steam launch which was stored there was torn from its berth and washed overboard, taking with it everything in its path. Six out of eight lifeboats carried were swept away, as were the skylights to the engine room and galley, and the saloon companion, all of which allowed water to cascade down within, as well as various other deck fittings. The entire smoking room, with the unfortunate sheep inside, was also wholly washed away. There were other animal victims also, for it appears that hens were kept in coops on deck and "the chief engineer, who hastened down into the stoke hole expecting to find water, found the firemen scrambling among themselves for the poultry which had been blown down the ventilators."  Three people had been washed overboard, another died almost immediately from injuries and a large number of passengers and crew suffered lesser injuries. The death toll would have been higher had the smoking room not have been cleared of smokers to provide shelter for the sheep.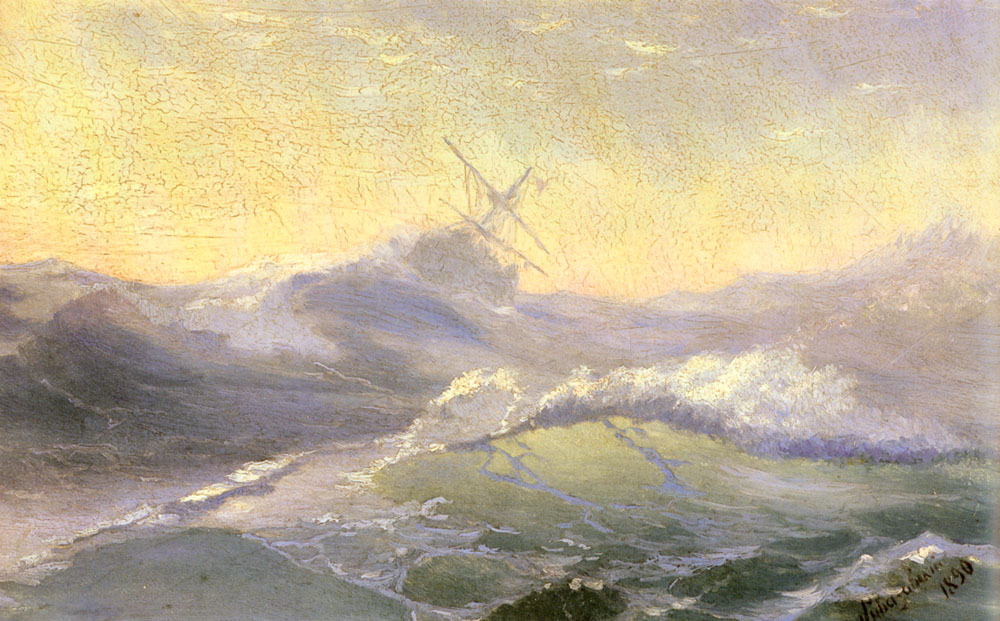 Few painters have conveyed the fury of a storm with such skill as Russian master Ivan Konstantinovich Aivazovsky (1817 – 1900)
The SS Chimborazo turned back to Plymouth and in order to get her back to sea as quickly as possible missing fittings were replaced by others taken from her sister ship SS Cuzco, which was then in port. By February 18th she was back at sea again, with 330 passengers and a large cargo, and heading to Adelaide, Melbourne and Sydney. Her problems seemed to be about to start all over again for that night she encountered south-west winds of hurricane strength and she was to lie-to for the next two days. No damage was sustained however and the subsequent voyage to Australia proved uneventful.
What is remarkable about this affair is how everybody involved seemed to take it in their stride – not just the authorities, who did not investigate what could have been a major disaster, and did not delay a very fast return to sea, but the passengers themselves. They seem to have accepted the hazards as somewhat of a normal feature of sea travel.  The SS Chimborazo's owners reported that "Not a word of complaint has been received from any passenger and we understand that they have as a body as well as individually expressed to Captain Trench and to others their high appreciation of the ship and of their treatment generally, a handsome sum having been subscribed soon after the accident in recognition of the good conduct of the crew."
The SS Chimborazo had another fifteen years of useful life ahead of her, retiring from Australian service in 1889 and thereafter serving as a cruise liner that visited the Norwegian fjords until she was finally retired in 1895. All but forgotten today, her name would have been associated with a major disaster if events had turned out only so very slightly differently.
Start the Dawlish Chronicles series of  naval adventures with the earliest chronologically:
Britannia's Innocent 
For more details regarding purchase in paperback or Kindle format, click below Note that Kindle Unlimited  subscribers can read at no extra charge
The Dawlish Chronicles – now up to nine volumes, and counting, Click on the banner below for details. 
Six free short stories are available for download to your Kindle. Access them by registering for the Dawlish Chronicles mailing list – just click on the banner below. You'll be kept updated on new books and will receive other free stories at intervals.