HMS Buckingham in furious action, 1758
The Seven Years War, 1756-63, which often been fairly described as "The First World War" since it was fought on a global basis, saw much naval action in the West Indies because of the value of the "sugar islands" held by Britain, France and Spain there. One of the most spectacular encounters involved the 60-gun third-rate HMS Buckingham in 1758. It was notable for the aggressive spirit of Royal Navy officers and crews, throughout the Age of Fighting Sail, when faced with unfavourable odds.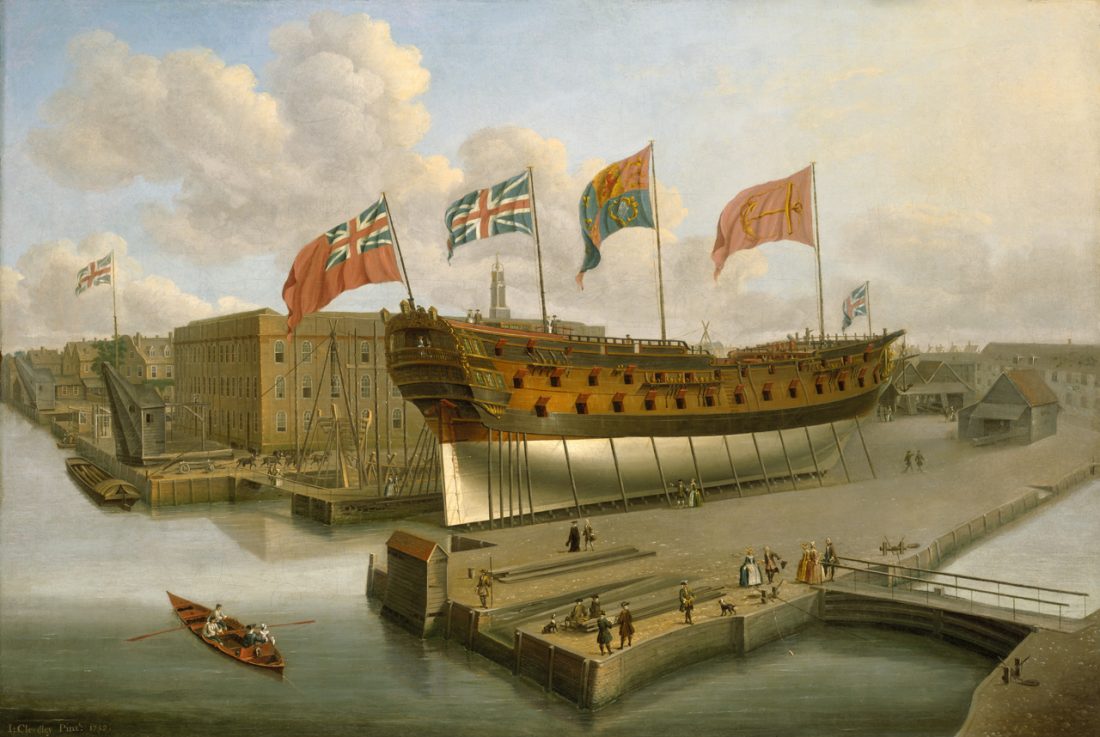 HMS Buckingham ready for launch, 1751 – by John Cleveley the Elder (1712-1777)
Commanded by Captain Richard Tyrell (1716–1766), an experienced officer who had already sent much of his career in the area, HMS Buckingham, of 65 guns, had been detached from the Leeward Island Squadron in late 1758 for an independent cruise. Such a cruise would later be classified as "commerce raiding" as the main objective was to hit enemy merchant shipping. Responsibility for a cruise was to be welcomed, in view of the prize money that might accrue. HMS Buckingham was accompanied by a 16-gun sloop, HMS Weazle, commanded by a Captain Boles. The area allocated to them lay between the British-held island of Montserrat and the French-held island of Guadaloupe.
On November 3rd. HMS Buckingham sighted a convoy of nineteen ships, escorted by a French "74" – the equivalent of British Third-Rate, a type later to be standard in the Royal Navy – and two large frigates. Captain Tyrrell immediately signalled to HMS Weazle to join him in a chase. The Weazle was the first to close with the French 74, later identified as the Florissant. It was an act that may be considered either foolhardy or heroic due to the disparity in size and was rewarded with a broadside. This did little damage and she sheered off. From HMS Buckingham, Captain Tyrrell ordered the Weazle to stay clear of further action.
What followed is best recounted in Tyrell's own words in extracts from his later report. He told that "While I made all the sail I could, they (enemy) were jogging under their foresails and when we came up within half gun-shot they began a running fight, firing their stern chasers. The frigates sometimes raking fore and annoyed me very much, but also so retarded their own way that I got up with my bowsprit, almost over the Florissant's stern. Finding I could not bring the enemy to lee, and threw into her a noble dose of guns and small arms, at about the distance of musket-shot, which she soon after returned, and damaged my rigging, masts, and sails considerably."
The larger of the two French frigates now entered the fray and "being very troublesome, I gave him a few of my lower-deck pills, and sent him scouting like a lusty fellow, so that he never returned into action again."  The Florissant had by now manoeuvred under HMS Buckingham's lee and delivered four broadsides, though not at close range. This resulted in several casualties. HMS Buckingham responded and, according to Tyrell "we did him as much damage, as our men were very cool, took good aim, were under good discipline, and fought with a true English spirit. An unlucky broadside from the French made some slaughter on my quarter-deck; at the same time I myself was wounded, losing three fingers of my right hand, and receiving a small wound over my right eye, which by effusion of blood blinded me for a little while. I also had several contusions from splinters, but recovering immediately, I would not go off the deck till the loss of blood began to weaken me. The master and lieutenant of Marines were dangerously wounded at the same time."
Tyrell was not going to let the loss of three fingers and a wound over his eye keep him out of action for long: "I called to my people to stand by and do their duty, which they promised, with the greatest cheerfulness. I just ran down and got the blood stopped, but returned upon deck again, till, finding the straining made all my wounds bleed afresh, I sent for the first lieutenant and told him to take command of the deck for a time. He answered me that he would, and run alongside the Florissant yard-arm and yard-arm, and fight to the gasp; upon which I made a speech to the men, importuning them to do their utmost, which they cheerfully promised, and gave three cheers I went down the second time much more easy than before."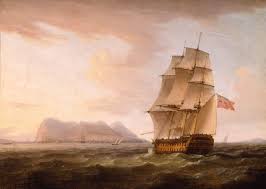 "Off Gibraltar" by Thomas Whitcombe (1763-1824) – one imagines HMS Buckingham in the West Indies like this
The first lieutenant, named Marshall, lived up to his word, continuing to exchange fire with the Florissant until he "received a broadside from her which killed him, as he was encouraging the men; thus he died an honour to his country and the service. The second lieutenant then came upon deck and fought, the ship bravely, yard-arm and yard-arm. We silenced the Florissant for some time, and she hauled down her colours; but after that fired about eleven of her lower tier, and gave us a volley of small arms, which our people returned with great fury, giving her three broadsides, she not returning even a gun. Captain Troy, at the same time, at the head of his marines, performed the service of a brave and gallant officer, clearing the Florissant's poop and quarter-deck, and driving her men like sheep down their main-deck. Our tops were not idle; they plied their hand-grenades aid swivels to excellent purpose. It is impossible to describe the uproar and confusion they were in."
Night had come on by now. HMS Buckingham's sailing ability was badly impaired, the result of the French practice, so common in this period, of making masts, sails and rigging, rather than the hull, their main target. The Florissant was unwilling to continue the action however and "aware of our condition, took the opportunity, set her foresail and topgallant sails, and ran away; we endeavoured to pursue her with what rags of sails we had left, but to no purpose."
What is remarkable in Tyrell's account is that the two French frigates seemed to have played no significant part in the action after the opening – he would have surely mentioned it if they had. He regretted how the action ended: "Thus we lost one of the finest two-decked ships my eyes ever beheld. I cannot bestow encomiums too great on the people and officers' behaviour, and I hope you will strenuously recommend the latter to the Lords of the Admiralty, as they richly deserve their favour. Notwithstanding the great fatigue the ship's company had experienced during the day, they cheerfully continued up all night, knotting and splicing the rigging, and tending the sails." Tyrell was however scathing about "the inhuman, ungenerous, and barbarous behaviour of the French during the action; no rascally picaroon or pirate could have fired worse stuff into us than they did, such as square bits of iron, old rusty nails, and in short everything that could tend to the destruction of men, a specimen of which, please God, I shall produce to you on my arrival."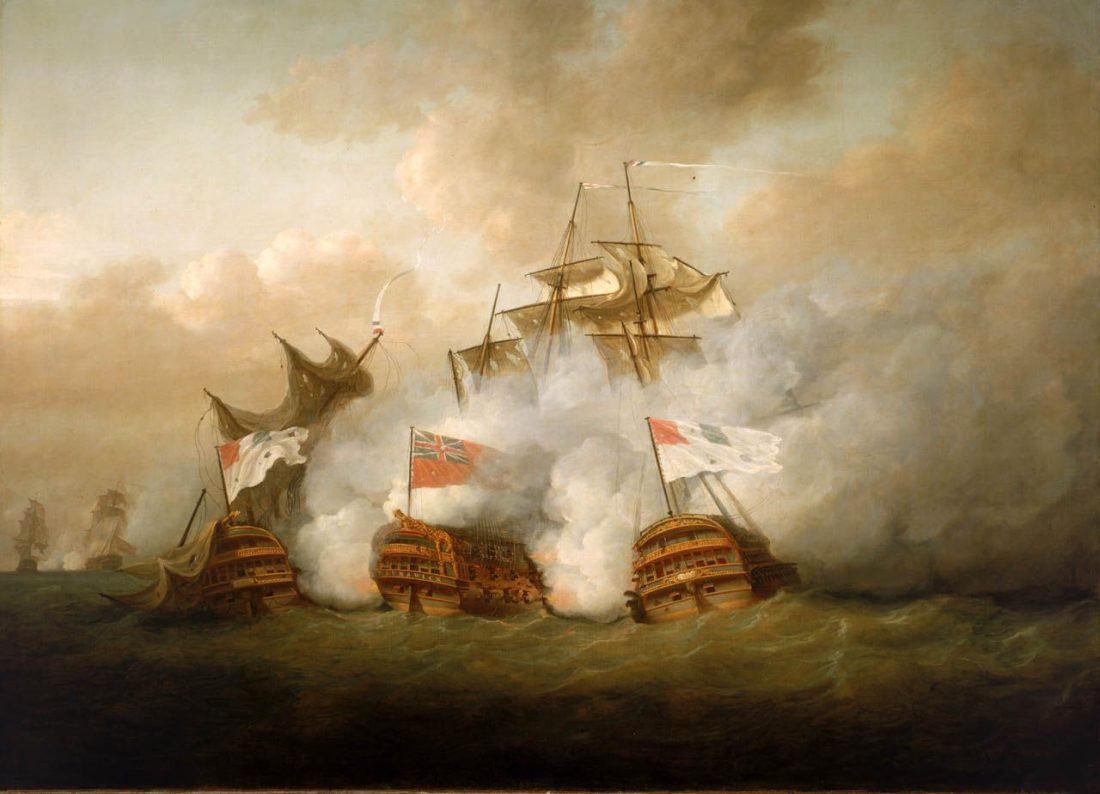 Actions like that between HMS Buckingham and the Florissant were enveloped in blinding clouds of acrid smoke (as shown in Nicholas Pocock's painting of "The Glorious First of June")
HMS Buckingham's casualties were remarkable small – seven killed and thirty-one wounded – a fact that confirms the impression that French fire had been concentrated on sails and rigging. Florissant's losses were apparently higher, though there is no confirmation, but she was in a sinking condition by the time she reached Martinique. This reflects the Royal Navy preference for making hulls their preferred targets.
Richard Tyrell, by now a Rear Admiral, became commander-in-chief of the Leeward Islands Station after the war but resigned in 1766, perhaps due to bad health. He died of a fever – the illness that killed to may in the West Indies – and, by his own request was buried at sea. He is remembered by a quite spectacular marble memorial in Westminster Abbey, London.
HMS Buckingham remained in service into the middle years of the American War of Independence. By then she was in a bad state and leaking badly. She was lost in the Atlantic in 1779. Her small consort, HMS Weazle, was still in service that same year, in which, she was however captured by the French. Built in 1745, this small vessel had proved a good investment for the Royal Navy as she captured a total of eleven enemy vessels in her lifetime.
Britannia's Mission
This volume of the Dawlish Chronicles deals with Indian Ocean slave-trade suppression
1883: The slave trade flourishes in the Indian Ocean, a profitable trail of death and misery leading from ravaged African villages to the insatiable markets of Arabia. Britain is committed to its suppression but now there is pressure for more vigorous action . . .
Two Arab sultanates on the East African coast control access to the interior. Britain is reluctant to occupy them but cannot afford to let any other European power do so either. But now the recently-established German Empire is showing interest in colonial expansion . . .
With instructions that can be disowned in case of failure, Captain Nicholas Dawlish must plunge into this imbroglio to defend British interests. He'll be supported by the crews of his cruiser HMS Leonidas, and a smaller warship. But it's not going to be so straightforward . . .
Getting his fighting force up a shallow, fever-ridden river to the mission is only the beginning for Dawlish. Atrocities lie ahead, battles on land and in swamp also, and strange alliances must be made.
And the ultimate arbiters may be the guns of HMS Leonidas and those of her counterpart from the Imperial German Navy.
In Britannia's Mission Nicholas Dawlish faces cunning, greed and limitless cruelty. Success will be elusive . . .  and perhaps impossible.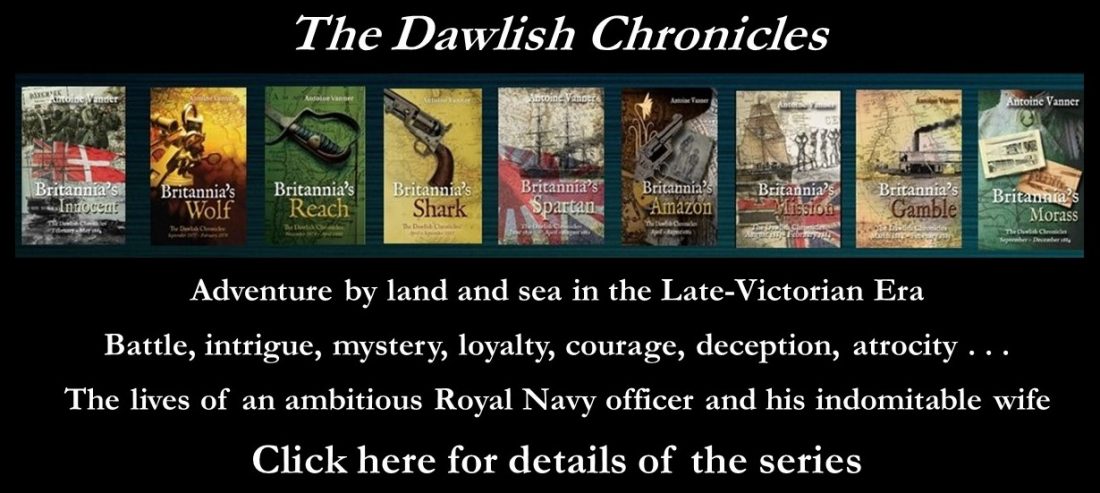 Click on any of the cover images below to join the Dawlish Chronicles mailing list and to receive six free short stories for downloading on your Kindle, computer or tablet.