Captain John Macbride, Part 2:
The Artois Connection, 1780-81
In Part 1 of this article we saw Captain John Macbride (1735-1800), then captain of the 64-gun third rate ship-of-the-line HMS Bienfaisant distinguishing himself by an act of chivalry in the aftermath of the First Battle of Saint Vincent in January 1780. (Click here to read if you missed it). Macbride was to distinguished himself in another action later that year, this time off the Irish coast.
MacBride and HMS Bienfaisant had returned to British waters in March 1780 and five months later, in company with the 44-gun frigate HMS Charon, was sent to hunt year a powerful French privateer, the Comte d'Artois, which  was operating in the Western Approaches. Many privateers were small and nimble, relying on speed rather than firepower to save them when cornered. The Comte d'Artois, commanded by a captain of Irish descent called Clonard, was different – a large 64-gun ship comparable in size and armament to HMS Bienfaisant and well capable of standing and fighting.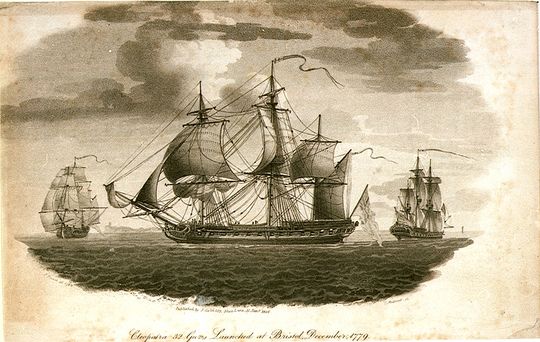 HMS Cleopatra – ideal privateer hunter: typical frigate of the American War of Independence Period
At daylight on 13th August, MacBride sighted a large unknown vessel in the process of closing with a convoy that had just left the harbour of Cork. He followed to investigate. Bienfaisant caught up off the Old Head of Kinsale (where the RMS Lusitania would be torpedoed in 1915) and the stranger ran up British colours. Still uncertain as to her identify, Macbride approached within pistol-shot range. Clonard of the Comte d'Artois appears to have hoped to lure Bienfaisant close enough to capture her by boarding – a preferred tactic of many privateers, for financial reasons, since it would not involve damage to a prize's hull. Macbride came closer still and shouted communications confirmed his suspicion that the other was indeed French.
Battle was now joined with a hail of musketry and Macbride skilfully manoeuvred the Bienfaisant across the enemy's bow, allowing him to direct raking fire along her long axis. Whether delivered from ahead or from astern, such raking fire was devastating for a wooden vessel and was the determining factor for victory in so many engagements of the period. So it proved on this occasion. The French vessel was so badly mauled that her crew could not work either their ship or their guns effectively. She surrendered with a loss of 21 killed and 35 wounded while the Bienfaisant had only 3 killed and 22 wounded, and had suffered negligible damage. The victory, and the disparity in number of casualties, was due not only to the efficiency of Bienfaisant's gunners but to Macbride's expert ship-handling. HMS Charon arrived too late to take part in the capture of the Comte d'Artois.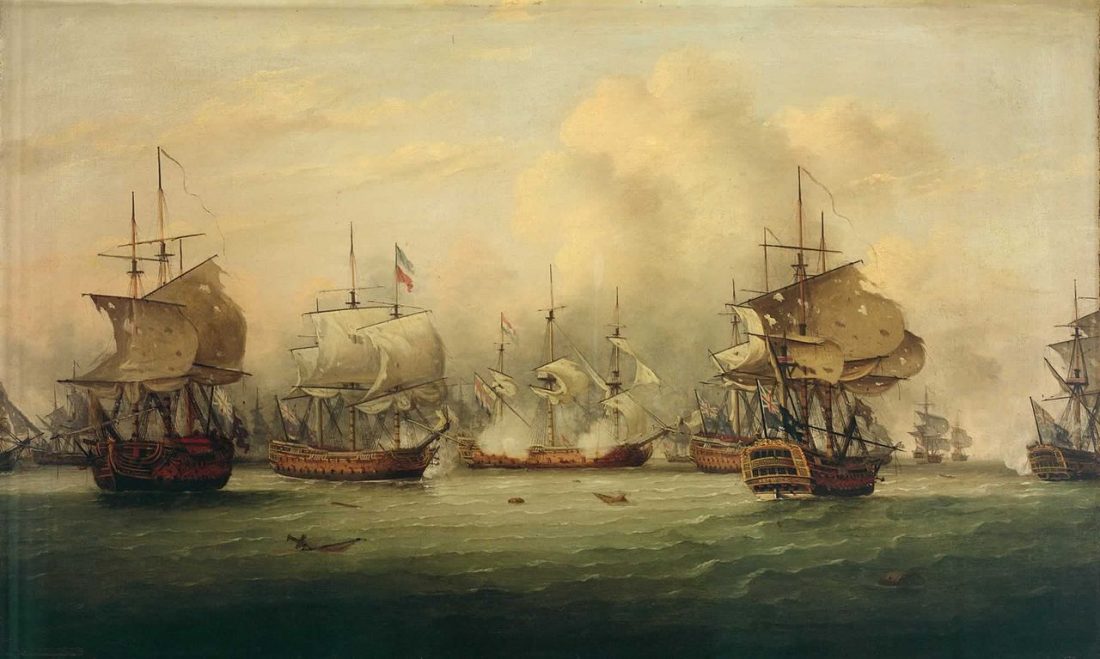 The Battle of Dogger Bank, by Thomas Luny (1759-1837)
Captain John Macbride was to have further association with the name Artois. He was transferred in early 1781 to take command of a highly regarded 40-gum frigate HMS Artois, captured from the French the previous year.  In her he was to participate in the Battle of the Dogger Bank on 5th August.  This was a bloody action between equally matched Dutch and British forces. Though the Dutch claimed a  tactical victory, it was to have no bearing on the outcome of the American War of independence.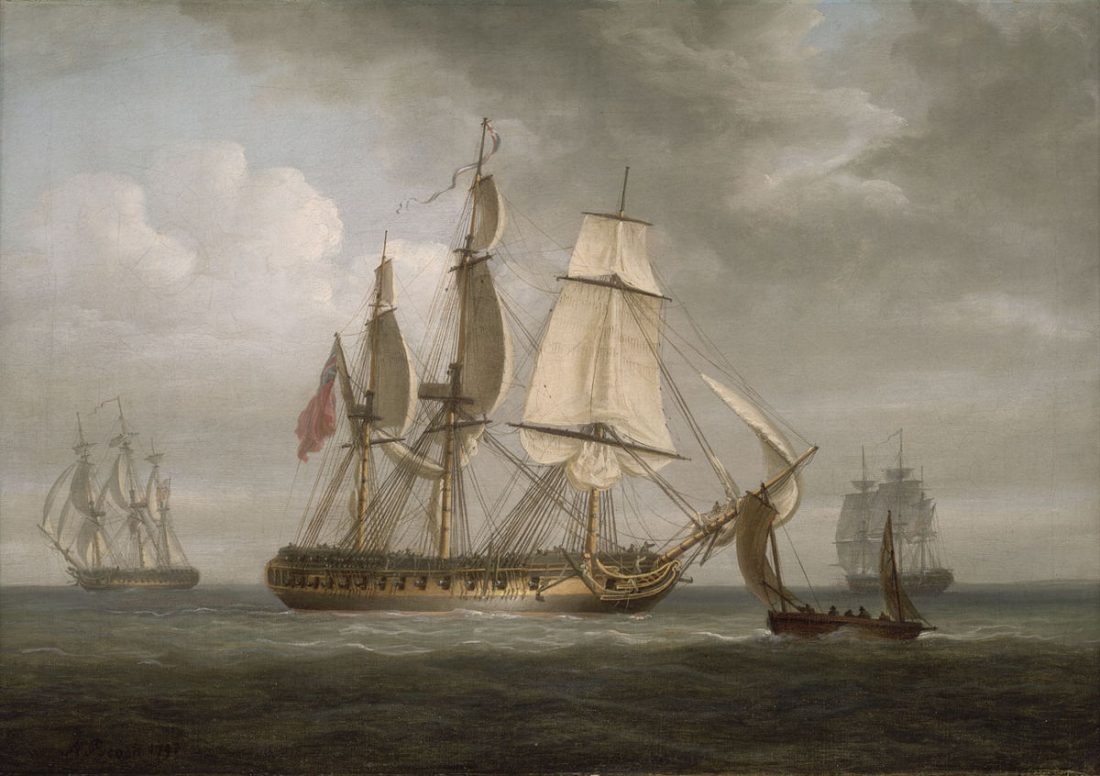 Frigate HMS Triton by Nicholas Pocock (1740-1821) – HMS Artois would have looked generally similar
Still operating in the North Sea, Macbride was to fight another notable action against privateers, in this case Dutch, on 3rd December 1781. Both were powerful 24-gun vessels with 150-man crews on each, the Hercules and Mars.  Macbride's own report is worth quoting:
"About two o'clock in the morning I brought them both to action, but paid attention only to the one on our quarter till we had effectually winged her: then pushed forward and closed with the other which was engaged on our bow, In about thirty minutes she struck (her colours) , sent a boat on board to take possession, and wore round after the other, who was making off, but who also struck on our coming up. They proved to be the Hercules and Mars, commanded by two Hogenboomes, father and son, inhabitants of Flushing. The father was well known last war by the nickname of John Hardapple: he had a privateer schooner with a French commission, and did much mischief to our trade. He was sent for on purpose to command these privateers.'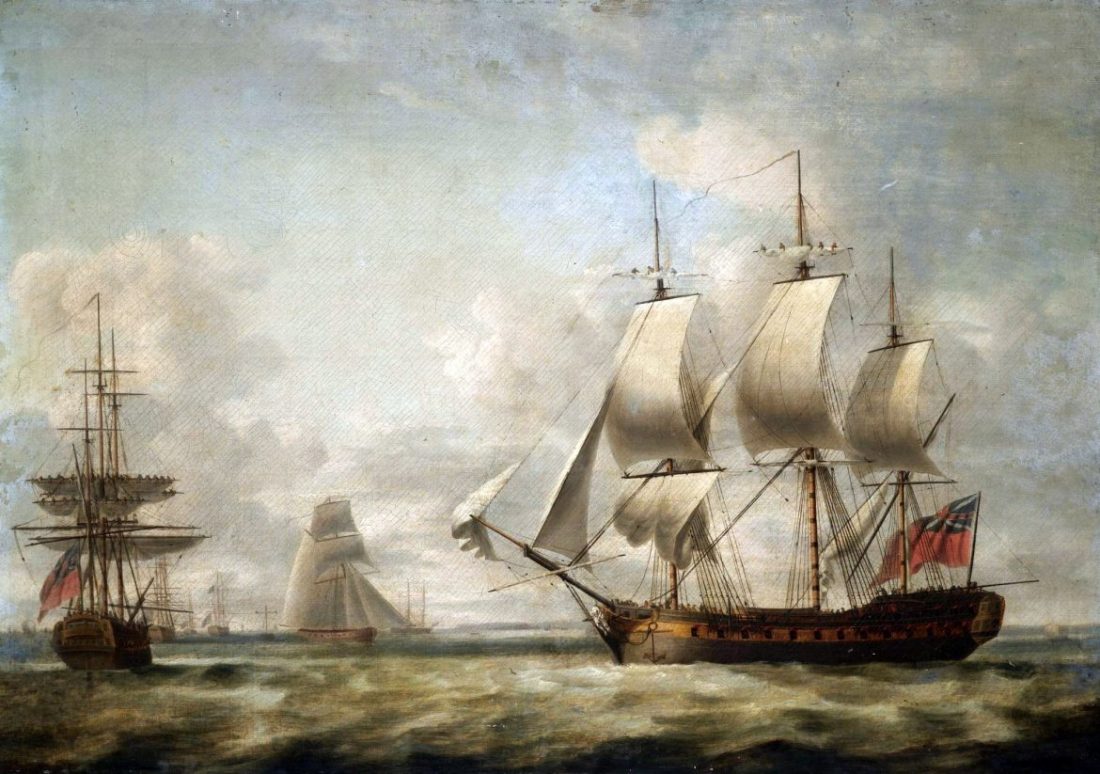 As HMS Artois would have looked: "A 32-Gun Frigate taking in sail"  by Thomas Luny (1759-1837)
Once again, superb ship handling and disciplined gunnery paid dividends: The Mars lost 9killed and 15 wounded, and the Hercules 13 killed and 20 wounded, while Macbride's HMS Artois's casualties were limited to 1 dead and 6 wounded.
Macbride entered politics at the end of the American War of independence but he came back into service as a rear-admiral, in charge of a frigate squadron, with the outbreak of the French Revolutionary War in 1793. He remained active for the next two years, but retired thereafter, probably due to health reasons, and he died in 1800.
One final Artois-related coincidence – after Macbride left command of HMS Bienfaisant, she was to capture another French privateering a year later. And she was called the Comtesse d'Artois. A French capture herself, HMS Bienfaisant brought an end to the careers of both a Comte and a Comtesse.
Britannia's Wolf is the first in the seven-book Dawlish Chronicles series (with the eighth due in December 2019)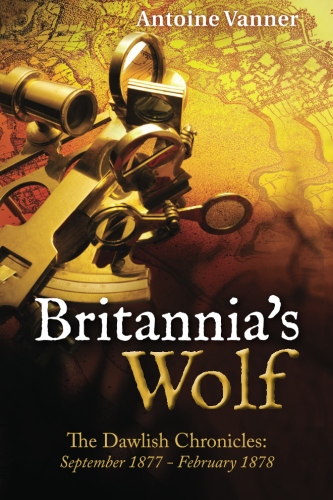 1877: the Russo-Turkish War is reaching its climax.
A Russian victory will pose a threat to Britain's strategic interests. To protect them an ambitious British naval officer, Nicholas Dawlish, is assigned to the Ottoman Navy to ravage Russian supply-lines in the Black Sea. In the depths of a savage winter, as Turkish forces face defeat on all fronts, Dawlish confronts enemy ironclads, Cossack lances and merciless Kurdish irregulars, and finds himself a pawn in the rivalry of the Sultan's half-brothers for control of the collapsing empire. And in the midst of this chaos, unwillingly and unexpectedly, Dawlish finds himself drawn to a woman whom he believes he should not love.
Neither for his own sake, nor for hers…
Britannia's Wolf introduces a naval hero who is more familiar with steam, breech-loaders and torpedoes than with sails, carronades and broadsides.  Dawlish joined as a boy a Royal Navy still commanded by veterans of Trafalgar but he will help forge the Dreadnought navy of Jutland and the Great War.
Further books in the series accompany Dawlish on that voyage into the future.
Available in paperback or Kindle formats, and if you are a subscriber to Kindle Unlimited or Kindle Prime, you can read Britannia's Wolf at no extra cost. Click here or on cover image for more details.
In Audiobook format also…
Britannia's Wolf is also available as an audio-book. It's been read by the distinguished American actor David Doersch. If you haven't previously ordered an audio-book from audible.com you can download it without cost as part of a 30-Day Free Trial. You can listen on your Smart Phone, Tablet or MP3 Player. Click here details or on cover image.
Registering for the Dawlish Chronicles mailing list by clicking  on the banner below, will keep you updated on new books and facilitates e-mail contact between Antoine Vanner and his readers. You'll also get five free short stories to load on your Kindle or Tablet.