The Royal Navy 29th July 1914: "Eighteen miles of warships running- at high speed and in absolute blackness through the narrow straits"
This blog is published one day before the one hundred and sixth anniversary of a decisive step taken by Winston Churchill on Wednesday 29th July 1914. Germany had not yet declared war on Russia, France or Britain, nor had it initiated its invasion of Belgium. It had however ordered mobilisation of its fleet.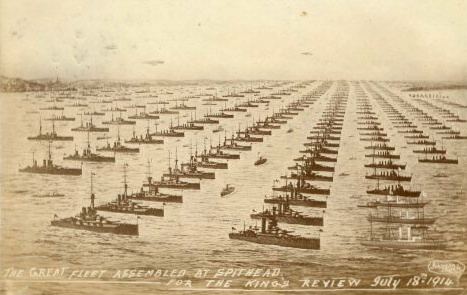 July 14th 1914: The Royal Navy assembled at Spithead for the King's Review
prior to exercises and later concentration off Portland
This was to trigger the dramatic recommendation to Herbert Asquith, Britain's Prime Minister, by Winston Churchill, First Lord of the Admiralty, to order the Royal Navy's First Fleet – soon to be renamed the "Grand Fleet" – to leave its anchorage at Portland, on England's south coast, where it had been involved in manoeuvres, and to head for a safer location. This latter was Scapa Flow, the anchorage in the Orkney Islands north of Scotland from where, as events were to prove in the next four years, the North Sea could be dominated. The decision allowed the Royal Navy to be well-placed, even before Britain went to war with Germany – as it would not happen until August 4th – to counter any hostile action the Germans might take.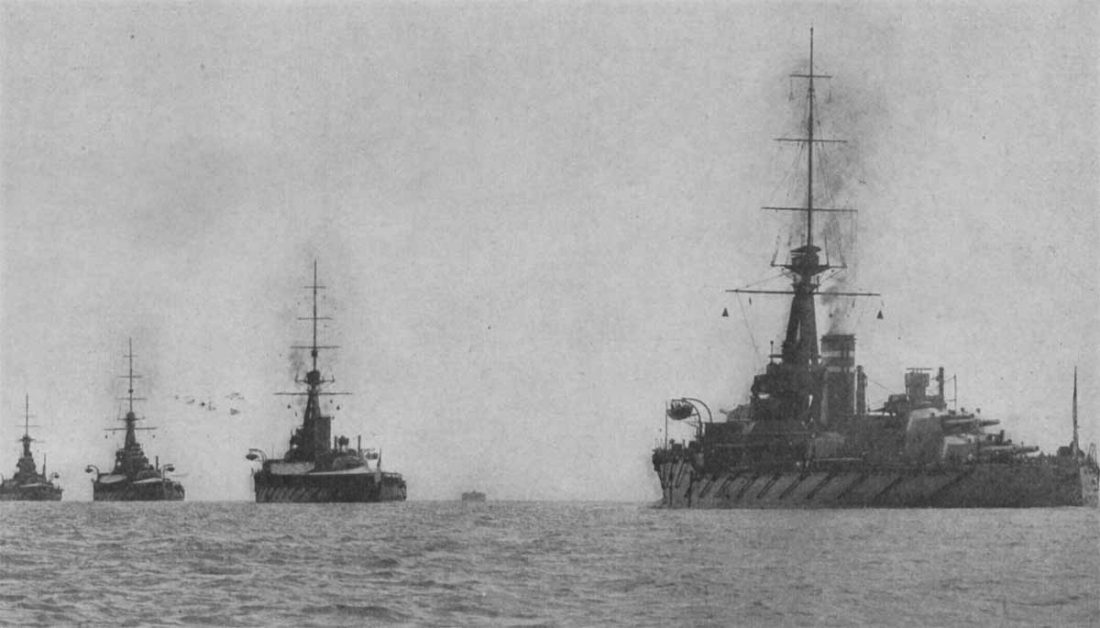 The 2nd Battle Squadron sailing through the Solent in 1914. From left to right, King George V, Thunderer, Monarch, and Conqueror.
The story of these dramatic events is best told in Churchill's own words, taken from his "World Crisis", his very subjective account of World War 1. He quotes the signal sent and, as always he paints a vivid and unforgettable picture.
Quote:
The most important step remains to be recounted. As early as Tuesday, July 28, I felt that the Fleet should go to its War Station. It must go there at once, and secretly; it must be steaming to the north while every German authority, naval or military, had the greatest possible interest in avoiding a collision with us. If it went this early it need not go by the Irish Channel and north-about. It could go through the Straits of Dover and through the North Sea, and therefore the island would not be uncovered even for a single day. Moreover, it would arrive sooner and with less expenditure of fuel.
At about 10 o'clock, therefore, on the Tuesday morning I proposed this step to the First Sea Lord and the Chief of the Staff and found them whole-heartedly in favour of it. We decided that the fleet should leave Portland at such an hour on the morning of the 29th as to pass the Straits o[ Dover during the hours of darkness, that it should traverse these waters at high speed and without lights, and with the utmost precaution proceed to Scapa Flow. I feared to bring this matter before the Cabinet, lest it should mistakenly be considered a provocative action likely to damage the chances of peace. It would be unusual to bring movements of the British Fleet in Home Waters from one British port to another before the Cabinet. I only therefore informed the Prime Minister, who at once gave his approval. Orders were accordingly sent to Sir George Callaghan, who was told incidentally to send the Fleet up under his second-in-command and to travel himself by land through London in order that we might have an opportunity of consultation with him.
Admiralty to Commander-in-Chief Home Fleets.
July 28, Sent 5 p.m.
Admiralty to Commander-in-Chief Home Fleets.
July 28, Sent 5 p.m.
To-morrow, Wednesday, the First Fleet is to leave Portland for Scapa Flow. Destination is to be kept secret except to flag and commanding officers. As you are required at the Admiralty', Vice-Admiral 2nd Battle Squadron is to take command. Course from Portland is to be shaped to southward, then a middle Channel course to the Straits of Dover. The Squadrons are to pass through the Straits without lights during the night and to pass outside the shoals on their way north. Agamemnon is to remain at Portland, where the Second Fleet will assemble.
We may now picture this great Fleet, its flotillas and cruisers, steaming slowly out of Portland Harbour, squadron by squadron, scores of gigantic castles o[ steel wending their way across the misty, shining sea, like giants bowed in anxious thought. We may picture them again as darkness fell, eighteen miles of warships running- at high speed and in absolute blackness through the narrow Straits, bearing with them into the broad waters of the North the safeguard of considerable affairs.
Although there seemed to be no conceivable motive, chance or mischance, which could lead a rational German Admiralty to lay a trap of submarines or mines or to have given them the  time to do so, we looked at each other with much satisfaction when on Thursday morning (the 30th) at our daily Staff Meeting the Flagship reported that the whole Fleet was well out in the centre of the North Sea. The strategic concentration of the fleet had been achieved with its transfer to Scottish waters.
Unquote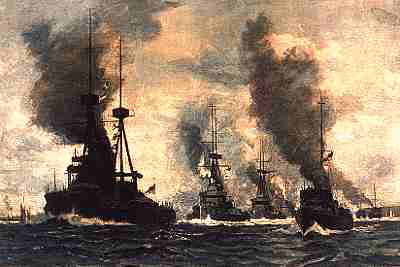 Scores of gigantic castles of steel wending their way across the misty, shining sea…
More than four years were to pass before victory was complete and before the German Fleet steamed in surrender between two columns of that same Home Fleet, augmented by an American battle-squadron. The seeds for that final victory were planted by Winston Churchill on July 29th 1914 in the last days of peace.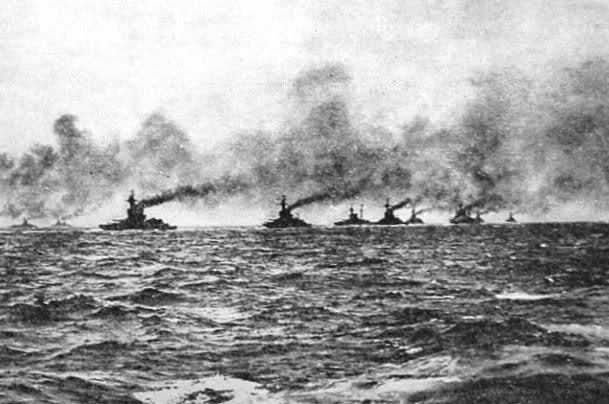 The Grand Fleet at sea
Britannia's Gamble
This volume of the  Dawlish Chronicles is set against the background of the murderous revolt in the Sudan by the Isis of its day, and which triggered one of the most dramatic campaigns of that British Army and the Royal Navy fought in the Victorian era.  It's available in paperback and Kindle, and  subscribers to Kindle Unlimited and Prime can read at no extra charge
Extract below from review by A. Belfrage in "Historical Novels Review" – November 2018

"Some authors have so researched their period that they seem to live the events, the surroundings, the details they describe. Antoine Vanner is one of these. He breathes such life into his narrative that you would think him a correspondent in the 1880s Sudan writing what he sees, rather than a man of today looking back . . .  The opening chapter is a tour de force, leaving this reader emotionally exhausted after surviving nail-biting action when wave after wave of insurgents attack the British formations. After such an opening, an author has much to live up to, but Vanner does so with aplomb, guiding the reader through the political complexities of the time while generously lacing his narrative with period detail.
Captain Dawlish finds himself , commanding a desperate rescue operation that more than explains the title of the book. It is tense, gripping action at its best, enhanced by the sympathetic and introspective Nicholas Dawlish. Vanner does not shy away from the brutalities of war: some descriptions are so harrowing I had to take the odd moment before going on. But go on I must, desperate to know how this fantastic adventure would end."
The Dawlish Chronicles – now up to eight volumes, and counting …

Six free short-stories are available for download to your Kindle. Access them by registering for the Dawlish Chronicles mailing list – just click on the banner below. You'll be kept updated on new books and  will receive other free stories at intervals.