Nightmare in the Baltic 1874
Merchant Service in the mid-19th Century
In a recent bog (click here to read it) I drew on the memoirs of Baron Walter Runciman (1847 –1937), a classic case of a poor boy of high initiative "making good". Born in Dunbar, Scotland, he ran away to sea at the age of twelve. A ship's master himself by 21, he founded a shipping line and in due course became a major force in the British mercantile industry up to his death. On the way he was elected also as a Liberal Member of Parliament and was subsequently raised to the House of Lords.
Runciman's reminiscences, published in 1905, leave no doubt as to the brutalities of life in the merchant service in the nineteenth century. They sweep away any notions we may have of "The Romance of the Sea", as beloved by so many armchair-bound Victorians. One story is particularly harrowing – it has much about it of a Joseph Conrad novel or short story. and I paraphrase it below, his own words being indicated in italics.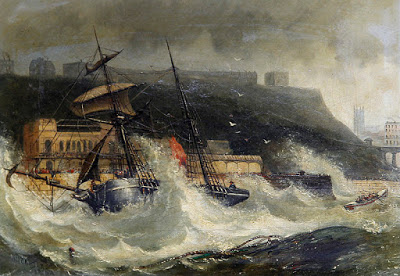 Small trading brigs were vulnerable in extreme weather. Here is the wreck of the Copeland at South Shields,1861, a vessel probably similar to the Ocean Queen  featured in this article (Painting by John Newington Carter) 
"There are, however, phases of bravery, endurance, and resourcefulness that test every fibre of the seaman's versatile composition," Runciman writes, "The pity is so much of it is lost to us, but this again is owing to the sailor's habitual reticence about his own career." A characteristic instance of this occurred to me about six months ago. I had business in a shipyard, and the gateman who admitted me is one of the last of the seamen of the middle of the century."
This man had been "for many years master of sailing vessels belonging to a north-east coast port. He is a fine-looking, intelligent old fellow. I knew him by repute in my boyhood days; he had the reputation then of being a smart captain, and owners readily gave him employment. After greeting me with sailor-like cordiality, he commenced to converse about the old days, and as the conversation proceeded the weird sadness of his look gradually disappeared, his eyes began to sparkle, and joy soon suffused his ruddy face."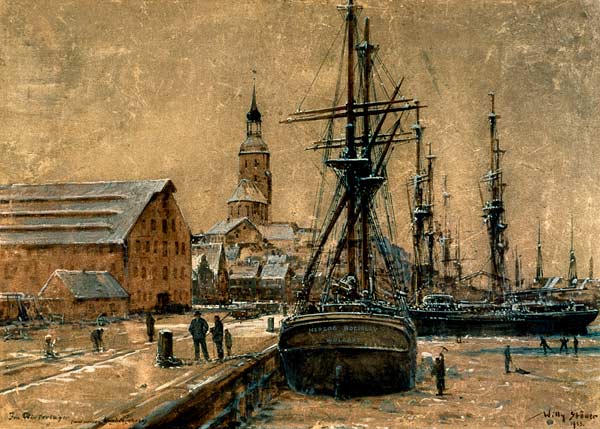 Small traders at the Baltic port of Wolgast (by Willy Stöwer 1864 – 1931)
Runciman was however "reluctant to break the charm of it by introducing a subject that might be distasteful to him. It was my desire to hear from his own lips a tale of shipwreck which is virtually without parallel in its ghastly tragedy. I instinctively felt myself creeping on to sacred ground. As soon as I mentioned the matter his countenance changed and he became pensive. . . I saw the moisture come into his eyes and his breast heave with emotion, and it made me wish that I had not reminded him of it. At length he began to unfold the awful story."
The old gateman had been master of a brig called the Ocean Queen. In her he sailed from a port in the Gulf of Finland in December, 1874, laden with timber. Close to the Swedish island of Gotland, a storm from the west "battered the vessel until she became water-logged and dismasted. The crew lashed themselves where they could, and huddled together for warmth to minimise the effects of the biting frost and the mad turmoil of boiling foam which continuously swept over the doomed vessel, and caked itself into granite-like lumps of ice. At intervals they would try to keep their blood from freezing by watching a "slant" when there was a comparative smooth, and run along the deckload a few times, keeping hold of the life-line that was stretched fore and aft for this purpose"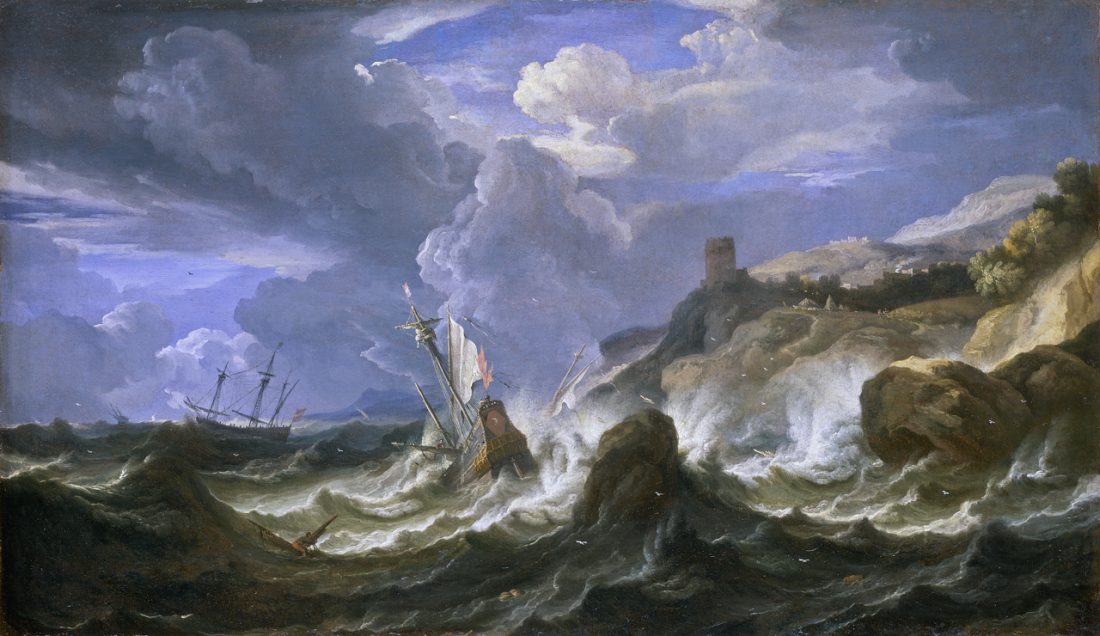 The horror of shipwreck doesn't change through the ages. Two centuries before the loss of the Ocean Queen, the nature of the nightmare was conveyed by Pieter Mulier II (1637 – 1701). 
The storm abated after twelve hours "but they were without food and water, and no succour came near them. They held stoutly out against the privations for two days, then one after another began to succumb to the combined ravages of cold, thirst, and hunger. Some of them died insane, and others fought on until Nature became exhausted, and they also passed into the Valley of Death. There were now only the captain and a coloured seaman left."
The wind – apparently from the north, now drove the shattered brig southwards towards the German coast.  "On the fifth morning after she became water-logged the wreck stranded on a sandy beach two hours before daylight. The captain and his coloured companion attached themselves to a plank, and by superhuman effort reached the shore. They buried their bodies up to the waist in sand under the shelter of a hill, believing it would generate some warmth into their impoverished systems. Their extremities were badly frostbitten, and when they were discovered at daylight by a man on horseback who had been attracted to the scene of the wreck, they were both in a condition of semi-consciousness. He galloped off for assistance, and speedily had them placed under medical treatment, and under the roof of hospitable people."
A small trading brig  in a rough sea – merchant vessels in the era before wireless were "on their own" once out of sight of land. The great Ivan Aivazovsky (1817 – 1900) conveys this memorably.
The consequences were dreadful for both men: A few days' rest and proper attention made them well enough to be removed to a hospital. It was soon found necessary to amputate both of the coloured man's legs, and also some of his fingers. The captain had the soles of his feet cut off; and he told me that he always regretted not having the feet taken off altogether, as he had never been free from suffering during all these years. He said the doctor advised it, but that he himself was so anxious to save them that he preferred to have the soles scraped to the bone, hoping that the diseased parts would heal; 'but,' said he with an air of sober melancholy, 'they never have.'"
Runciman indicated that he had "been obliged to confine myself to a brief outline of this tale of shipwreck. There are incidents of it too painful to relate, and I am quite sure I am consulting the wishes of the narrator by abstaining from going too minutely into detail. The main facts are given, and they may be relied on as absolutely true."
One wonders how many similar stories of extreme suffering at sea have been lost to us. The image of the crippled old captain eking out his last days as a gatekeeper, and of what the ultimate fate would have been of the man with him, is both haunting and disturbing.
Naval Fiction of the Age of Fighting Steam
The eight books of the Dawlish Chronicles series published so far are set the 1860s, 1870s and 1880s. These were the decades of massive technological change and of  bitter conflicts , both major and minor.

If you're a Kindle Unlimited or Kindle Prime subscriber you can read any of the eight Dawlish Chronicles novels without further charge. They are also available for purchase on Kindle or as stylish 9 X 6 paperbacks.
Click on the image below for more details.

Click on any of the cover images  below to join the Dawlish Chronicles mailing list and to receive six free short stories for downloading on your Kindle, computer or tablet.