Naval Artists of the 18th Century – Part 2
Creating the Image of the British Seaman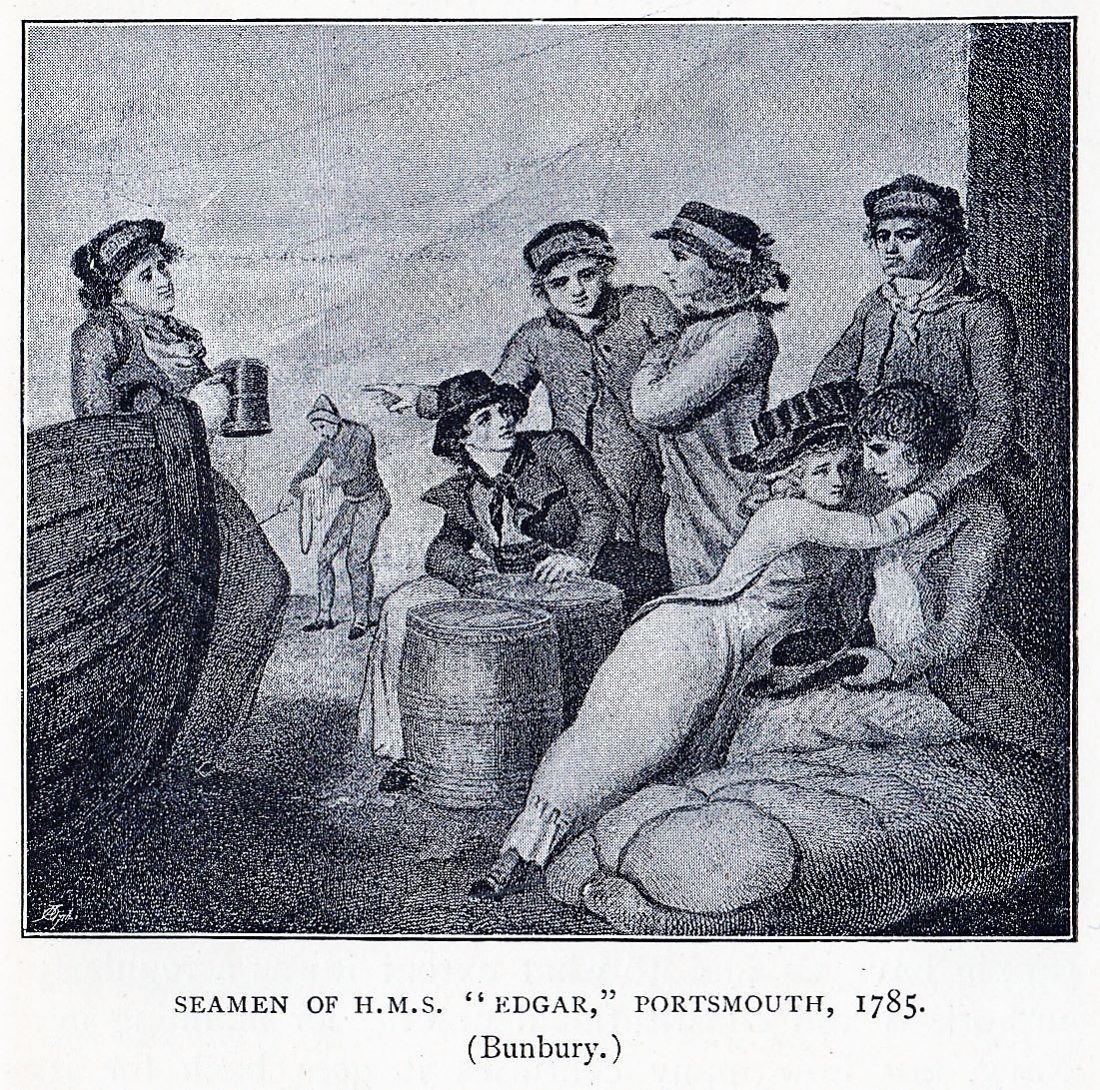 In the first part of this occasional series, which appeared on my blog recently, I discussed the remarkable career of Philippe-Jacques de Loutherbourg. (Click here to read if you missed it then.) He was a painter of considerable renown who produced remarkable pictures of naval actions but it is likely that the vast majority of people in that period never had the opportunity to see them, or others like them. In that age of great naval engagements, and in which the seaman came to be seen as a heroic – though poorly remunerated – figure, it is likely that the popular image was created by engravings and prints. Often, but not invariably, based on larger paintings, these could be cheaply produced and sold at prices affordable by all but the poorest homes. For residents of inland towns and rural areas, some of whom may have gone through life without seeing the sea or a seaman, these prints provided the image of "Rule Britannia" incarnate. Frequently framed, they were to prove of great longevity – and indeed a country public-house near my previous home has got a large number which have possibly hung there since they were purchased two centuries or more ago.
Cheap as such prints were they were often based on work by artists of the first order. They are frequently humorous, often sentimental, and though the tone is often unheroic, even anti-heroic, one gets a strong impression of the pride, brash confidence and carelessness for danger that characterised the seamen of the time. One can well imagine them squandering their meagre pay on drink and women, throwing away in an evening the prize-money they had dreamed of for years and grumbling and swearing  incessantly – but one can also imagine them accepting cold, injury and brutal punishment stoically and fighting like tigers when the occasion demanded. From these prints a picture emerges of the men who beat the French in war after war through the 18th Century and who, at Trafalgar, were to secure British naval dominance for the next century.
According to a Late-Victorian source (The British Fleet by C.N.Robinson, 1894), the earliest known depiction of a British blue-jacket was "The British Hercules", dated 1737. He holds a scroll that says "I wait for orders" and this may refer to the two-years of fruitless negotiations with Spain which were then in progress – leading eventually to the splendidly-named War of Jenkin's Ear. The most memorable exploit of the Royal Navy in this conflict was Anson's voyage around the world in HMS Centurion.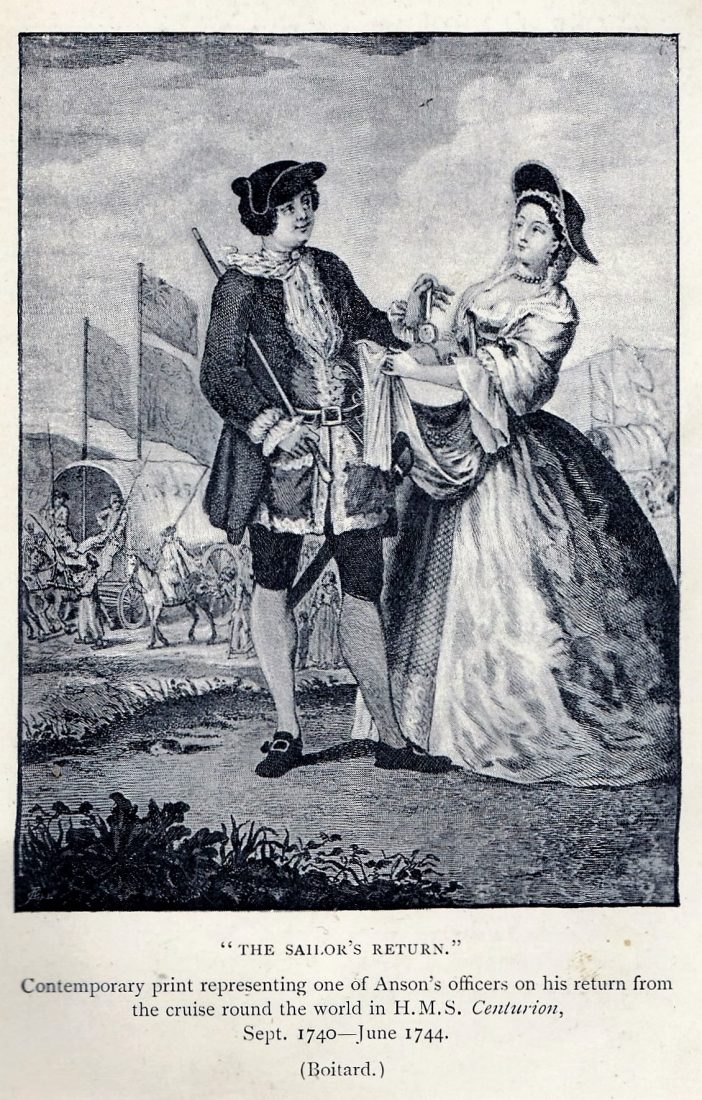 An engraving by Boitard entitled "The Sailor's Return" shows an officer who has come back with Anson and in the background the treasure captured in the Spanish "Manilla Galleon" is being conveyed to London under the armed escort of sailors and marines. Louis Philippe Boitard was of French extraction, but settled in London. Robinson notes rather primly that "Some of Boitard's pictures are too coarse for reproduction, notably that of "The Strand in an Uproar" – some sailors retaliating for the ill-treatment of one of their messmates in a house of ill-fame by throwing the furniture into the street". I regret that I have been able to find a copy to include with this article!
The great painter and engraver William Hogarth (1697-1764)) also referred to the Centurion's returning crew. In "The Stage Coach in a Country Inn Yard" he puts a soldier and a seaman on top of the carriage. The soldier looks woebegone (perhaps he had been at Dettingen or Fontenoy?) whereas the sailor is well pleased with himself, probably because the bundle he has with him is marked Centurion and has prize-money to enjoy. He, or a sailor very similar, also appeared in Hogarth's engraving of "The Times – Plate 1", in which he carries buckets to help to put out a fire.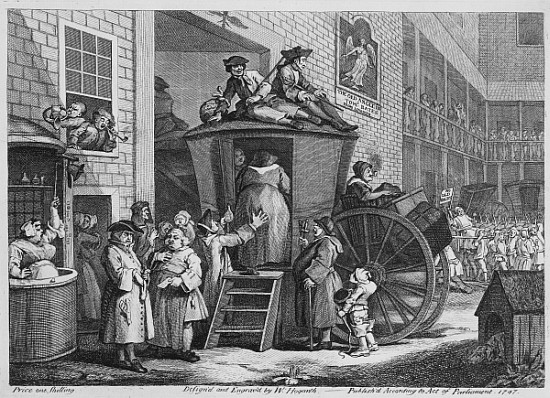 Hogarth – "The Stage Coach in a Country Inn Yard"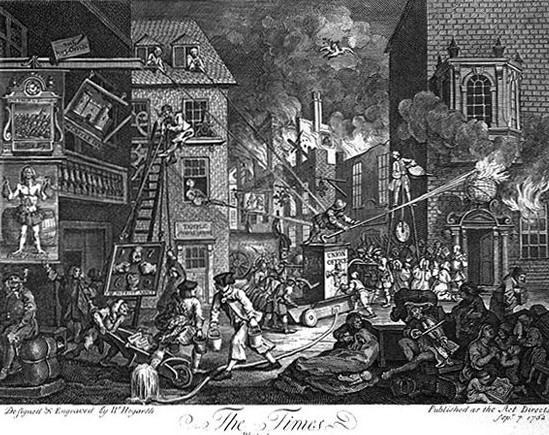 Hogarth – "The Times, Plate 1". Note the seaman at the centre.
The riotous behaviour of seaman ashore, half-condemned, half admired, was a common and entertaining subject. John Collet (1725-80) was an artist in the satirical Hogarth tradition. In "A Rescue, or the Tars Triumphant" he shows an actual incident in 1768 when a press-gang rescued their officer's "young lady friend" from the hands of the law. There may be little doubt regarding the young lady's profession and one is struck how in a large number of prints seamen are seen enjoying themselves with obviously "loose women" in a way which no doubt continue into the Victorian period, but which could never then have been treated with such sympathy and amusement. Eminent members of the Royal Academy such as Thomas Stothard (1755-1834) and Henry Singleton (1766-1839) did not hesitate to show such scenes, as below.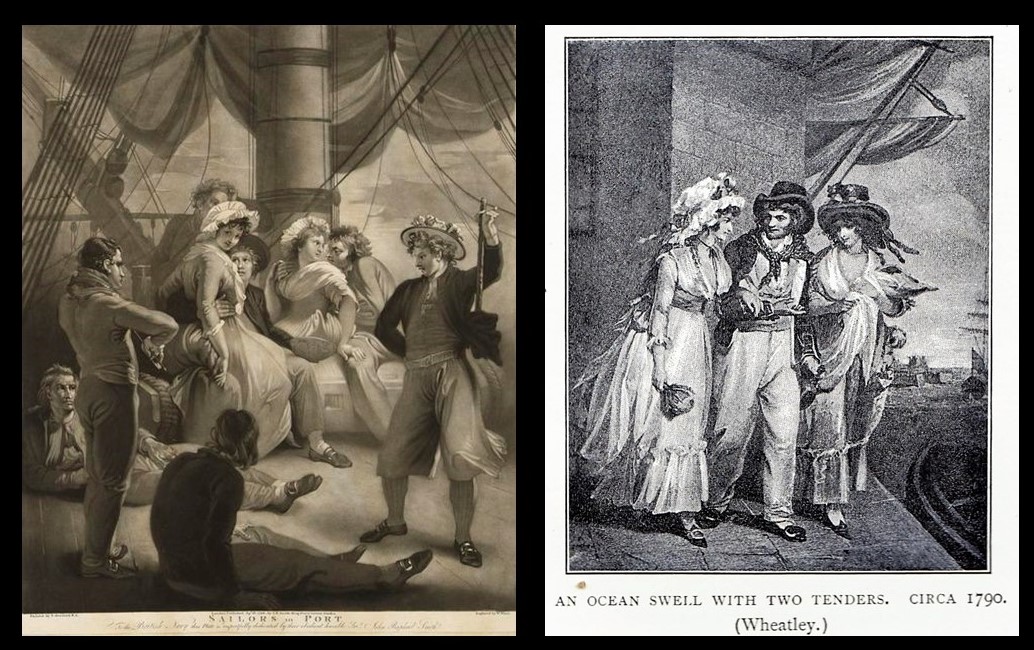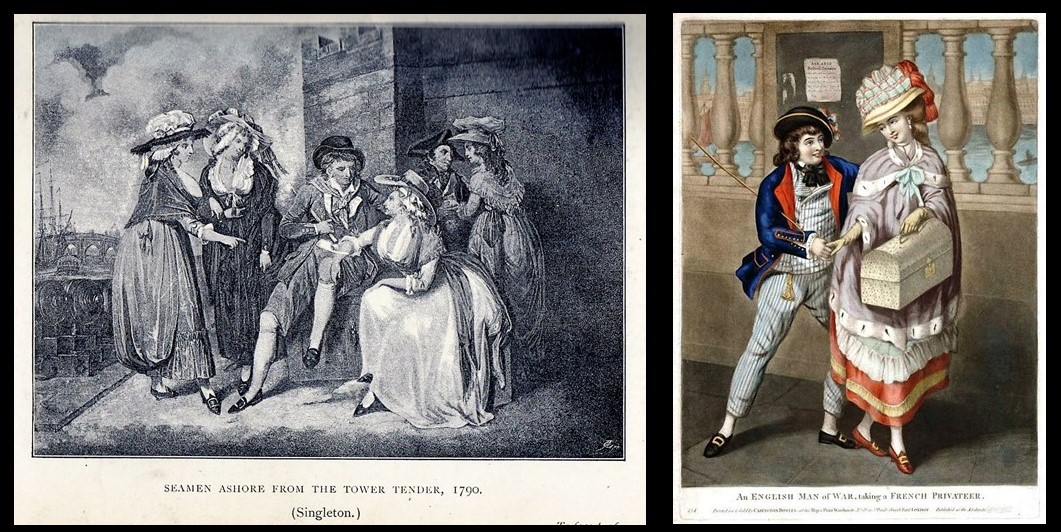 Note: "An ENGLISH MAN of WAR taking a FRENCH PRIVATEER"!
Pay which was accumulated on long voyages – or prize money – tended to be spent in very short order once crews finally came ashore. The respected painter Robert Dighton (1752-1814) and the cartoonist Isaac Cruikshank (1764-1811) depicted just how fast and furious the spree could be – see below.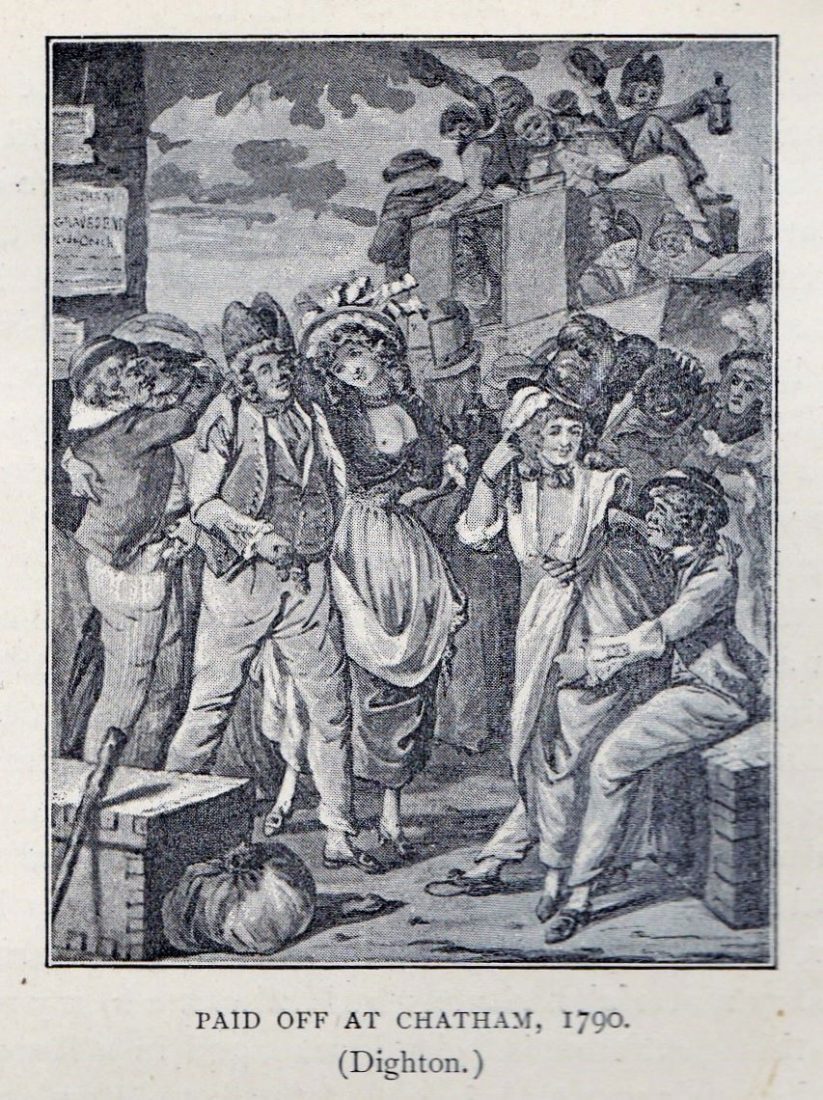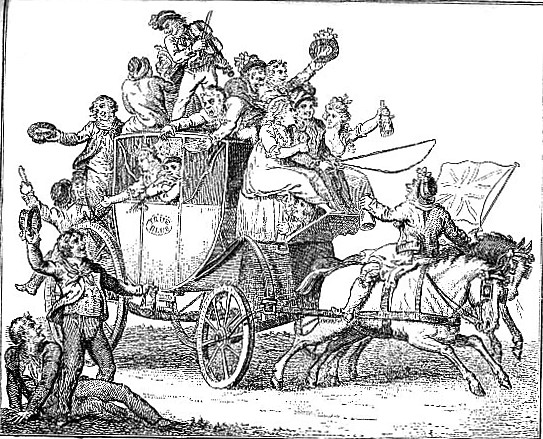 Cruikshank – "Paid off at Chatham"
The image of the devil-may-care seaman carried on beyond the Napoleonic War s, as shown in the insolence of "Jack's Wedding Day" below.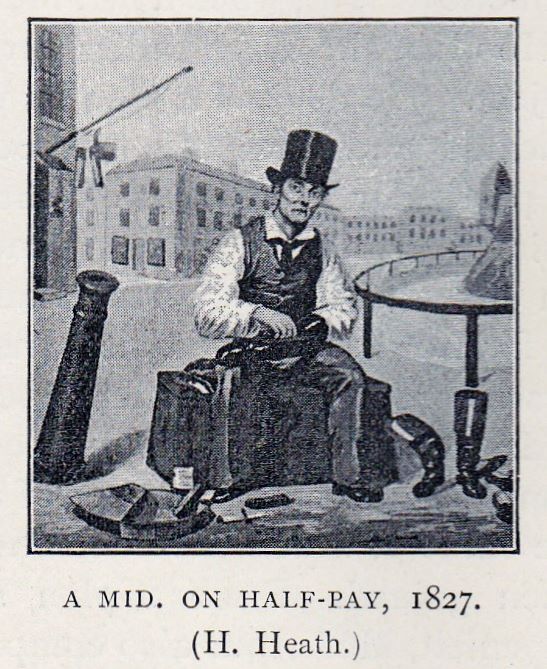 A sadder commentary on the war's aftermath, when many men were discharged and officers put on half-pay, shows a mid-shipman sitting on his sea-chest and reduced to working in the street as a shoe-shine.
It is however better to close with some of the more benign – and often touching – images of seamen restored to loved ones or returning to long-term absence at sea, with a significant chance of injury or death. In these images too we find something of what made this age one of greatness for Britain, and of what the price for it could be for humble people.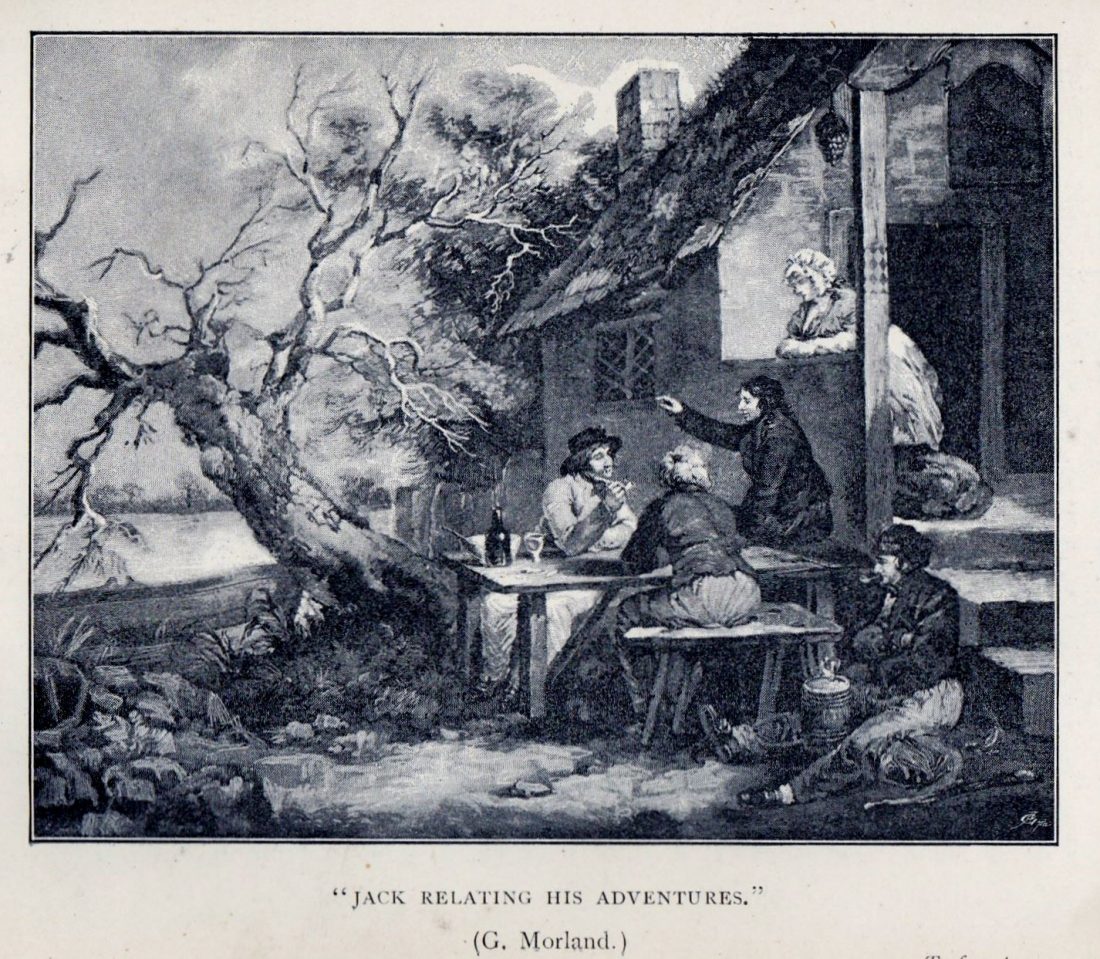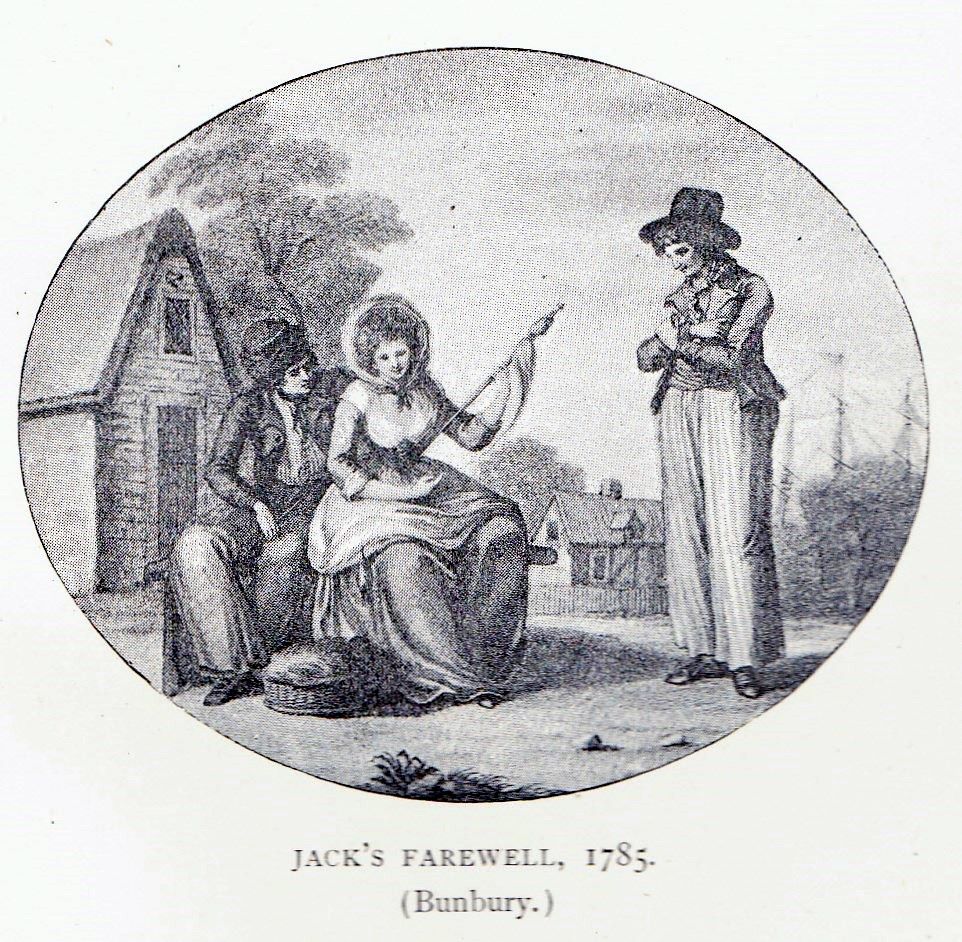 Like naval fiction? Try Britannia's Wolf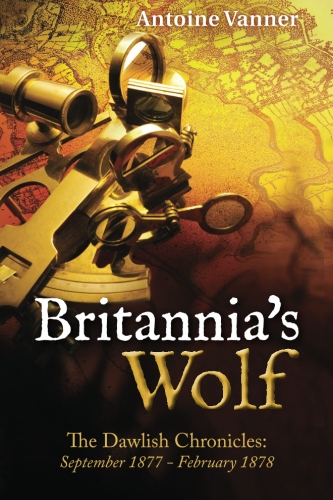 It's 1877 and the vicious Russo-Turkish War is reaching its climax.
A Russian victory will pose a threat to Britain's strategic interests. To protect them an ambitious British naval officer, Nicholas Dawlish, is assigned to the Ottoman Navy to ravage Russian supply lines in the Black Sea. In the depths of a savage winter, as Turkish forces face defeat on all fronts, Dawlish confronts enemy ironclads, Cossack lances and merciless Kurdish irregulars, and finds himself a pawn in the rivalry of the Sultan's half-brothers for control of the collapsing empire. And in the midst of this chaos, unwillingly and unexpectedly, Dawlish finds himself drawn to a woman whom he believes he should not love.
Neither for his own sake, nor for hers…
Britannia's Wolf features a naval hero who is more familiar with steam, breech-loaders and torpedoes than with sails, carronades and broadsides.  Dawlish joined as a boy a Royal Navy still commanded by veterans of Trafalgar but he will help forge the Dreadnought navy of Jutland and the Great War. Other books in the series follow him further along that path. Click here, or on the cover image, for more details.
Below are the nine Dawlish Chronicles novels published to date, shown in chronological order. All can be read as "stand-alones". Click on the banner for more information or on the "BOOKS" tab above. All are available in Paperback or Kindle format and can read at no extra charge by Kindle Unlimited or Kindle Prime Subscribers.

Six free short-stories are available for download to your Kindle. Access them by registering for the Dawlish Chronicles mailing list – just click on the banner below. You'll be kept updated on new books and will receive other free stories at intervals.

Share This Story, Choose Your Platform!