HMS Alexander at bay, November 1794 
 Captain William Bligh – "Bligh of the Bounty" – is one of the best-remembered officers of the Age of Fighting Sail, not only because of the loss of his ship through mutiny but for his 3618-mile, 47-day voyage to safety in an open boat, an epic of navigation and leadership. There was however another Bligh – William's third cousin – whose memory also deserves to be honoured. This was Captain (later Admiral) Sir Richard Rodney Bligh (1737 –1821) whose career had begun as early as the Seven Years War, when he had served with the doomed Admiral Byng in the failed attempt to capture Minorca in 1756. He served with distinction during the rest of that war, and in the American War of Independence 1775-82. By the time France declared war on Britain in 1793 – thus starting what would be the two decades of the Revolutionary and Napoleonic Wars – Bligh, now a captain, was in command of HMS Excellent, a "74" ship-of-the-line. He was transferred the following year to command another 74, HMS Alexander. In her, he was to fight one of the most unequal battles of the era. HMS Alexander was typical of the 74s, the class that formed the backbone of Britain's naval power, and was armed on the broadside with twenty-eight 32-pounder sand an equal number of 18-pounders, while some eighteen 9-pounders were mounted as chaser weapons fore and aft.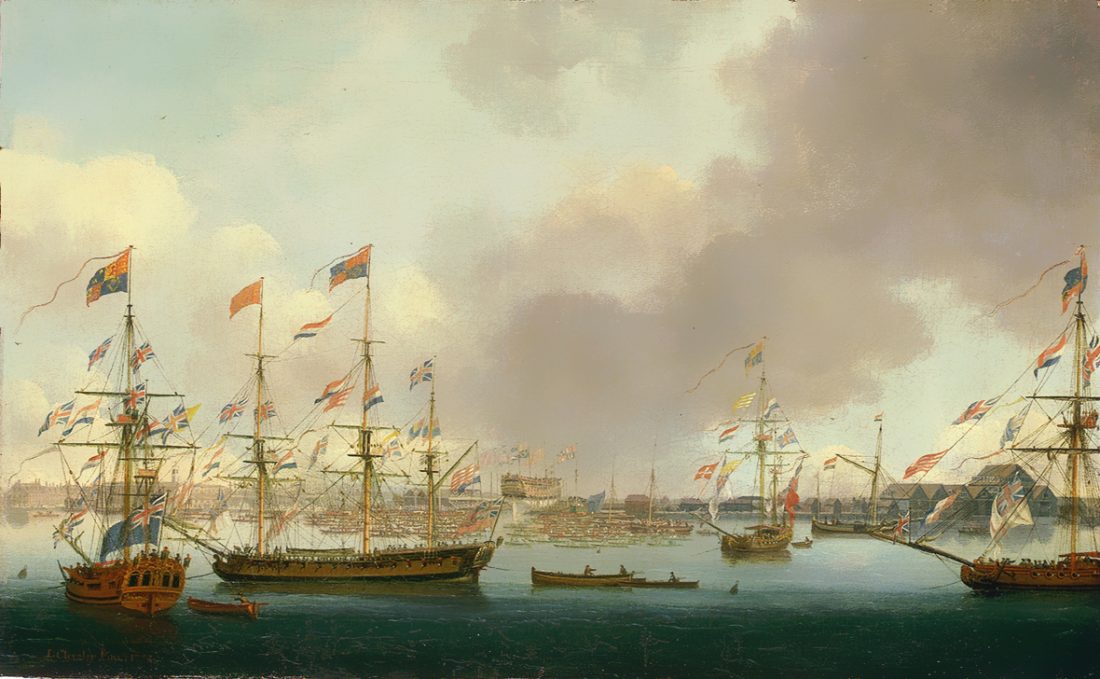 The launch of HMS Alexander at Deptford, 1778 – she is seen on the stocks in the background. Note large numbers of small boats with spectators. Painting by John Cleveley the Younger (1747-1786) – Public Domain, thanks to Wikipedia
On 6th November 1794, off Brittany, Bligh in HMS Alexander, together with another 74, HMS Canada, was returning to Britain after escorting an outbound convoy. Around three o'clock in the morning, other ships were detected in the vicinity and passed as close to them as was estimated to be half a mile. Unsure of their nationality, but fearing the worst, Alexander and Canada bore up, shook the reefs out of their topsails, and set their studding-sails. This caution proved wise for as daylight dawned the other vessels proved to be a very powerful French squadron, consisting of five ships-of-the-line, three frigates and a brig, which now initiated a chase. The best chance of saving Canada,  Alexander or both from falling into the enemy's hands was to split up in the hope that the enemy force would also divide. Crowding all the sail they could carry, the two British each steered a different course. This resulted in two of the French ships-of-the-line and two frigates chasing HMS Canada, while three ships-of-the-line and two frigates went in pursuit of HMS Alexander.
Canada managed to escape but HMS Alexander was cornered after a five-hour chase. She was now faced with overwhelming odds as the entire French force concentrated on her, HMS Canada's pursuers also having turned back to join the battle. HMS Alexander was pounded mercilessly for the next three hours, returning fire the whole time. At last, his vessel almost a complete wreck, Bligh requested his officers' opinion on whether resistance should be maintained. The consensus was that she was too badly damaged for this. In Bligh's later words "Then, and not till then, painful to relate, I ordered the colours to be struck."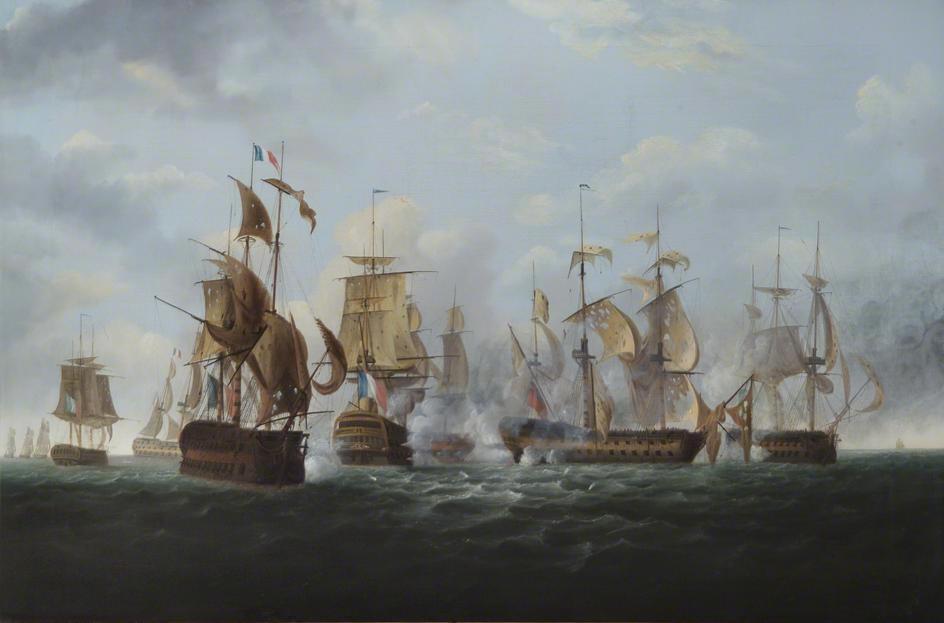 HMS Alexander, surrounded, shortly before striking her colours. Painting in public domain according to Wikipedia 
Despite the punishment HMS Alexander had taken, the casualty list was surprisingly low – some 40 dead and wounded. The explanation may have been that the French, as often their practice, had concentrated their fire on masts and rigging to prevent escape while doing minimum damage to the hull. The French loss and damage must have been much more severe, as the whole squadron was obliged to quit their cruising ground and to return to Brest for refitting.
The aftermath did the French no credit and showed none of the consideration usually shown by chivalrous foes to defeated antagonists in previous wars, or indeed later in the Revolutionary and Napoleonic Wars. This may have reflected the need for French officers as well as seamen to display ostentatious revolutionary contempt for established norms. The Reign of Terror had only recently ended, the shadow of the guillotine hung over anybody whose fervour was suspect and whose chivalry was, for now at least, out of fashion. It is possible that it was dedication to the ideal of "Equality" that led to HMS Alexander's officers and men being confined together once they were taken ashore and provided with the bare minimum of food. So serious did their hunger become that an unfortunate dog they found was killed and eaten by them. One prisoner, in a state of delirium, threw himself into the prison's well and his dead body was left there for some time before being removed.  This well remained the only available source of drinking water afterwards. Even worse was that an English lady and her daughters (possibly tourists who had not got out in time when the war started?) were confined along with the men. A subsequent account noted that "all their privacy was supplied by the generous commiseration of the sailors, who, standing side by side close together, with their backs towards their fair fellow captives, formed a temporary screen while they changed their garments."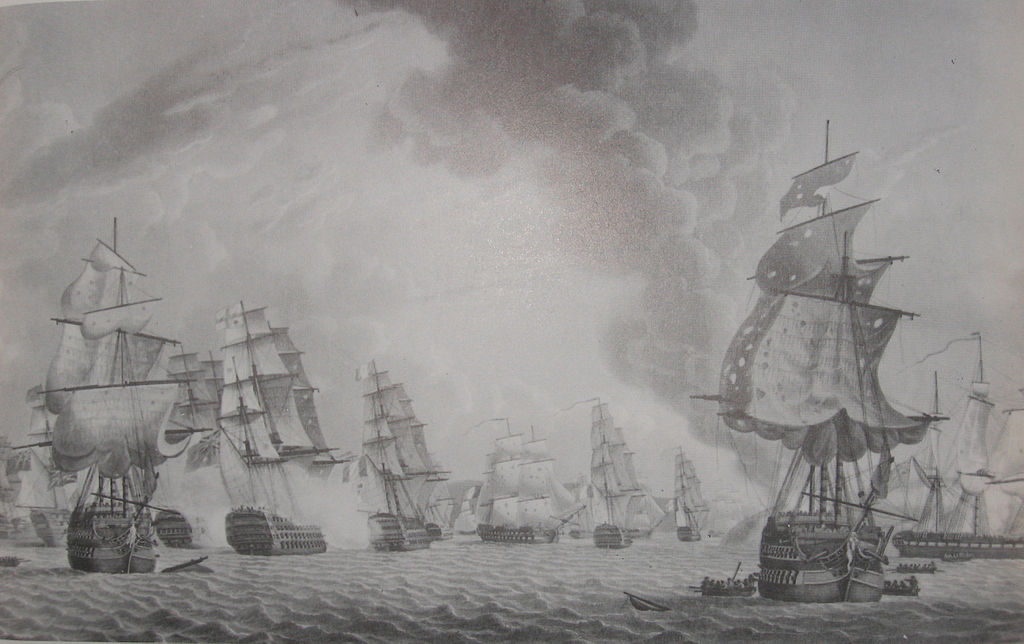 The Battle of Groix, 23rd June 1795, in which Alexander was recaptured from the French. Two other ships of the line were taken, Formidable  (90 guns) and Tigre (74) and entered Royal Navy service afterwards.
Bligh – who, unknown to himself, had been promoted to Rear Admiral a fortnight before the action – returned to Britain as part of a prisoner exchange six months later. He was required to undergo the inevitable court-martial for the loss of his ship but, equally inevitably, he was acquitted, with honour. He remained in active service until 1804, retiring as a full admiral.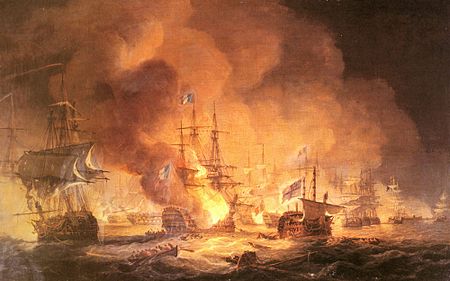 The French flagship Orient at the Battle of the Nile. HMS Alexander was one of the vessels that took her under fire. Her end was to come in a spectacular explosion (Painting by Thomas Luny 1759 – 1837)
Heavily damaged though she had been, HMS Alexander also had an active career ahead. Repaired, she was brought into French service as the Alexadre but was retaken by the Royal Navy in the Battle of Groix a scant seven months after Bligh's action. Once more HMS Alexander, she was to have her moment of glory at the Battle of the Nile in 1798, engaging the flagship, L'Orient, as well as other French ships.
The Dawlish Chronicles series brings historic naval fiction into the Age of Fighting Steam
If you are a subscriber to Kindle Unlimited you can read all eleven volumes at no extra charge.
They are also available for purchase as Kindle editions or as stylish 9X6 paperbacks.