The USS Chesapeake – HMS Leopard Incident, 1807
The three-year "War of 1812"between Britain and the United States, brought no great benefit to either nation. Though the issues involved were complex, one in particular, the British claim of the right to search neutral vessels for deserters from the Royal Navy, had the power to trigger American outrage and breathe new life into resentments that harked back to the War of Independence and before. Though it was not until 1812 that the United States declared war, the issue of recovering deserters had almost brought the two nations into conflict five years earlier, in what became known as the Chesapeake – Leopard Incident.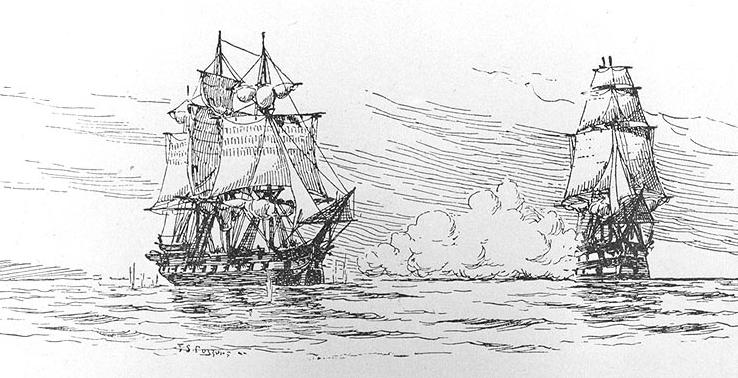 The action between HMS Leopard (r) and the USS Chesapeake (Drawing by Fred S. Cozzens)
In 1807 news reached the British base at Halifax, Nova Scotia, that several Royal Navy deserters had been accepted into service on the American frigate USS Chesapeake. In what might be considered an over-reaction, the station commander despatched the 50-gun frigate HMS Leopard, commanded by Captain Salusbury Pryce Humphreys (1778-1845), to bring orders to the captains of other vessels of the British squadron off the American coast. They were to insist on the right to search the Chesapeake for deserters should they fall in with her outside the territorial waters of the United States. In the event, it was HMS Leopard herself that was to make the demand.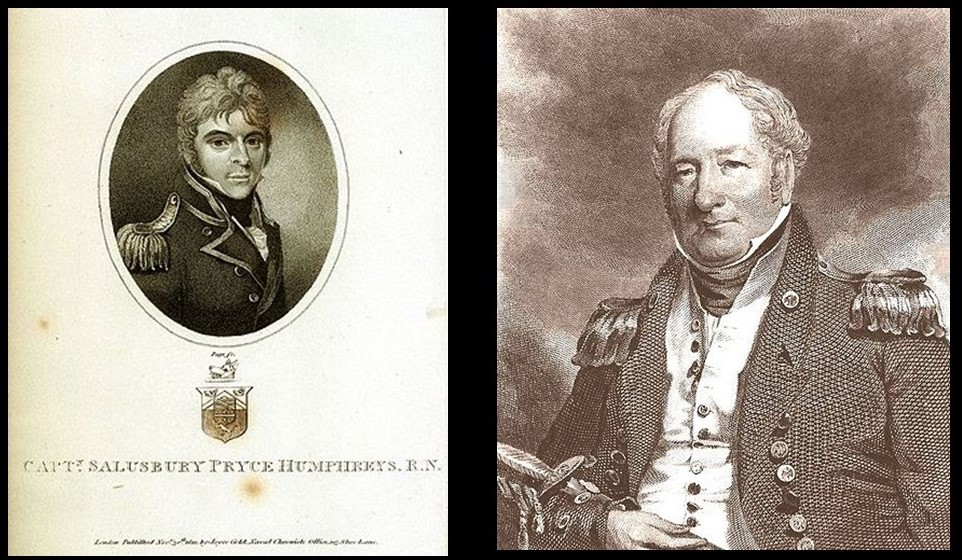 Humphreys and Barron – the two captains whose lives were to be changed by their encounter
Launched in 1785, the 50-gun fourth-rate HMS Leopard (fourth rates occupied an ambiguous position between frigates and ships-of-the-line) had had a useful but undistinguished career since the outbreak of the Revolutionary and Napoleonic Wars. (She was to have a fictional as well as an actual career before her loss by grounding in 1814, for Captain Jack Aubrey was to command her in Patrick O'Brian's novel Desolation Island.)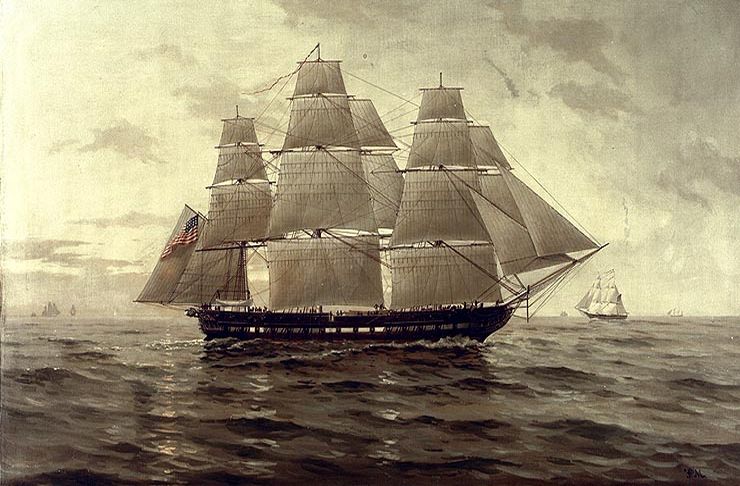 USS Chesapeake – one of the US Navy's original "Six-Frigates"
Having delivered her despatches, HMS Leopard was lying with the rest of the British squadron off the Hampton Roads when the USS Chesapeake was sighted on June 1st 1807, en route to the Mediterranean. The squadron commodore signalled HMS Leopard to detain her. The American captain, James Barron (1768-1851), did not appear to sense anything untoward – both nations were at peace. When HMS Leopard hailed to say that she carried message from the British commander-in-chief, Barron, replied "Send it on board—I will heave to." HMS Leopard's first lieutenant went across and when the matter of deserters was raised Barron stated that he had no such men on board.
After the lieutenant had returned to the Leopard, Captain Humphries again hailed the Chesapeake. He did not consider the answer satisfactory and saw that there were signs of preparation for action on the American ship. To emphasise his demands he now ordered a shot to be fired across her bow. He continued firing at two-minute intervals. Increasingly frustrated by what he considered evasive answers from Barron, which he thought were only to gain time, he at last ordered fire to be opened in earnest. After receiving three broadsides, and after replying with only a few shots, the Chesapeake struck her colours. An American lieutenant came across with a verbal message from Barron, stating that he considered his ship to be HMS Leopard's prize.
Captain Humphries did not accept the Chesapeake as a prize but he did send two of his lieutenants across, with several petty officers and men, to search for the deserters. One seaman, who was dragged out of the coal-hole, was recognised as Jenkin Ratford, a deserter from HMS Halifax. Three others were found, who had deserted from HMS Melampus, and about twelve more from various British warships. The first four were however to only ones to be brought across to the Leopard. Now – and quite bizarrely – Barron again offered to deliver up the Chesapeake as a prize. Captain Humphreys told him however that he had fulfilled his own instructions and that the American ship was free to proceed. He regretted having been compelled to attack and offered all the assistance in his power.
Barron tries to surrender USS Chesapeake as a prize
The Chesapeake had suffered severely from HMS Leopard's broadsides. Twenty-two shot were lodged in her hull and her masts and rigging were badly damaged. She had lost three seamen killed, while Barron, one midshipman, and sixteen seamen and marines had been wounded. Since the Chesapeake was all but unready for battle, Barron's unwillingness to continue the engagement was understandable if not necessarily heroic.
When HMS Leopard arrived at Halifax, the unfortunate Jenkin Ratford was found guilty of mutiny and desertion, and was hanged at the foreyard-arm of the ship from which he had deserted. The three other men, though found guilty of desertion, were initially sentenced to 500 lashes, but they had their sentence commuted and were later allowed to return to America.
It was inevitable that the Chesapeake-Leopard Affair would trigger outrage and demands for war in the United States. Protracted diplomatic negotiations failed to reach a mutually satisfactory outcome – Britain indeed reaffirmed its claim to right of impressment. As a sop to American feeling however, Captain Humphreys of HMS Leopard was given no further commands. The United States backed off from declaring war but President Thomas Jefferson resorted to economic warfare by means of a trade embargo that was aimed as much against France as against Britain.
The career of James Barron of the Chesapeake was also ruined. He was court-martialled in January 1808 on the charge of not having his ship ready for action and he was suspended for five years without pay. Though this ended in 1812, the Navy refused his requests to be accepted back for service during the war that began that year. One of the members of the court was Stephen Decatur (1779 –1820) and Barron appears to have held a grudge against him thereafter. Bad blood between the two men escalated to the extent of Barron challenging Decatur, now a national hero, to a duel with pistols in 1820. Both men were hit and badly wounded. As they were carried from the field Barron called out "God bless you, Decatur" and Decatur replied in a weak voice "Farewell, farewell, Barron." Decatur died of his wound but Barron survived. It was a sad and futile postscript to the Leopard – Chesapeake affair.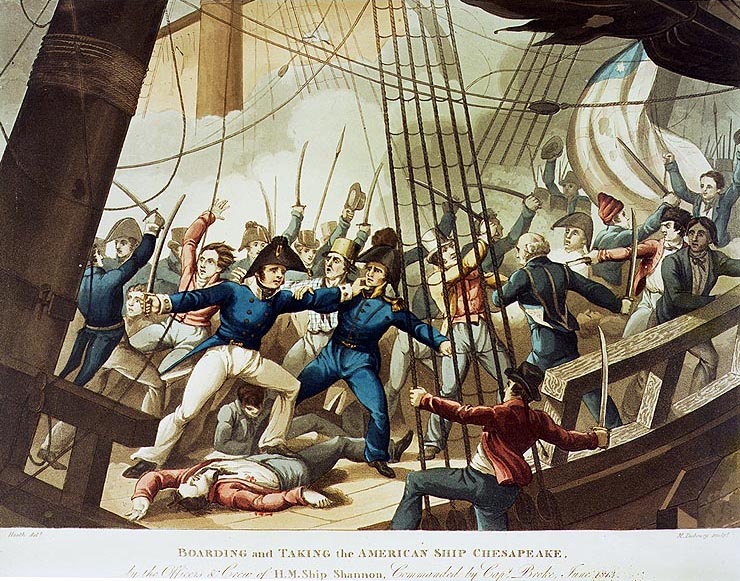 Contemporary print: HMS Shanon's crew boarding USS Chesapeake in 1813
By that time USS Chesapeake herself was a thing of the past. She was captured by HMS Shannon after an epic duel on June 1st 1813, exactly six years after her encounter with HMS Leopard. Taken into Royal Navy service as HMS Chesapeake, was broken up in 1819. Some of her timbers are now incorporated in the structure of the Chesapeake Mill emporium in Wickham, Hampshire.
The Dawlish Chronicles series brings historic naval fiction into the Age of Fighting Steam
If you are a subscriber to Kindle Unlimited you can read all eleven volumes at no extra charge.
They are also available for purchase as Kindle editions or as stylish 9X6 paperbacks.