Captain Richard Bowen, Beau Ideal of a Naval Officer
Part 2 of 3
This article continues the story of the splendid Captain Ricard Bowen (1761-1797) which was begun in my blog of 11.05.17 (Click here to read if you missed it then).  He was the epitome of the dashing frigate captain and his exploits as such were, if anything, more impressive than those of any fictional hero.
We left Bowen, in 1794, in command of the 32-gun frigate HMS Terpsichore, after he had received a severe facial wound during an unsuccessful attempt to seize the French-held island of Guadeloupe. In an age when antisepsis was not yet discovered, the wound was considered especially dangerous in the West Indian climate and he, and his ship, were sent back to Britain for service in the North Sea. Here Bowen once more came in contact with Admiral Sir John Jervis (later Earl St. Vincent) whom he had first impressed thirteen years earlier when had led a boarding party in the famous Foudroyant – Pégase action. Again impressed, Jervis decided to take Bowen and Terpsichore with him when he took over command of the Mediterranean Fleet late in 1795. A rising star, Bowen was command a small squadron, based at Gibraltar, to protect trade in the area.
The action Bowen was to fight nine months later was to show the true measure of the man. On 13th October 1796 the Terpsichore was cruising off Cartagena, on the south-eastern Spanish coast.  She was significantly undermanned since she had left thirty men hospitalised in Gibraltar and had even more men than that still seriously ill on board.  As  dawn broke a large frigate was seen to windward, apparently in chase of Terpsichore. Though so near an enemy's port that even in the event of a victory he could scarcely hope to carry off his prize, Bowen decided, despite his understrength crew, to fight rather than to run.  By mid-morning the frigate – which proved to be the Spanish Mahonesa – was lying in hailing distance off the Terpsichore's weather-beam. A close-pounding action followed for the next hundred minutes until, having the worst of it, the Spanish vessel's fire slackened and she tried to draw away. Bowen prevented the escape and maintained such effective fire that after another twenty minutes, the Mahonesa was completely disabled. Her main-deck guns had been put out of action by the booms having fallen on them and her standing and running rigging had been cut to pieces. The Spanish captain, a Don Thomas Ayanda, was forced to surrender and he was complimented by Bowen for his gallant defence, even after hope of escape had faded. The Mahonesa had lost thirty men killed and as many more wounded while Terpsichore had only the boatswain and three seamen wounded. Superior gunnery had settled the issue, making this one of the "single-ship" actions in which the losing vessel was taken without boarding. Crippled though she was, Bowen manged to get his prize to Lisbon and she was commissioned into British service as HMS Mahonesa.
HMS Galatea (1811) – by Thomas Whitcombe (1760 – 1824). Though she was completed later than the Terpsichore she would have looked generally similar
A month later, Bowen was to demonstrate his daring yet again by entering the anchorage of Cadiz and snatching a Spanish trader which had taken refuge there. This was followed, on the 13th of December, by the capture another frigate, the 36-gun French Vestale. This was at the end of a forty-hour chase, through heavy seas. Bowen had encountered her as she was making for Cadiz and was determined not to let her escape. The two-hour action began – in darkness – at ten o'clock in the evening. Once again, gunnery decided the issue. When the Vestale struck her colours, all her masts and her bowsprit had been knocked away. Her casualties had been heavy –  her captain and 40 men killed, her first-lieutenant and another 50 men were wounded. The Terpsichore had got off more lightly – four killed and nineteen wounded, one of them Bowen's brother, Lieutenant George Bowen. It should be borne in mind however that wounding might well result in maiming, or subsequent death, and smashed limbs had to be amputated – without anaesthetic.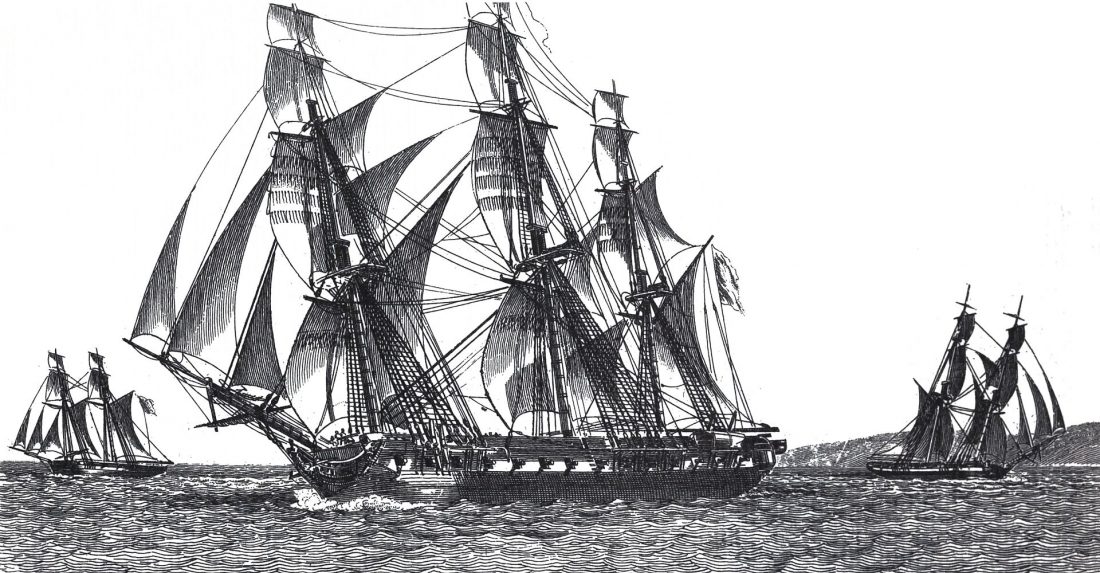 The ill-fated French frigate Méduse, completed later than Vestale, but generally similar
The prize crew that Bowen sent across to what was now virtually a hulk appears to have been remarkably small – the Terpsichore's master, one midshipman, and seven seamen. Due to the weather it was impossible to transfer the surviving French crew back to Terpsichore and the Vestale drifted shorewards. The master finally managed to bring her up, bows to the wind, but in the darkness the two vessels lost visual contact. Some at least of the French prisoners had got access to alcohol and were drunk, adding to the problem. It was not until the following evening that Terpsichore discovered Vestale again – she was now close to the breakers off Cadiz. A tow-line was passed and there were hopes of drawing her out to sea. It is confirmation of how close to shore that this manoeuvre was undertaken that the line was fouled by a rock. For the safety of both vessels there was no option but to cut this line. Darkness fell, but daylight next morning revealed the Vestale's French crew had overpowered Terpsichore's small prize crew and, with the help of other vessels, had managed to get into Cadiz. Bowen felt mortified by being unable to bring back the Vestale and apologised to Jervis for it in the report he subsequently wrote. Jervis dismissed the apology as unnecessary – he praised the gallant action and regretted only that Bowen and his crew had missed the prize money they would otherwise have won. Coming from a commander noted for his stern intolerance of any performance less than excellent, this was praise indeed.
So now we leave Richard Bowen once again, still in command of HMS Terpsichore at the end of 1796. Less then a year of life remained for this brilliant young commander and that time he was to pack in more action than many other entire lifetimes. We'll return to this last period in the third and final part of this blog series, which will be published soon.
Britannia's Gamble
The sixth Dawlish Chronicles Novel is earning 5-Star Reviews
 As always, I, Antoine Vanner, feel genuinely grateful to readers who have taken the time to post reviews of my work – they help me a lot. It's been gratifying to see the titles of the reviews of Britannia's Gamble as well as their contents. Here are a few of the titles:
"A gritty Victorian naval thriller with heart and soul"
"Vivid sense of suspense and excellent historical notes"
"Will not disappoint readers of the previous Dawlish Chronicles"
"Another page turner"
"A beautiful weaving together of history and fiction to create and action backed adventure"
"The master of the unfair obstacle is assigned the unforgiving gamble"
Click here for a recent evaluation on "The Review" 
If you are a Kindle Unlimited Subscriber you can read it immediately without further cost.
Click below for details of hard copy and Kindle editions:
Registering for the Dawlish Chronicles mailing list, by clicking  on the banner below, will keep you updated on new books and facilitates e-mail contact between Antoine Vanner and his readers for discussion of issues arising. 

Suggestions and comment are always welcome and all emails are replied to. Free short stories, available only to those on the list, are also made available at intervals.