The Indestructible Admiral Nesbit Willoughby (1777–1849)
Part 1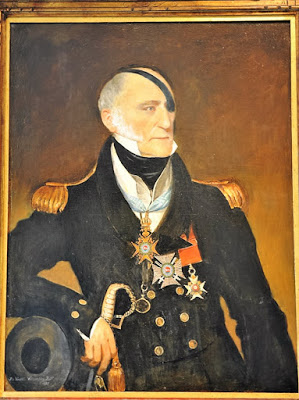 This two-part article was prompted by my perusal of a publication of mid-19th Century vintage. In it, I came across a reference to Admiral Sir Nesbit Josiah Willoughby (1777–1849) who "has so lately departed from the scene of earthly fame." The writer went on to portray Nesbit Willoughby as "one of those men from whose breast all sense of danger seems to have been banished." Instances to evidence this were then quoted, some of which I'll refer to later in this article. He seems to have been an extraordinary figure, one whom a novelist would hesitate to create lest accused of exaggeration.
Nesbit Willoughby entered the Royal Navy in 1790 and in 1799 he was lucky to have survived the wreck of the 64-gun HMS Sceptre at Table Bay, at Cape Town, South Africa. She was caught at anchor by a sudden storm and her cables parted. She was driven onto a nearby reef and pounded to destruction. Over 350 of her crew died and there were only 42 survivors. One was Willoughby.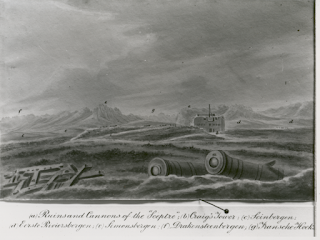 The guns of HMS Sceptre thrown up on the beach with other wreckage
Nesbit Willoughby was to distinguish himself in 1801, as a lieutenant, at the Battle of Copenhagen. Here he boarded the Danish ship Provestein  while "under fire from her lower-deck guns, and with only thirty men, succeeded in keeping possession of her in the most trying circumstances" (One is impressed by how the Victorians could refer to close-quarter slaughter by terms such as "trying circumstances"!)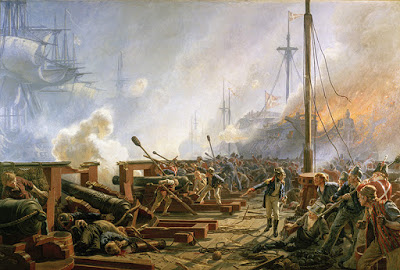 Copenhagen 1801 – a brutal slogging match. Painting by Christian Molstead
This should have led to greater things but Nesbit Willoughby was court-martialled for "insolent behaviour" to a senior officer. He seems to have had previous form on this score and as this was a second offence he was dismissed from the service.
When war with France resumed in 1803, following the short-lived peace of Amiens, Nesbit Willoughby immediately volunteered for service – insolent or not, capable officers must have been at a premium. He soon found himself assigned to the Blockade of Haiti (or "Saint-Domingue" as it was then referred to) which had been almost completely overrun by Haitian forces under the command of the brilliant and ruthless General Jean-Jacques Dessalines (1758 – 1806). The remaining French forces were isolated in the two large ports of Cap Français and Môle-Saint-Nicolas and a few smaller settlements. When war broke out in May 1803, Britain immediately despatched a squadron to eliminate communication between the French outposts and to capture or destroy the French warships based in the colony. Several actions followed and some of the French ships managed to reach Spain. One significant action was when HMS Hercule, on which Nesbit Willoughby was serving, encountered the French frigate Poursuivante. A spirited action followed but the more nimble Poursuivante managed to escape. In this period the Hercule was caught in a hurricane. Willoughby was in the sick bay at the time but when the fore-topmast was carried away his illness did not stop him going aloft to help clear the wreckage.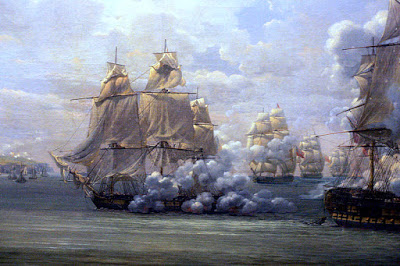 Poursuivante vs HMS Hercule: by Louis-Philippe Crepin (CC BY-SA 2.0 fr)
By November the French garrison at Cap Français was starving and an agreement was negotiated by them with the Haitians that they could evacuate safely provided they would leave by 1st December. The British blockading force refused the French permission to sail and there was no option but to surrender.  A French ship, the Clorinde, that attempted to escape but was almost wrecked but saved by Nesbit Willoughby, who not only rescued the 900 people on board, but also refloated the vessel.
Action against the Dutch forces on the Caribbean island of Curacoa (known as Curacao today) now followed in January 1804. A British force was landed and began siege operations which were ultimately to be abandoned as too costly. One of the officers who landed was Nesbit Willoughby "who had charge of the advanced batteries and, in order to encourage his men under the tremendous fire that was kept up, he took his meals in the most exposed situation. The earth was ploughed up all around him, and one man we believe was killed close to the spot; but still the table and chair of the daring young officer who sat there remained untouched. On one occasion Lieutenant Samuel Perrott R.M. (Royal Marines) was induced to seat himself in the chair; scarcely had he done so when a shot came, took off his left arm, badly wounded the knee upon which it had been resting, and knocked the table to atoms."
Willoughby had the distinction of the last man to leave Curacao when the British withdrew, just as he had been the first ashore, and he had destroyed one of the main defences, Fort Piscadero, which he had led a storming party to capture. One can but wonder whether Willoughby's heroics on this occasion were in fact in any way supportive of the morale of his men. One suspects that he might not have been popular for such behaviour and he was later to gain a reputation for taking "a great delight in inflicting punishment", which was ultimately to lead to another court-martial, in 1808. On this occasion he was acquitted, but with the advice "to be more moderate in future in his language".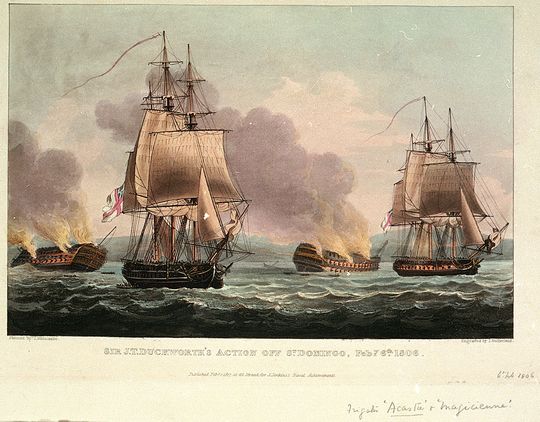 Action in the West Indies continued to be intense – here off San Domingo in 1806
Nesbit Willoughby's career had been a spectacular one up to this time – but what was to follow proved to be even more unlikely.  We'll find out about this in Part 2 of this article – click here to read it. 
Naval fiction enters the Age of Fighting Steam
The seven books of the Dawlish Chronicles series published so far are set in the 1870s and 1880s. These were the decades of massive technological change and of  bitter conflicts on the margins of empire.

If you're a Kindle Unlimited or Kindle Prime subscriber you can read any of the seven Dawlish Chronicles novels without further charge. They are also available for purchase on Kindle or as stylish 9 X 6 paperbacks.
Click on the image below for more details.

Registering for the Dawlish Chronicles mailing list, by clicking  on any of the cover images  below, will keep you updated on new books. You will also receive five free short stories for downloading on your Kindle, computer or tablet.