The Indestructible Admiral Nesbit Willoughby (1777–1849)
Part 2
Sir Nesbit Josiah Willoughby had one of the most remarkable naval careers in the Age of Fighting Sail). The first part of this article (click here to read it) told of the first half of his service. So let's pick up his story again. His name next came to prominence in 1807, during the Royal Navy's successful attempt to run a fleet up the Dardanelles and into the Sea of Marmara. (This operation was more successful than the British-French attempt 108 years later in 1915.)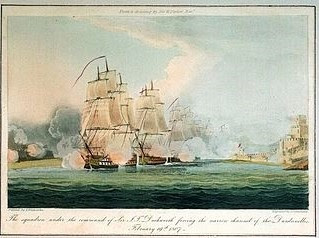 Duckworth's squadron forcing the Dardanelles, 1807
Nesbit Willoughby was now serving on the "74" HMS Ajax and on 14th February, while anchored off the island of Tenedos, just outside the Straits, she caught fire. At the cost of some 250 lives she was to be a total loss. Willoughby distinguished himself in rescuing survivors but suffered burns himself. A few weeks later he was injured in another shore attack, so badly that a surgeon pronounced his wounds to be mortal. "He had been struck by two pistol balls, one of which entered his head in the direction of the brain, where it remained through his lifetime, while the other cut his cheek in two."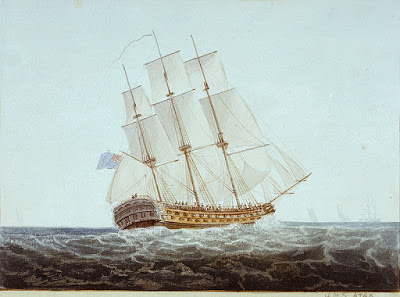 HMS Ajax
 Surviving, and now an acting, but not yet confirmed, post-captain, Nesbit Willoughby was appointed to command of the 36-gun ex-French frigate  HMS Nereide. In her he was to be involved in the 1809-11 campaign to capture the French island-base of Mauritius in the Indian Ocean. Further raids by landing parties – which Willoughby was now well versed in – led to his confirmation as "post". In one such attack he was however wounded very seriously again –this time when a musket he was firing exploded and shattered his jaw. A complicated series of naval engagements followed and they were to culminate in the disastrous (for Britain) Battle of Grand Port, which was to be the only significant French naval victory in the Napoleonic wars. In the course of it two French frigates, Bellona and Minerve, a corvette, Victor, and two captured East-Indiamen, Windham and Ceylon, trapped four British frigates, Sirius, Iphegenia, Magicienne and Nereide in a bay. Sirius ran aground and was burned to avoid capture, Magicienne was similarly destroyed and Nereide lost main and mizzen masts and was beaten to a wreck before Nesbit Willoughby surrendered her. Iphigenia almost escaped but was captured when a larger French force arrived.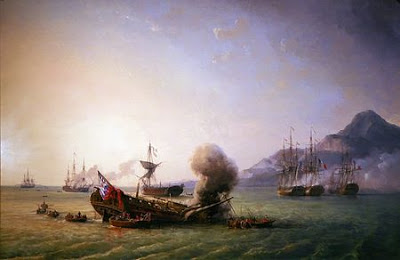 Battle of Grand Port, 1810 – by Pierre-Julien Gilbert (CC BY-SA 2.0 fr)
 On Willoughby's Nereide, 222 out of her 281 man crew were dead or wounded. Among the latter was – inevitably – Willoughby himself and he found himself treated in the same room as the wounded French commander, Duperré. Released after the British capture of the island, Nesbit Willoughby was duly court-martialled for the loss of his ship. He was acquitted with the comment that "the Nereide had been carried into action in a most judicious, officer-like and gallant manner." Despite this he was not offered a new command.
Nesbit Willoughby now took the most remarkable step of his career, and entered the phase which is apparently least documented. In 1812 he offered his services to the Russian government and was accepted for service on land rather than at sea. Appointed Colonel, he was soon in action against the invading French and he was taken prisoner "owing to his generosity in giving his horse up to some wounded Russian soldiers, and thus became involved in all the horrors of the retreat from Moscow." According to the "Annual Register" in the year of his death it was recorded that "at Leipzig had his right arm shattered by cannon shot". How he came to be involved at this "Battle of Nations" in 1813 was a dramatic story in his own right.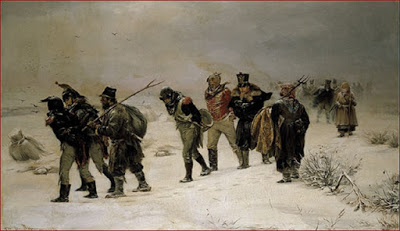 Retreat from Moscow 1812 – Willoughby survived it
 Nesbit Willoughby saw some further service in the Royal Navy thereafter and was knighted twice, the second time apparently by accident because the "Sailor King" William IV had forgotten that he was already knighted. (It seems inevitable that such bizarre incidents should continue to feature in Willoughby's career.) He was advanced to Rear Admiral of the Blue in 1817. In his later years he appears "to have got religion" and 1839 published "Extracts from Holy Writ and various Authors, for Soldiers and Seamen", which was described as "a pious and well-intentioned compilation from a very heterogeneous set of authors". He never married.
The "Annual Register" listed at the time of his death his other injuries besides that sustained at Leipzig : "He was eleven times wounded with balls, three times with splinters, and cut in every part of his body with sabres and tomahawks: his face was disfigured by explosions of gunpowder, and he lost an eye and had part of his neck and jaw shot away."
Few officers of his era had survived as much – it was rightly said that "he seems to have possessed more lives than a cat with all the courage of a British lion."
A novelist would not dare make him up and hope for credibility!
Naval fiction enters the Age of Fighting Steam

If you're a Kindle Unlimited subscriber you can read any of the seven Dawlish Chroniclesnovels without further charge. They are also available for purchase on Kindle or as stylish 9 X 6 paperbacks.
Here's what readers have been saying about the Dawlish Chronicles in Amazon reviews: