Captain John Macbride, Part 1:
Honour and Humanity 1780
Many of the Royal Navy's officers who proved outstanding leaders during the Age of Fighting Sail are undeservedly forgotten today. Their careers were often ones of essential but unspectacular service, punctuated by brief periods of furious action. One such officer as John Macbride (1735-1800) who came into the navy "through the hawse pipe" – i.e. he had sailed in merchant service from 1751 and entered the navy as an able seaman in 1754. He was commissioned in 1758 – two years after the start of the Seven Years' War that brought such opportunities for advancement to ambitious officers. His chance to distinguish himself came in 1761 when, commanding a hired cutter, he led a successful "cutting out" expedition – a surprise attack by pulling boats – against a French privateer anchored under cover of shore batteries off the port of Dunkirk. By 1765, after much active wartime service, MacBride gained coveted "Post Captain" rank.
The years of peace between 1763 and 1775 – the start of the American War of Independence – saw Macbride busily employed. His missions included efforts to support settlement in the Falkland Islands and, in command of the 32-gun frigate HMS Southampton, to transport into exile, from Denmark to Germany, of King George III's sister, Caroline Matilda. This unfortunate lady, married to King Christian VII of Denmark, had been involved in an adulterous relationship with the court physician, Johann Friedrich Struensee (too long a story to tell here). The affair ended badly – a horrific execution for Struensee and exile for Queen Caroline Matilda, who died soon afterwards.
In 1776, the year following the start of the America War, MacBride was given command of HMS Bienfaisant. As the name betrays, this third-rate 62-gun ship-of-the-line had been captured from the French, the occasion being the Siege of Louisburg in 1758. In this vessel he was to be present at the Battle of Ushant in 1778 (Click here for an article about this battle).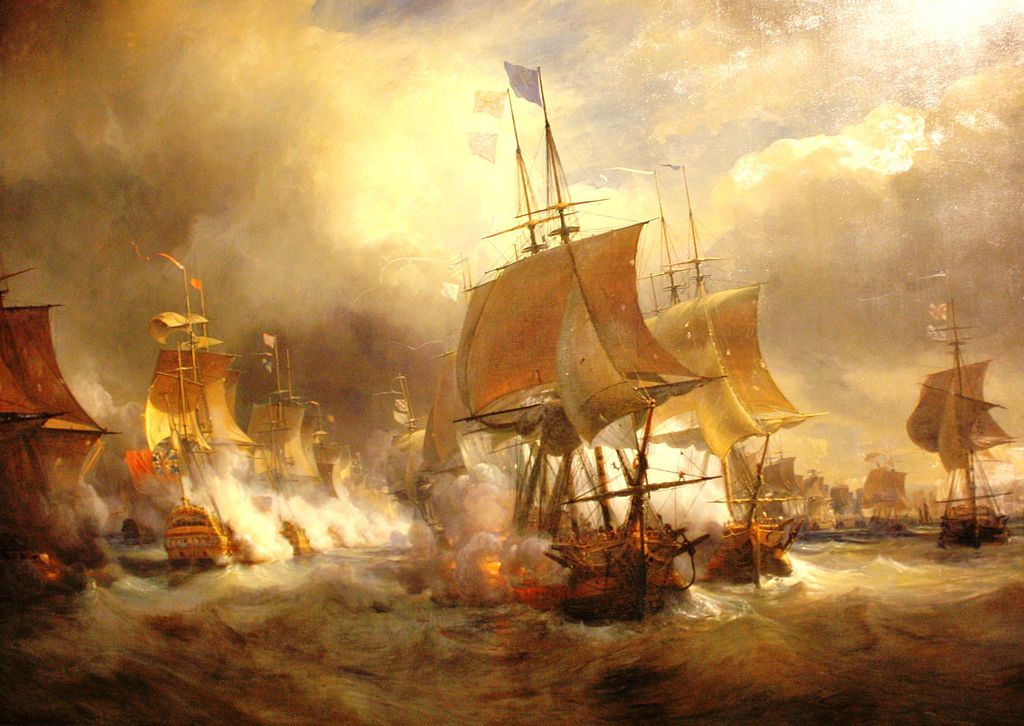 Battle of Ushant, 1778 – Macbride and HMS Bienfaisant were there
Captain John Macbride's moment of glory was to come two years later at the (First) Battle of Saint Vincent. Known as "The Moonlight Battle", as it was fought through the night, this engagement was triggered by an escorted relief convoy for the besieged garrison at Gibraltar (Click here for an article about the siege) encountering a Spanish Squadron. Narrowly escaping destruction by the explosion of a Spanish warship, the San Domingo, Macbride engaged the 80-gun ship-of-the-line Fenix, flagship of the enemy Admiral Juan de Lángara, shooting away the mainmast and obtaining her surrender.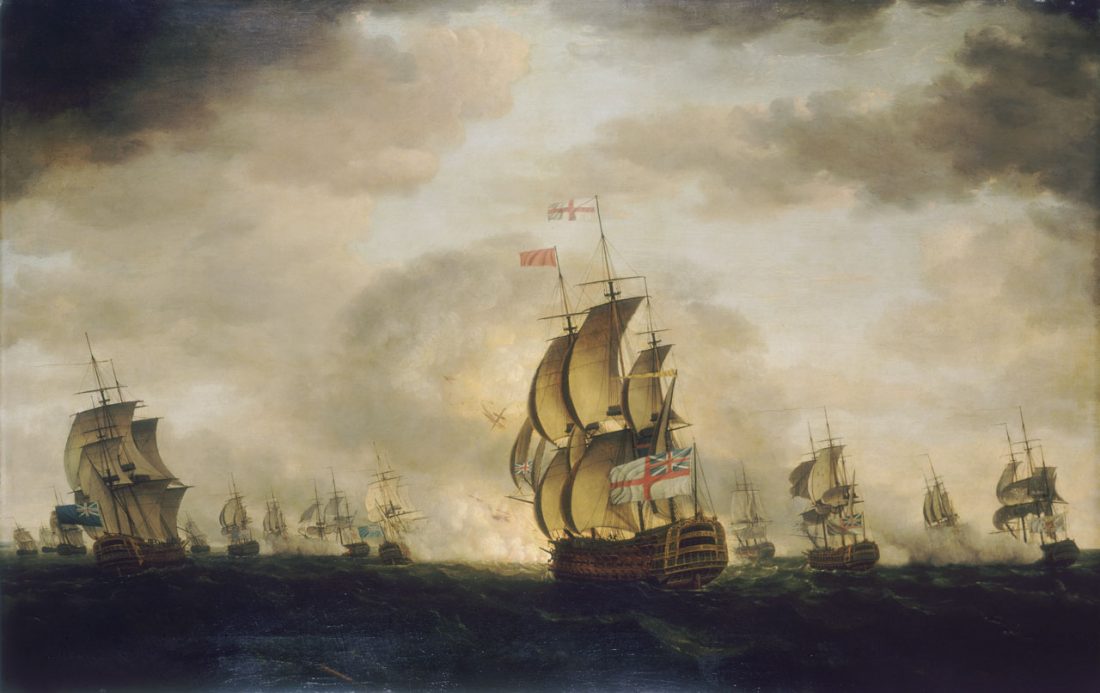 "The Moonlight Battle" – (First Battle of Saint Vincent, 1780)
It was an incident in the aftermath of the battle that casts light on notions of honour in the period. Macbride sent a Lieutenant Thomas Louis with a small boarding party to take possession of the captured Fenix. Smallpox was however present on HMS Bienfaisance and Macbride felt himself honour bound not to take any Spanish prisoners on board lest they become infected. Killing them in battle was one thing, exposing them after capture to a deadly disease was quite another. He still had the responsibility of getting his prize to Gibraltar however. The solution to the dilemma was to come to an agreement with the Spanish Admiral. The full text of the agreement is worth copying in full:
Quote:
Bienfaisant at Sea, January 18, 1780
The small-pox being on board HMS Bienfaisant of a malignant kind, the feelings of a British officer cannot allow him to introduce and infection even among his enemies. From this consideration, and the very valiant deface made by Admiral Lagara and his officers, Captain Macbride consents that neither officers nor men shall be removed from the Phoenix (sic.), taken by H.B.M (His Britannic Majesty's) ships Defence and Bienfaisant, Admiral Lagara being responsible for the conduct of his officers and men; and in case we fall in with any Spanish or French ships of war, he will not suffer Lieut. Thomas Louis, his officer, to be interrupted in conducting and defending the ship to the last extremity, agreeable to his orders; and if, meeting with superior force, the ship should be retaken and the Bienfaisant fight her way clear, Admiral Don Juan de Langara, his officers and men, are to hold themselves prisoners of Captain Macbride upon their parole of honour (which he is confident with Spanish officers is ever sacred). Likewise if the Bienfaisant should be taken, and the Phoenix escape, the Admiral Don Juan de Langara, his officers, etc., will no longer be prisoners, but freed immediately. In short, they are to follow the fate of the Bienfaisant.
                                                                      (Signed)                                           JOHN MACBRIDE
                                                                                                                            JUAN IG. DE LANGARA
Unquote
Though not put to the test, there is every reason to believe that the agreement would have been observed to the letter, such were the strict notions of honour in both navies.
Originally built in Havana, Cuba, and commissioned in 1749, the Fenix – or Phoenix, as Macbride spelled it – was taken into Royal Navy service as HMS Gibraltar. As such she had a long and active career that included participation in the Glorious First of June (1793) and Basque Roads (1809) battles. Used in later years as a hospital ship, she was finally broken up in 1836.
And Captain John Macbride? We'll be learning more about him in the second part of this blog article, due soon.
Naval fiction enters the Age of Fighting Steam
If you're a Kindle Unlimited subscriber you can read any of the seven Dawlish Chronicles novels without further charge. They are also available for purchase on Kindle or as stylish 9 X 6 paperbacks.

Here's what readers have been saying about the Dawlish Chronicles in Amazon reviews: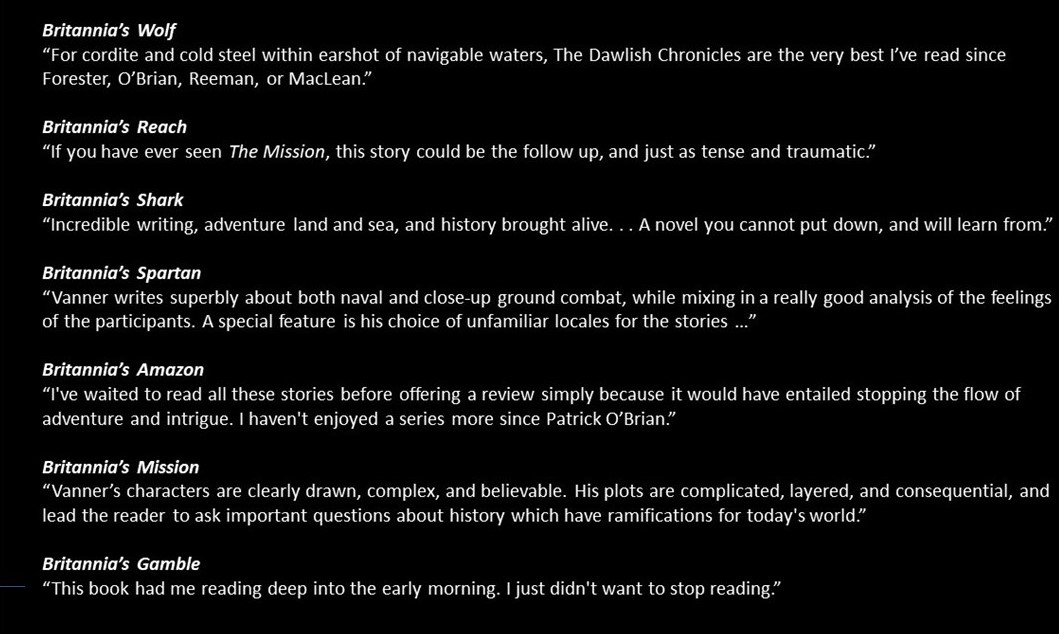 Registering for the Dawlish Chronicles mailing list, by clicking  on any of the cover images  below, will keep you updated on new books. You will also receive five free short stories for downloading on your Kindle, computer or tablet.